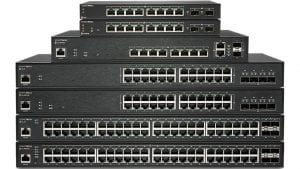 SonicWall has announced a range of new products including new multi-gigabit switches and an SD-Branch solution. The announcement comes as countries begin to lift lockdown and some employees start heading back to the office.
SonicWall President and CEO Bill Conner commented: "Business success often coincides with expansion, leading to an increased need for visibility, security and bandwidth across a distributed organization.
"As the world begins to re-open its doors, organizations must re-architect for the 'new business normal,' which includes implementing cost-effective, software-defined networking and security principles across the business.
"With companies forever changing how they operate with remote employees and offices, it's more important than ever to ensure the maximum performance of applications, traffic and workflows. These additions will allow IT departments to focus on other issues at hand, reduce budget constraints and finally address the shortage of critical cybersecurity skills."
Seven new switches
There are seven multi-gigabit switches in the new SonicWall switch (SWS) line-up. They range from small office switches (SWS12-8) to a large enterprise rack offering (SWS14-48POE). All ports are gigabit enabled, and each switch has with multiple SFP or SFP+ ports. This allows the switches to support speeds of up to 10 Gb/s.
The switches can be stacked to support high-density environments such as data centres, and there is support for Power over Ethernet (POE) on some models. Each switch comes with a choice of 24×7 support for 1-year, 3-years or 5-years.
SonicWall has equipped the switches with the same management interface as it uses on its firewalls. This simplifies things for network administrators. Additionally, IT security teams can use SonicWall's Capture Security Center (CSC) to manage the switches.
Integrating the management of switches and firewalls makes sense. Security teams can see all the traffic flows and ensure that any traffic and security rules are applied consistently across all network devices.
Enterprise Times: What does this mean
SonicWall is looking for a new place in the network security world. Adding a range of switches that use the same OS as its firewall products is a smart move. It gives it options in a post-COVID-19 world. For those organisations that are staying with the large office, it has enterprise solutions. For those shrinking their offices and going with smaller branch offices and more remote workers, it has solutions there as well.
One of those solutions for remote workers is its unified Boundless Cybersecurity platform. It supports workers who are remote, mobile and using cloud-based solutions. SonicWall has also upgraded its Capture Client software for endpoint security. Where it goes next remains to be seen.
SonicWall was acquired by Francisco Partners in 2016. Francisco Partners also owns other security companies, including WatchGuard, one of SonicWall's competitors. In the last year, both companies have expanded their product portfolios with WatchGuard acquiring Panda Security earlier this month.
Will we see a similar move now at SonicWall? Will Francisco Partners provide SonicWall with the funds to make its own acquisitions? If so, who would it target? One possible target that would sit well is ForeScout Technologies, who is currently reeling from its failed acquisition by Advent International. It would complement SonicWall and give it visibility into IoT, an area where it has no clear solution at the moment. It would also bring additional tools for securing remote endpoints, something that is a hot topic at the moment.