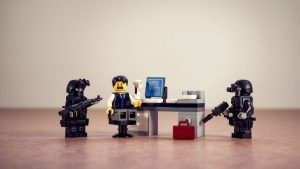 IBM is to OEM Fenergo's Customer Lifecycle Management (CLM) solution. IBM intends to add the software to its RegTech portfolio of anti-money laundering (AML) and know-your-client (KYC) software. IBM's existing solutions are all built on Watson. It intends to use Watson to feed data into Fenergo's CLM solution.
According to Julian Clarke, Head of Partners and Alliances at Fenergo: "Financial institutions are grappling with rising costs and fines associated with KYC and AML requirements. Banks and other financial institutions need a CLM system to address regulatory challenges and keep abreast of the changing regulatory landscape.
"Through this relationship, Fenergo will be available as part of IBM's offering, allowing access to new and existing clients within IBM's ecosystem which in turn can help reduce procurement burdens associated with enterprise software. We're very excited and proud to be partnering with industry innovators like IBM, and the journey we have been on so far."
Banks increasing use of AI to fight financial crime
Banks are increasing their use of AI to fight financial crime. It allows them to spot patterns across the vast amounts of data they hold and piece together often complex crimes. IBM has unsurprisingly, therefore, built its RegTech products on Watson. With Watson also available on IBM's Z platform, it is an easy sell into the large financial customer base that the company has.
What is interesting here is that Fenergo does not sit on Watson. This is why IBM is extracting information from Watson and sending it to its OEM copy of the software. The question here is will IBM look to work with Fenergo to puts its CLM solution onto Watson? It would make sense for IBM to do that and it would be able to integrate the software more closely with its other RegTech solutions.
However, Fenergo has its own RegTech portfolio of KYC, AML and other financial compliance solutions. Will it now look to port them to Watson? If so, that would increase its competition with IBM in this growing space.
Enterprise Times: What does this mean
RegTech is a market that has been around a long time. Many of the solutions are complex and require large amounts of processing power to deal with the vast amounts of data involved. At the same time, compliance demands continue to get stricter and legislation more complex. IBM sees this as a perfect market for its Watson software.
CLM is an area that IBM doesn't list on its RegTech page. Therefore, an OEM deal with Fenergo fills a gap in the IBM portfolio. This is good news for both companies but where next for this relationship. As already mentioned, Fenergo's software doesn't sit on Watson. It provides an opportunity for IBM to do that work and add extra value. It also raises the possibility of this being the first move by IBM to acquire Fenergo to fill a gap in its RegTech offerings.