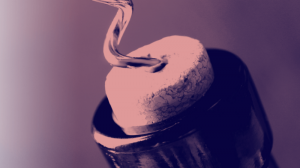 Everledger is launching a line of anti-tamper bottle closures for the wine and spirits industry. The intelligent bottle caps unite blockchain and Near Field Communication (NFC) tags. The initiative offers a response to the growing challenge of counterfeit alcohol in the world – estimated at US$3B for wine alone – and represents a new mechanism by which brands can protect the authenticity of assets.
"Everledger combines over 20 years of experience in RFID/NFC and asset management with the immutability and secure verification of blockchain," emphasises Scott Austin, Everledger's Senior Executive Vice President and Chair of the IoT committee at AIM. "Our wine solution is a prime example of how to utilise highly secure NFC in unison with blockchain. It's providing a robust and scalable solution for brand owners."
The Everledger solution
The approach taken by Everledger is to give each bottle a unique digital identity via:
either NFC-powered tamper detection labels adhered to the bottle cap
or via other NFC devices, such as plastic heat-shrink capsules, stickers or cork tags.
The NFC closures, or tags, applied on labels or heat-shrink capsules can be transparent or come in a range of colours. NFC labels are applicable on aluminium as well as on glass or paper. Applying labels on caps of vintages in storage is a convenient process which need not disrupt normal bottling or distribution processes. According to Everledger, the heat-shrunk NFC capsule aligns well with existing production processes.
Having secured each bottle with the latest anti-tamper device, chain-of-custody data is then available for capture throughout and along the supply chain. Supporting blockchain technology stores the data and makes it available for access by those who need it.
Brands can also invest in an NFC Wet Inlay. This comes on a reel with an adhesive backing as:
an attachment to the back of a wine label
the basis for a wholly separate label.
A further option is the use of NFC long-tail cork tag. Applied over a cork and attached to a bottle's glass, these protect against needle attack.
Eric Robertson, Product Owner for Wines and Spirits, adds that "with the combination of new anti-tamper and tracking technology such as NFC and blockchain, winegrowers can transform the very concept of a certificate of authenticity, using the marketability of smart labels and the validating power of the blockchain".
Claimed benefits
With an authenticated provenance (of the wine or spirit), consumers can discover the lifetime journey of their favourite tipple – from vineyard or distillery to the point of consumption. beyond the authentication, Everledger believes such 'intelligent provenance' is an invitation to customers to deepen their connection to each producer's overall brand – via dedicated smartphone apps.
Such greater visibility enables brands to encourage deeper interactions with customers. Each bottle becomes:
a vehicle for revealing stories which promote an origin and brand narrative
protection for supplier reputations
In addition, brands may be able to speed up certification by regulatory authorities. By creating digital identities for bottles, regional certifiers and even government agencies can verify bottle contents faster.
Mike Veseth, editor of The Wine Economist, suggests that "blockchain technology has the potential to improve transparency and accountability in ways that can be important to the wine industry in the long run." He added that, while only a small number of iconic producers of auction-worthy wine may see the clear utility of guaranteed provenance, recent moves from large-volume brands telling their story with augmented reality for a younger, more tech-savvy audience is putting everyone on a road toward this new direction.
The Everledger platform
In effect. the Everledger platform offers more than just protection of legitimacy. In the wine industry, Everledger's chosen example, oenophiles can access an information-rich journey of their wine including such details as:
origin
characteristics
previous owners
certifications (say, of organic growing or sustainable harvest methods)
variety designation
geographic pedigree
carbon footprint.
Everledger utilises 'rolling code' technology in its NFC tags. this operates similarly to a one-time-password mechanism when using a banking token. After scanning a tag, authentication occurs before directing a consumer to a landing page through a one-time URL supported by a smartphone's NFC protocol. The result is a page which is nearly impossible to counterfeit, especially if matched with a tamper trigger in the tag to prevent substitution and re-use. On top of this there is the additional security layer of the Everledger platform's blockchain technology.
Everledger founder and CEO Leanne Kemp said: "Much in the same way as a good story captivates all of us, the Everledger platform enables brands to tell the authentic back-story of every bottle of wine or spirits to discerning consumers. The power and simplicity of our solution gets to the truth in a way that consumers truly value, enabling a more sustainable and transparent industry to flourish. When wine or spirits are adulterated or falsely labelled, reputations built on craft, origin, and quality are quickly tarnished. Lack of transparency throughout the wine and spirits supply chains leaves them vulnerable to counterfeiting, impacting consumer confidence and restricting brand equity."
Enterprise Times: what does this mean
Businesses can encode NFC tags in a protected environment with high levels of encryption. Details record on a secured blockchain. the result is authentication for producer, consumer and regulator or tax authority.
Everledger hopes the drinks industry will regard the launch of NFC/RFID smart closures as a defining opportunity. Not only can it protect alcoholic drink producers and consumers, it has a wider relevance. Its approach is applicable for retailers and auction houses as well – all of whom find themselves resisting fraud.