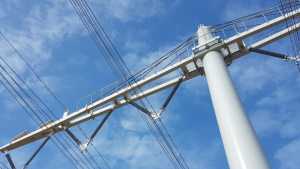 SPIE Nederland has selected IFS Applications, IFS Planning and Scheduling Optimization and operational intelligence. SPIE is targeting enhanced operations and workforce scheduling to drive efficiencies for 4,500+ SPIE Nederland staff as well as improving process efficiency and margins, and facilitating faster integration of acquisitions.
"We were looking for an enterprise applications vendor that could transcend the traditional supplier role and work with us as a partner," said SPIE Nederland CEO Lieve Declercq. "What attracted us to IFS, besides the broad and deep functional capabilities of IFS Applications, was its customer-first, business value-driven approach, which is apparent in all engagements we have had with the company to date. Another deciding factor was the highly intuitive user experience of its product suite, which will not only help us gain visual insights into our operations but also help us onboard new coworkers."
SPIE Group and SPIE Nederland
SPIE Nederland is a subsidiary of the SPIE Group, an independent European provider of multi-technical services in the fields of energy and communication. With more than 46,000 employees, SPIE Group delivered consolidated revenues of €6.7B in 2018 and EBITA profits of €400M.
The Group focuses its development on four activities:
Mechanical and Electrical Services (34% of consolidated production for the financial year ended December 31, 2018), which encompass electrical, mechanical and HVAC engineering services
Information & Communications Technology Services (20% of consolidated production for the financial year ended December 31, 2018), which covers the installation, upgrade and management of voice, data and image communications systems
Technical Facility Management (28% of consolidated production for the financial year ended December 31, 2018), which covers the technical management of facilities and related services
Transmission & Distribution (18% of consolidated production for the financial year ended December 31, 2018).
SPIE Nederland assists its customers to design, implement, operate and maintain:
network systems
energy, infrastructure
industrial installations and buildings.
In this context, SPIE Nederland is one of the top three technical service providers in the Netherlands.
SPIE Nederland' ERP evaluation and objectives
To bolster its market position SPIE Nederland initiated an evaluation process aimed at identifying an enterprise platform which would:
replace its legacy business systems
enhance the efficiency of all mission-critical processes.
The drivers reflected the need for SPIE Nederland to:
ready itself for future business
prepare itself for a business environment driven by an increasing need for digitalisation.
From a short list – that included solutions from some IFS' competitor ERP vendors – SPIE Nederland chose IFS Applications for its:
scalability
architecture
user experience
industry-specific capabilities.
Glenn Arnesen, IFS Regional President, Europe, added, "We are honored to be working with SPIE Nederland, which is one of the most respected names in the sector. IFS got its start in the asset-intensive, project-oriented energy sector and we are proud to have remained close to our customers in the space, and their needs. Thanks to this legacy, and what we've done with it, we are confident that we are uniquely positioned to help SPIE achieve its business goals."
Enterprise Times: what does this mean
SPIE Group is a substantial enterprise, as its financial results for 2018 indicate. For IFS to win SPIE Nederland's business may offer a broader business opportunity to penetrate the larger SPIE Group which has operational tentacles far and wide.
The energy and network industries are changing as well as becoming closer. The traditional business models are looking inadequate in an era of smart cars, smart cities, renewable energy and mobility – to name but four dimensions. IFS demonstrates it can offer relevant solutions in such a diversifying yet merging technical services environment.