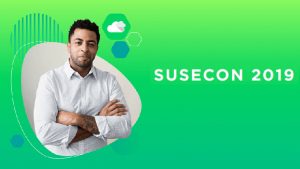 SUSE OpenStack Cloud 9 is to be released this month. The announcement came at SUSECON 2019, taking place this week in Nashville, TN. This is a key release for SUSE in several ways. It is based on OpenStack Rocky which became available in August 2018. It is also the first version of OpenStack Cloud to be released since SUSE became an independent company.
For HPE Helion customers, however, it is a much more important release. This is the second version of the HPE Helion code that SUSE has worked on. The previous one was rebadged by HPE as HPE Helion 8 while SUSE customers got SUSE OpenStack Cloud 8. There were a number of differences between the products but all of that is now in the past.
With this release, SUSE is offering two installers; Ansible for HPE Helion users and Crowbar for its own customers. In the next release, it is likely that there will be just a single installer, Ansible. While the final release notes are not available at writing, there will be changes for both sets of users. SUSE claims that OpenStack Cloud 9 features the best of both versions of OpenStack. Exactly what each group of users will gain, and therefore potentially lose, is not clear.
SUSE cashing in on its deal with HPE
This announcement sees SUSE cashing in on its deal with HPE when it acquired the HPE Helion assets. Part of that deal meant that while SUSE took on the HPE Helion product teams, it had to retain the name for at least one release. It delivered on that and allowed HPE to continue to move forward with a cloud strategy. HPE also committed to selling and distributing HPE Helion to its customers.
What is happening with this release is two things. The first is that SUSE is rationalising its own product portfolio. Supporting two versions of OpenStack makes no sense. It doesn't matter how well they are aligned, there will always be additional work to be done. As OpenStack continues its repositioning as Open Infrastructure, there will also be an increased demand for more technologies to be integrated into the different cloud distributions. SUSE did not want to have to do that work multiple times.
The second benefit to SUSE is that HPE will continue to sell the product but this time as a SUSE branding solution. The most obvious benefit here is that is raises SUSE's profile and couldn't have come at a better time as it looks to make a big splash about being an independent company.
Enterprise Times: What does this mean
The announcement will surprise all those who thought HPE Helion dead and buried. It is good news for those HPE customers and, importantly, good news for SUSE's own customer base. It means that its software teams are solely focused on the future of its OpenStack Cloud solution. A single unified version is also a bonus for support teams and should reduce their overheads.
Having HPE selling the product openly as SUSE OpenStack Cloud 9 will also help get a picture of how well SUSE is doing. One of the problems of doing white label development is that it can be hard to establish the market share of a company. That has now gone away and over the next year it will be possible to get a better picture of how close SUSE is to Red Hat and how much lead it has over other Linux vendors.
This is also good news for HPE customers. They can now see a long term software development and support path for their Linux environments. This is especially important for those that were wondering if they would need to start planning for migration to alternative versions of Linux.