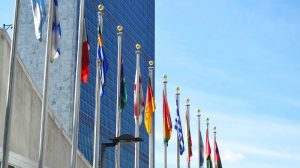 The United Nations (UN) has held an event within the Economic and Social Council Chamber to discuss the opportunities provided by AI and blockchain technology which might be relevant to the UN's Sustainable Development Goals (SDG). The event brought together Member States' representative and the UN with top researchers, experts, practitioners, the private sector, civil society and other key actors. It discussed the notion that 'frontier tech' could be a tool to help achieve the SDGs.
"The concept of combining frontier technologies with a shift in consciousness is triggering a wake-up call at the United Nations," says Janet C. Salazar, permanent representative to the United Nations & the Chair of the Foundation for Support of the United Nations (FSUN). "Even the most conservative ambassadors and leaders from around the globe are embracing the idea of using tools like cryptocurrency to make an impact."
FSUN
The FSUN and its partners at the SDG Impact Fund have acted to lead gatherings, thereby bringing attention to the possibilities of blockchain in an SDG context. Gatherings like these reference "frontier tech" and they seem to be picking up steam at UN HQ, with NGOs, charities, governments and leaders starting to recognise the power which blockchain has to make transformation.
An attraction, for example, is how crypto/cryptocurrencies might deliver independence from political influence. A 2017 study – from the UN's Economic & Policy Division – stated: "Decentralized and autonomous, cryptocurrencies are governed by the users' consensus over a set of rules. They are independent from political influence and actions of monetary authorities. This also means, that in case of cryptocurrencies' non-compliance with a country's laws or regulations, there will be no institution to hold accountable."
As one might expect, such approaches pose a specific sort of challenge to many governments. Yet they also hold out an opportunity for both nations and 'sectors' (whether public or private) to come together around decentralisation.
"Never before have we seen such a technology as transformational as blockchain — whether it's being used to send immediate foreign aid via crypto, or to generate IDs for refugees — it has the power to change the way the developing parts of the world work while enabling more developed nations to efficiently share resources. The United Nations focuses largely on taking a decentralized perspective to the way the world works — and to adopt blockchain technology across systems would serve the best match." (Janet C. Salazar, permanent representative to the United Nations)
Crypto challenges UN norms
Bridging the gap between the infamously bureaucratic and opaque United Nations and the implicitly 'secretive' world of crypto/cryptocurrencies will not be easy. To start with, too many high ranking UN officials are skeptical (for whatever reason), and the reports like that from the BIS do nothing to overcome fears. Such attitudes set a negative tone when anyone tries to initiate crypto conversations.
But attitudes may be changing. The reason: some of the more powerful impact investors around the world are emphasising cryptocurrencies as a potential solution rather than being a problem. For example, the UN Fund is partnering with PIVX to track donations on a blockchain (here PIVX stands for Private, Instant, Verified, Transaction).
PIVX is one of several projects in the crypto space that have dedicated their resources to finding a scalable solution for blockchain-based payments that is fast, secure and energy efficient. Under Dr. Bryan W. Doreian's leadership, the PIVX development team is passionately focused on assisting the UN by designing custom solutions for the tracking and distribution of charitable donations to the SDG Impact Fund using blockchain, a first of its kind. It is the first fund of its kind to support the UN using cryptocurrency in place of traditional assets.
SDGIF
In addition, frontier technology summits at the UN are breeding partnerships and collaborations – including the SDG Impact Fund (SDGIF). Announced at the SDG Frontier Finance Summit at the UN on International Peace Day, its focus is on allocating capital to frontier technology which works to support the SDGs.
Since its emergence it has become a vehicle for anyone in the cryptosphere to start their own foundations in support of SDGs, with the basis being an 'own token' used as a tax-deductible contribution. One such company is the New York city-based Celsius Network. Founded by the inventor of VoIP, Alex Mashinsky, Celsius has committed to being the custodian of the SDG Impact Fund's crypto assets, enabling these to earn interest on crypto holdings.
Since its launch, Celsius claims to delivered over $600M in coin loans. It has used the interest it earned from these coin loans to buy BTC, ETH and other cryptocurrencies to:
pay interest to its crypto depositors
buy back CEL tokens
funded the industry's largest single dollar loan of US$5M.
It charges no origination or closing fees, no penalties, no early termination fees and no default fees. Perhaps more remarkable it says, on its website, that: "We have not liquidated or repossessed a single loan since we launched".
Enterprise Times: what does this mean
2018 saw the rise of cryptocurrency popularity around the world. Blockchain technology is becoming hard to ignore — especially for governments, NGOs and leaders prepared to acknowledge blockchain's potential to deliver massive systems change.
This leads into interesting territory. Few will challenge the 'rightness' of the UN's Sustainable Development Goals, and certainly not Enterprise Times (ET).
Yet ET is not a fan of most of today's cryptocurrencies and tokens. There is too much capability for fraud. Which makes it all the more intriguing that the UN should be being pushed (or pulled) into adopting frontier tech as a way to transcend its on opacity and bureaucracy (and that of many member countries) – all for the benefit of the deserving billions of people addressed by the SDGs. For ET this is a topic both to wonder at and to follow in future years.