Enterprise Times sat down with Simon Niesler, Senior Vice President & General Manager, Infor, at Make UK in central London this week. This was the first conference since Make UK rebranded itself from EEF. Infor have sponsored the event for several years and it provides them with a good opportunity to get in front of the UK manufacturing industry at a time where more of them are considering a move to the cloud.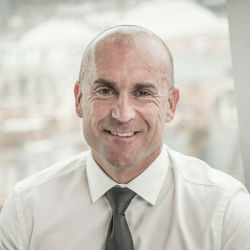 Niesler runs the Western Europe business for Infor. However, there are a couple of sectors over which he doesn't have control, those are hospitality and retail. The last few months have gone well according to Niesler. The first tranche of cloud customers are now renewing their contracts. Niesler importantly confirmed: "They have all renewed with us."
This indicates that Infor is making the transition from a license based approach to continuous customer services which cloud software demands. It has also helped Niesler to meet his revenue targets.
When ET last spoke to Niesler he was in the midst of a sales training and recruiting process. That is now complete. Niesler confirmed that his business unit has filled its headcount and is now "ready to roll". He believes that he is also about to demonstrate an increase in net new customers. Some have already signed, but none are yet live and public knowledge. He commented: "Client acquisitions continue to grow." Most of them, Niesler implied, are in the target sectors of Travel & Transport and Energy & Natural resources. These are the two sectors that Niesler is focusing on.
As for the forgotten customers, those with whom Infor had lost touch over the years of acquisitions, Niesler believes that the strategy of reconnecting is working. His region now has 50% more cloud customers than any other region.
Investment in partners
Another challenge for Niesler was the number and depth of the relationship with partners, especially SI's. There has been progress. "We have continued to invest significantly. Twelve new heads into partner ecosystem to manage it."
Infor is also developing a better relationship with Capgemini, in the UK. However, Niesler added: "We have not seen it starting to bear anything around go lives or client acquisitions yet but off the back of that we are looking at a successful pipeline for 2020."
This is not a surprise. It takes time for an SI to retrain consultants in new technology and to win business using it.
Niesler appears confident that the work in areas such as Enterprise Asset Management will come. He believes that the Infor EAM is better than the one currently supported by the SI concerned and they would transition to implementing the Infor one. However, it takes time to persuade the SI and the customer of the value of shifting. Whether this is capgemini or another is unclear. However, the timing of this is outside Niesler's control as he closed by saying: "The pace is more dictated by them than by us."
Measuring successes
Niesler measures his success against five key pillars and he seemed confident that he is progressing well on each of the five.
Customer centricity – Measured by the number of customers that get to go live. This is an area that Niesler has given a focus to as customers have historically take time to cross the line. However, the focus is working and companies such as Triumph Motorcycles are now switching on elements of their solution. Others should soon follow.
Ecosystem – The partner ecosystem is improving, the relationship with Capgemini a case in point.
Growth – This will only come as a result of successful sales and deployments but hitting revenue targets should enable Niesler to increase his team further.
Back office (professionalisation) – Niesler acknowledged that this is ongoing. He sees the focus on specific industry sectors helping to bring a focus and professionalism that may have been lacking previously.
Employee engagement – This is important to Niesler. He intimated that Infor is looking at entering (or announcing that they have entered) some awards schemes in the near future. That it wants to, and is willing to, do so means that Infor will have a better focus on morale and culture within the organisation going forward. This will help its appeal to both existing and potential employees.
What is Infor's ambition?
ET asked Niesler what he was looking to achieve in 2019. He responded: "Continue to grow at double the speed of SAP, 50% over the Oracle growth and continue to drive in high double figures for the Western Region. This is the largest region outside North America for Infor."
That growth has been powered by larger deals. Niesler claimed that they had doubled the number of seven figure Annual Contract Value (ACV) deals. That brings the total into double figures. At least one of those major deals is set to be announced within the next few weeks.
The issue of brand awareness for Infor
Infor has suffered from a lack of brand awareness in recent years. Bolted together from a disparate set of relatively unknown companies it still struggles at times to have the brand recognition that SAP, Oracle and others do. Infor understandably controls corporate branding from the US. However Niesler knows that he needs to help support the global strategy with local initiatives.
ET asked Niesler how he would approach it in his region. He replied: "I do not want to sponsor a football team or rugby team. MAKE UK is a good place for us. We are very focused on what we do, we are not a broad church. Our ERP software is not as broad as SAP or Oracle. Our last mile functionality will enable us to go to events that are appropriate for us."
Enterprise Times: What does this mean
In some ways it has taken time for the Western Region to sort itself out when compared to both the Middle East and Nordics region. Both of those have recently had a considerable number of announcements over go lives and wins. However, according to Niesler that is about to change. There are more large deals in the pipeline. Several customers, such as Triumph Motorcycles are now completing implementations. Soon, there may be a growing cadence of announcements both for wins and go live implementations. Niesler needs to keep that momentum going, get the SI's fully onboard with Infor and get them to re-allocate or create new resource pools of Infor consultants in their ranks.
That work is by no means complete. It will only happen if large organisations want to buy Infor products. This is only likely to happen when customer advocates start talking about their stories of success. In the mean time, both Oracle and especially SAP are starting to complete more ERP implementations as well. There is a lot of business out there and by having a clear focus one suspects that Niesler is hoping to grab market share from both competitors in its chosen markets, and probably IBM in the EAM space.
Niesler appears to have his ducks lined up. He is working on the organisational culture, the wider partner ecosystem and delivering customer success. Like the Ferrari F1 car that Infor sponsors it does not mean that he will win the race though. He has the right components for the new season, now it is keeping the organisation purring and hopefully, reaping the rewards.