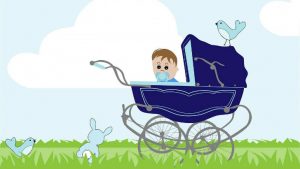 Infor has announced that Stokke, a Norwegian manufacturer of childrens furniture and prams has selected Infor CloudSuite M3. Merit, an Infor consulting company, acquired in 2016, will assist the organisation with the migration from its existing Infor solution to a cloud deployment throughout its operations in Europe, US and Asia. Stokke has been a Merit And Infor customer for over a decade. Its last major project saw it migrate from M3 Movex RPG to a Java enabled version of that product.
The migration to the cloud will remove the necessity for the internal IT team to look after an infrastructure that covers multiple site. It will therefore free up resources to focus on projects beneficial to the business. Rolf Waage, ICT director at Stokke commented: "Our decision to go clouding with a cloud solution was both overwhelming and simple. We have a global IT department with only nine people, so we do not want to handle data center problems or tasks such as backup, storage or application management.
"This is what our technology partner should handle. Although we have seen some improved functionality, such as role-based websites, this decision has primarily focused on giving us better accessibility and adaptation of IT resources, since Stokke continues to contribute to innovation in the market. "
Staying with but not expanding ERP footprint
While this is a positive move for Infor it does not mean that Stokke is buying into the wider Infor platform, yet. Stokke also uses several Salesforce solutions including Salesforce Commerce Cloud for its eCommerce platforms. It also recently chose HRworks as its HR solution, another cloud solution.
Stokke is looking to simplify its IT infrastructure by moving its applications to the cloud. It has not consolidated its applications into a single solution. This latest announcement is the next step in moving Stokke applications into a cloud based software architecture. Waage commented: "We wanted to ensure information was available anytime anywhere."
The Salesforce solution now includes Sales Cloud, and Service Cloud as well as Salesforce Commerce Cloud. Connecting these systems together is something that Infor already has experience of. It launched its Salesforce connector InForce Everywhere in 2012. Infor is potentially moving towards an IPO. As it does so, it will be interesting to see whether it looks to get closer to the CRM giant. While it has competing products, especially in the CRM space, there could be advantages with working together in the Manufacturing sector.
Enterprise Times: What does this mean
Yet another manufacturer declares that it is moving to a cloud-based solution. This is a trend that is set to continue in 2019. Manufacturers have in the past been reticent in moving their IT to cloud-based solution. This is another example that this is changing. The competitive market is also becoming more crowded.  QAD recently completed its Channel Islands project to deliver a pure cloud Manufacturing ERP solution. Deacom recently launched a managed cloud ERP, though questions remain on how "cloud" that solution is.
This is not a net new customer for Infor. However, it is important for them to migrate their existing license based customers to the recurring revenue model. This is especially important as the company heads towards the IPO inferred by Charles Phillips, CEO after the most recent Koch announcement.