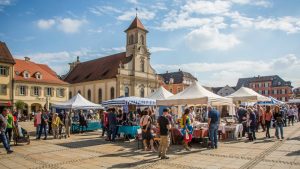 Its been a year but as the Deltek Product Partner marketplace celebrates a year of existence it has more than 21 listings in place. In 2018 it has added six new partner products bringing the total to 22.
In October last year Enterprise Times noted that two of the products that Deltek had announced Trendata and Valiant Solutions were not listed, they are now. The latest partners are:
A2B Tracking: Provides enhanced asset tracking at military grade. It is FEDRAMP approved.
Compliance Central: Provides a compliance add-on to Deltek. It streamlines and automates declarations and other compliance processes. Support for compliance documents includes: Sarbanes Oxley 302 Quarterly Certifications, Transaction Disclosure Statements and Quarterly Rep Letters.
Global HR Research: Provide a background screening solution for contractor management, PEO, payroll, and franchises
Live Video Interviews: A SaaS based solution that enables recruiters to offer video-based interviews through its own website.
StreetShares: A government contract financing company. It offers lines of credit to small companies working on government contracts. On the listing Sanjay Bhaskar, Head of Business Development and Partnerships at StreetShares commented: "StreetShares is thrilled to be in the Deltek Marketplace and to help government contractors solve their cash flow challenges."
Vena Solutions: A financial planning and analysis solution. It delivers forecasting, financial planning, close management and revenue performance management. It integrates with Deltek vision and there is already a joint customer. Dominic Di Bernardo, Chief Business Intelligence Officer at Cumming commented: "Vena is like getting a Ferrari for the price of a Cadillac. A Cadillac is still a nice car, but if you can get a Ferrari for the same price…"
Celebrating success
After a year in place the marketplace has enjoyed some success. While the timing of Vena and Coming would indicate that that deal came after its listing on the marketplace another vendor, EBI has enjoyed success. EBI also offer background checks and provides a solution that integrates to the Deltek talent management.
Don Darrah, VP of Alliance Partnerships at EBI commented: "The Deltek Marketplace provides EBI with the ability to easily and effectively promote its integrated solutions to potential customers in great detail.  Most importantly, we are able to demonstrate the value proposition of our solutions to all constituents in the organization – so the buyer is probably 80% of the way through their decision cycle before they even engage with EBI."
What does this mean
The Deltek product marketplace is growing, they are adding new products at the rate of over one a month. However, it is currently just a listing site and does not have the same functionality for engagement as other sites. As its numbers grow though companies will want to identify how to differentiate each listing. There is currently no opportunity for customer feedback. Nor is there much information around the integration with Deltek the products have, in a structured way.
The search functionality could also be improved. Selecting multiple Deltek solutions fails to bring up partner products that work with either one or both products. Deltek need to improve the performance and data available on the marketplace and then they may start to not just attract more partner products but also accelerate adoption by customers.