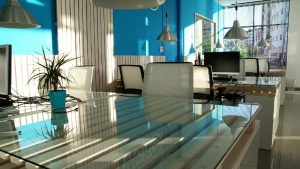 Asian fast growing co-working company, Ucommune, is establishing its first blockchain research lab. This marks Ucommune's first foray into the blockchain sector and comes in support of the Chinese government's drive towards blockchain adoption and a digital economy.
Ucommune is initiating a blockchain platform. The idea is that community members will build blockchain solutions on this. In addition, it will encourage blockchain innovation for co-working spaces on the platform.
"Our foray into blockchain reflects Ucommune's commitment in providing decentralised and trusted services to our growing and diversifying community member base. The new lab will conduct in-depth research on blockchain application for coworking and develop a whitepaper that sets the industry benchmark. We are also leveraging blockchain for custom-made solutions to better serve our millennials members," says Mr. Ma Zhiyu, Director of the Ucommune Blockchain Lab.
The quest for Ucommune's community expansion
With the merger of Woo Space, Wedo, New Space and Workingdom earlier this year, Ucommune has cemented a coworking leadership position in China. With 160 locations in 36 cities globally, Ucommune connects 120,000 individual members and 7000 corporate members. It has a total space of 400,000 square metres.
Earlier this year Ucommune launched its proprietary application UBazaar and its U Bespoke consulting service. UBazaar aggregates local suppliers, services and merchants to simplify various transactions. The UBazaar mobile app has so far achieved over 500,000 downloads and has 100,000 active users in 160 communities. (Its aspirations are probably to be another SAP Ariba or Tradeshift.)
In contrast, U Bespoke is a service combining interior design and IT system design for landlords and corporate members. The objective is to help companies achieve greater employee engagement and, at the same time, landlords obtain higher property yields. (It resembles the Powered by We service rolled out by US co-working giant WeWork last year.)
Ucomune's blockchain leadership
Mr. Ma brings decades of experiences in IT software developments and has worked with blockchain since 2017. He has mentored several young entrepreneurs in the field and focuses on the application of blockchain to areas such as healthcare, big data, blockchain sourcing, sport gaming, celebrity IP and copyright training applications. He founded a blockchain lab named Astar.
Partnering Mr. Ma will be Ucommune's CTO, Mr. Xu Binchao. Mr. Xu has over 15 years of experience and specialises in product design and the application of new technology. In the past he has led various teams to design and operationalize various internet businesses. He has also amassed a wealth of knowledge in search engine optimisation and development. Mr. Xu is optimistic about creating a blockchain-enabled coworking eco-system.
"Ucommune Blockchain Lab aims to enable and empower a trust-based virtual network that helps businesses of varied sizes to collaborate, source and trade efficiently and transparently. Drawing on our technological know-how and expertise, we are on track to connect enterprises across the entire value chain to form a smart contract platform that all member companies can build their sub-chains upon," said Mr. Xu.
Supporting both technical leads will Mr. Josh Zhang. He is currently the Chief Strategy Officer and Executive Partner of Ucommune. Mr. Zhang will provide the business strategy to ensure the commercial viability of the Ucommune blockchain project and he will oversee:
strategic planning
government relations
Corporate Social Responsibility (CSR)
innovation programs.
"Blockchain is a dynamic technology with several commercial use cases. Given the wide array of choices available, Ucommune will conduct our due diligence to discover the requirements, price points and preferences of our clients. This will inform our blockchain product development strategy and also customize the platform to suit other entrepreneurs," said Mr. Zhang.
Enterprise Times: what does this mean
Ucommune is a fast growing coworking powerhouse in the Orient. It has big ambitions, and one of those will be to contribute to 'satisfying' Chinese government strategic objectives. Adding a mechanism, its blockchain lab, to introduce blockchain technology both to its own business and to the businesses it hosts has a logic.
Whether Ucommune will achieve anything is more open to question. Announcing the intention to offer a platform is a start. Delivering a blockchain platform which has a purpose is much harder. Meanwhile UBazaar and U Bespoke have yet to prove their merits.