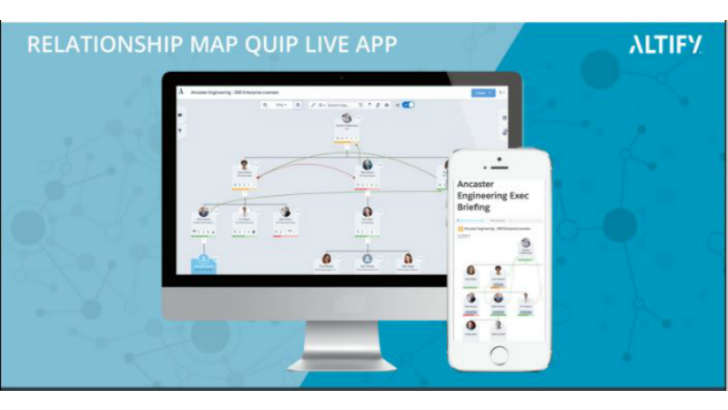 Altify has announced a new integration app for the Salesforce Quip platform.
Entitled Altify Relationship Map Quip Live App it enables Quip users to bring in relationship maps from Altify into a Quip document.
The App is free to users of Quip and Altify and brings one of the key components of Altify into the Salesforce office automation tool.
Understanding the relationship is a key part of the sales cycle and Altify allows account executives to map people within buyer organisations as part of the selling process. The integration with Quip will enable them to embed those maps direct into documents such as taxi reports or executive briefings for other members of the team. This enables the wider use of the relationship map as part of sales engagement without the need for users to access Altify.
The integration is live, thus if any changes or updates are noted by any team member within Altify, the Quip document is also updated. Anthony Reynolds, CEO of Altify commented: "World class selling requires intimate knowledge of your customer's key people and their business needs. Altify's Relationship Map Live App transforms selling for the digital world by bringing customer relationships to life in Quip, enabling everyone in the organization to understand client relationships in order to deliver value."
Quip integrations increase
This is the latest of several integrations that Salesforce partners have recently added to the app exchange. During the last month five new integrations were added in addition to Altify:
As with the Altify app, all of the apps are free for users to download and use. However, it assumes that both Quip and the parent app are in use within the company,
What does this mean
These are the first of several integrations that Salesforce partners are likely to announce in the coming year. It is an important step for Quip as it looks to leverage its existence on the Salesforce platform. Patrick Moran, Chief Customer Officer, Quip commented: "Teams need the right apps and tools embedded where they work. Opening up Quip to our partner ecosystem through the Salesforce AppExchange delivers an enormous opportunity for our partners to extend their expertise into the Quip Platform, creating a customized solution for every Quip customer."
As these integrations increase, companies will consider whether they should continue to use Microsoft Office or switch to Quip. There are still a lot of integrations yet to be announced and completed. Once use cases and the business benefits are realised from these integrations, organisations will start to take note.
For Altify, whose customers include Autodesk, HPE, Johnson Controls, Salesforce and Software AG, this is an important integration. The sales teams that use their software have already replaced account tracking spreadsheets with its software. This makes the implementation and associated cost savings of implementing Quip a little closer.
What about future enhancements though? Will Altify allow other components to be embedded within Quip? Neither the press release nor the AppExchange information infer that further integrations will come.