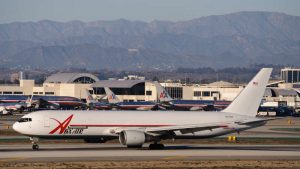 IFS has won a contract with ATSG. The contract will see IFS Maintenix installed at three of its subsidiaries. Two ATSG subsidiaries, ABX Air and Air Transport International only implemented FleetCycle MRO from EmpowerFX in 2013. The third subsidiary is Cargo Aircraft management, an aircraft leasing subsidiary.
The contract is described as a full footprint implementation and is therefore likely to include the electronic technical log (ETL). Over the last few years ATSG has grown strongly. While revenues dropped from 2016 to 2017 ($768.9 million to %745.2 million), it has enjoyed a CAGR of around 10% between 2013 and 2016. It has doubled its Boeing 767 freighter fleet in a similar timeline and is also looking to expand globally.
Its group may have been why it needed to review its MRO software. The reason given was to seek "a modern, scalable software solution that could drive greater standardization and maintenance management process efficiencies." After a review of the market it selected IFS Maintenix. Matt Fedders, Vice President, Controller, at ATSG commented:  "ABX Air, ATI and CAM needed a solution that could deliver value in short order with minimal disruption to our business. By selecting IFS Maintenix, we are taking the next step forward to better streamline our fleet operations, and by extension, better serve our customers."
What does this mean
For IFS this is a substantial win at a leading MRO provider. It demonstrates that the acquisition and embedding of MXI Technologies, acquired just over a year ago, is healthy. It is less good news for EmpowerMX. It has seen its systems replaced in at least two of the subsidiaries.
Scott Helmer, SVP, Aviation and Defense at IFS commented: "We are extremely pleased to have ATSG join our expanding customer community. This relationship not only testifies to our continued commitment to the North American commercial aviation market, it also further distinguishes IFS Maintenix software as the solution of choice for airlines of all sizes across all markets looking to deliver world-class commercial flight services."
Success for this project may see IFS replace other systems at some of ATSG's other subsidiaries. Pemco World Air Service for example, currently uses Avexus. There would be some benefits in consolidating data into a single solution.