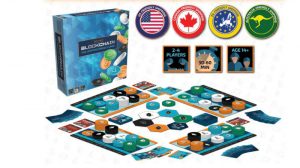 Say Cheves Games (sic) is making its debut on Kickstarter with "Blockchain: The Cryptocurrency Game". According to its creators, this (allegedly) action-based card game has strategy, risk, and interactive play involving the most popular concepts associated with cryptocurrencies. Players mine, trade, and store coins to fill the cold storage section of their vaults while planning calculated risks and deceptive hacks that reflect real-world volatility and disruption.
As of January 25, this blockchain game will feature on Kickstarter with an early bird, three-day special of $39 plus shipping. The standard Kickstarter pledge for the Blockchain game with all stretch goals will be $49 plus shipping. The tabletop game is play-tested and press-ready with printing and international distribution partners ready for action. Recommended playing time for two to four players is roughly 30 to 60 minutes.
A blockchain game with similarities to the real world?
In this blockchain game, turns include phases where cards are mined from the deck. Players then perform special actions – such as trading, mining and chaining.
Coins trade, based on fluctuating exchange rates, before being stored in player vaults. They can also move from vulnerable wallets to secure cold storage.
The simple goal of collecting ten of each coin becomes – so its inventors say – 'intriguingly complex, particularly through the instant use of hack cards'. Throughout the game, players apply both defensive and offensive strategies that (may) appeal to a wide audience.
What does it mean?
Cryptocurrency enthusiasts and collectors may appreciate "Blockchain: The Cryptocurrency Game's" altcoins, technology references and unpredictable devices. Whether these accurately reflect current market challenges almost does not matter.
For those who wish to pit their wits against the altcoin world without losing their shirts this may prove attractive. Equally it is quite possible, though as yet untested, that this cryptocurrency game may work as an almost 'costless' enterprise introduction to how and why the altcoin world is both seductive and dangerous, though it might be even better if it was online.