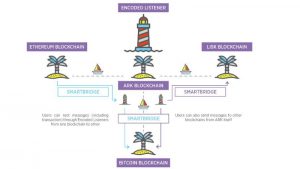 ARK has announced a release of ARK Deployer, a lightweight script enabling "Point. Click. Blockchain" systems. With this ARK seeks to create a blockchain solution with all the traditional benefits that come with blockchain networks and systems. In effect, ARK is a platform to enables users, developers and startup companies to access blockchain technologies and networks.
Travis Walker, at ARK, said: "Unlike ethereum and ERC20 tokens, all ARK-cloned chains can have their own blockchain that will be connected to the ARK ecosystem. They will be customizable, you can set your blocktimes, number of delegates, and more. This gives you complete freedom and independence without bloating the ARK mainchain, but while still having the ability to utilize the entire ecosystem."
ARK progress
By making blockchain technology readily available and accessible, ARK builds bridges to allow for the simultaneous utilisation of multiple blockchain networks. Its objective is to simplify the process of having to endlessly trade coins to gain access to rival networks, for example, the two major networks Ethereum and Bitcoin.
Through the ACES Project (Ark Contract Execution Services), the ARK network can interact freely with Bitcoin, Ethereum and Litecoin blockchains via its SmartBridge technology. By utilising their features ARK embraces functions, such as Smart Contracts, which are the bread and butter of the Ethereum Network.
As the first step toward creating a vigorous ecosystem, the ARK Deployer script offers enthusiasts the opportunity to start learning the workings of the ARK ecosystem. They can familiarise themselves with the code, which is now available for demonstrations through Hackathons and conferences. The script allows adopters to test the limitations of the of the blockchain 'web' that ARK wishes to enable.
In effect, developers, or anyone who enjoys a foray into new technologies, have the capability to launch their very own blockchain running on ARK technology within minutes. With "Point. Click. Blockchain" developers can create their very own connected blockchains (these will not build on top of the ARK main blockchain but will build in parallel, thereby giving users full control and customizability).
SmartBridge
SmartBridge offers the ability to connect and communicate between blockchains. By connecting blockchains, one resolves one of the dilemmas of altcoins, not by replacing bitcoin or other altcoins but by bridging many (or all) of them.
In ARK's SmartBridge, every app produced on any blockchain has the potential to reach a greater audience. This occurs through a simple blockchain token called ARK. Ark's SmartBridge communicates between the blockchains using a special data section called 'Vendor Fields' and special 'Encoded Listener' nodes. These comb through data for tasks to perform.
In order for ARK to become the medium/intermediary between chains, each chain needs to implement a small snippet of code. Once inserted, and allegedly not harmful to any blockchain, this code enables the connection to ARK.
Blockchain on demand
For enterprises blockchain technologies do not always seem like a necessary technological tool. Discouragement arises because of the blockchain reputations for complexity and/or insufficient public knowledge of how blockchains work.
ARK wishes to change this. A startup, for instance, could benefit from blockchain tech as it collectively tracks and unifies events, movements of product, whatever it may be, across all parties and gives them all the same copy of the ledger. In such an instance the benefits are far-reaching. The single source of truth, for instance, can enable all parties on a network to:
see the same data
add a layer of security to business practices and processes.
As such enterprises can benefit from the Ark Deployer script. They start to build their own blockchain networks, ones which:
offers that single truth source
reduce the reliance on costly intermediaries (that tend to increase business costs and generate time wasting inefficiencies).
What does it mean
ARK is setting up to create 'an entire ecosystem of linked chains. These might also be described as a virtual spider web of endless use-cases. It is this blend which has the potential to make ARK flexible, adaptable and scalable.
If the vision of push-button blockchain deployment becomes real, ARK hopes there will be a boom in blockchain understanding. This ARK hopes will promote ever more adoption of the ARK approach to networks and scalable blockchain software.
Is it real? As ever, time – and enterprises – will be the judge. Usability and blockchain, currently, do not often go hand in hand (and others are trying to crack the same problem). If ARK has cracked this it – along with bridging Bitcoin, Ethereum and Litecoin – it may open doors to those previously put off.