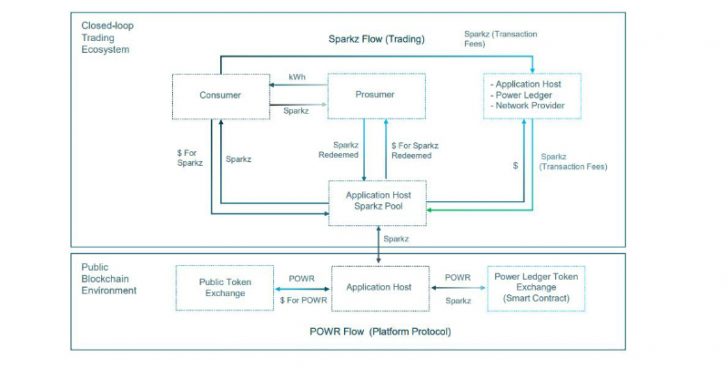 Blockchain energy market provider, Power Ledger is putting its peer-to-peer energy trading platform to the test via a trial with Australia's energy retailer, Origin. The trial involves Power Ledger using anonymised consumer data. This will seek to prove the accuracy and security of the Power Ledger trading platform. The trial will begin in October and run for a period of three months.
Tony Lucas, Origin Executive General Manager, Future Energy said: "While it's still fairly early days for this technology, we are keen to explore the potential benefits that peer-to- peer energy trading could offer our customers. Power Ledger is one of a number of emerging technologies we're currently exploring, which we believe could help us meet the changing needs of our customers.We hope the trial will help us better understand the value proposition for consumers, as well as the regulatory and technical implications of the peer-to- peer trading model."
The Origin / Power Ledger trial
Customers generating power from renewable energy have historically sold back to the energy companies. This project is focused on where people are buying and selling the energy they generate to their neighbours. This approach disintermediates the existing energy model through the peer-to-peer approach. It also allows people to be certain that the energy they are consuming really does come from a renewable source.
This trial uses anonymised and historical customer data to explore the benefits and challenges of peer-to-peer energy trading across a regulated network. Blockchain provides an immutable record of generation and consumption.
Power Ledger's managing director, David Martin, said: "The technical trial with Origin allows us to test this new and potentially disruptive technology with one of the industry's biggest players. Peer-to-peer energy trading presents an opportunity to unlock enormous value for consumers, it disintermediates the energy supply model putting consumers in direct contact with other consumers. Exploring technology options with Origin that could allow consumers to take more control of their energy purchasing options highlights how the needs and expectations of energy users are changing in Australia and reflects Origin's stated commitment to delivering innovative energy solutions to its customers."
Power Ledger and its platform
The Power Ledger platform is a trustless, transparent and interoperable energy trading platform that supports an ever-expanding suite of energy applications. It uses an exchangeable frictionless energy trading token, the 'Sparkz'.
Sparkz is the fuel of the Power Ledger ecosystem. Bespoke private trading applications create Sparkz. These are currently purchased and redeemed using fiat currencies with individual trading platforms hosting closed loop exchanges for energy and Sparkz.
Energy trading applications are not just conceptual, they are proven and deployed in communities and energy markets around the world including Australia, New Zealand, Europe and Asia, such as PowerPeers. In this context, the Power Ledger ecosystem supports a growing number of energy trading applications. The key classes of Platform Applications developed by Power Ledger are as follows some are already operational; others are in design or in development:
peer-to-peer trading
micro-grid/embedded network operations
wholesale market settlement
autonomous asset management
distributed market management
electric vehicles
power port
carbon trading
transmission exchange.
What does it mean
Though this is only a trial with Origin posses a practical dynamic. For Origin it is to understand what blockchain might offer;  for Power Ledger, Origin is a 'real' customer). Power Ledger's aspirations are enormous. If it can deliver a positive pilot which moves to production, this will likely attract many other energy utilities.
Perhaps the biggest question mark arises with Sparkz. Its exact manifestations are unclear. While ICO's are enjoying much market noise, many doubts are emerging. It may be that the success of Sparkz, rather than the blockchain, is the greater determinant of long term success.