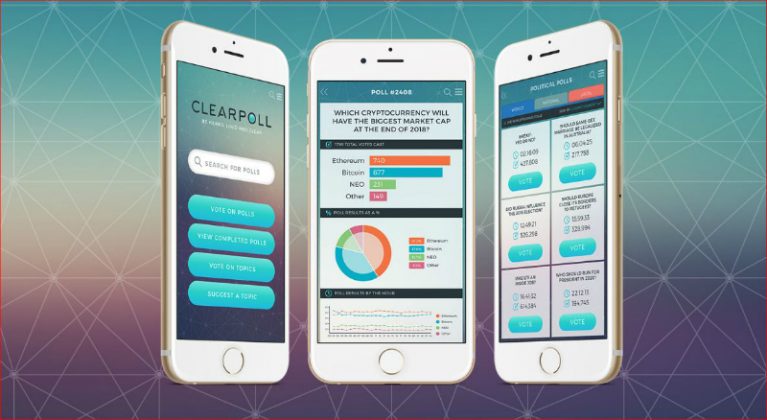 Nextech, a Perth (Australia) company, has created a project called ClearPoll. This allows users around the world to:
browse for opinion polls on topics they care about most
vote on the polls
view detailed results.
By deploying blockchain technology Nextech securely stores both votes and results. Better still, no individual or corporation can tamper with or censor them.
Where's the need for ClearPoll?
It is becoming more and more difficult to know what people really think (in contrast to being told what they think by the media). One solution is to decentralise public opinion poll data. Then you make it 100%, and publicly, viewable.
With blockchain most commonly associated with fintech this is an 'alternative' application of decentralised technology. ClearPoll aims to be a hub for accurate public opinion. By providing a social aspect it gives users the chance to not only have their voice heard but also to discover what others think. The range of topics is infinite, and could include:
politics
human rights
entertainment
sport
and more.
Not only do users vote on polls; they also decide the next topics for polls.
The ClearPoll solution
ClearPoll aims to provide accurate public opinion data. It enables this by encouraging wide participation, by making polls easily accessible via its ClearPoll app. The app gives users the means to vote on topics. The topics with the most votes become active polls for everyone to vote on.
Users can easily search for polls by keyword or category. Furthermore, users can easily filter from (say) global polls to national or even local ones. When a user finds a poll he or she cares about, they vote. That vote is sent to, and recorded on the blockchain. In turn, this provides a secure and unalterable record – along with all other votes.
The proffered significance is that:
participants decide what matters most to them
no one person, or corporation, makes decisions on which questions are asked, or which poll results are
made public.
As such it would appear to be a transparent and accurate way of gauging public opinion.
ClearPoll to use Hyperledger?
ClearPoll must be able to process millions of blockchain transactions in a fast and efficient manner every day. Nextech is looking to create an
independant distributed ledger which is not reliant on any existing blockchain networks.
Enter the Hyperledger Fabric. In Nextech's words: "Whilst we are not at the stage where we can positively say this will be our platform, we can say from preliminary testing that it looks like a very good fit for our needs. Hyperledger Fabric has been designed by the Linux Foundation for enterprise level security, scalability and performance. The project's goal, from a performance point of view, is to reach 100,000 transactions per second, this a very general goal as transaction speeds can vary depending on transaction content and network conditions. However this goal
far exceeds our requirements which gives us the confidence in Hyperledger fabric as a solution for ClearPoll."
What does this mean
Leaving aside whether the world needs a global polling mechanism, this use of blockchain technology is different to standard fintech fare. By making it available on smartphones as well as desktops and other devices, Nextech with ClearPoll can exploit a huge potential 'customer base'. Adopting the Hyperledger Fabric, though not yet a commitment, also makes sense.
Which brings one back to the underlying rationale and a raft of questions:
do people want to vote?
does self-selection invalidate responses?
will those votes count for anything (if they don't, interest will evaporate fast)
who will design the polls (after the embarrassments in the UK over the past elections and the referendum,this must be an issue).
etc.