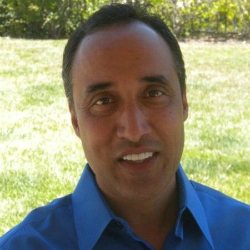 ManageEngine recently completed a survey of 201 IT leaders in the UK. The company has presented some intriguing analysis of the results which it believes shows IT is moving closer to the business.  ManageEngine is part of the Zoho Coporation and a provider of IT management software. ET caught up with Raj Sabhlok, president of ManageEngine and the Zoho Corporation.
Is IT getting closer to the business
IT is getting closer to the business according to the results of the survey. In a canned statement, Sabhlok commented: "One of the cornerstones of business-IT alignment is shared objectives and vision. This survey clearly shows that businesses in the UK have found a way to consistently get their IT and business managers on the same page and moving in the same direction. You can see this success in their high levels of cross-functional knowledge and in the positive impact that IT is having on the bottom line."
The results appear to back up this opinion. 42% of respondents report that the IT department is always or regularly involved in business decisions and a further 37% state that they are sometimes involved. More telling perhaps is that 85% of respondents believe their business managers have a good understanding of IT.
ManageEngine provided ET access to the results but not the raw underlying data. In our analysis while at first glance the figure stack up there are some caveats that should be highlighted about the survey.
An independent survey with too narrow a focus
The survey was carried out by an independent company Censuswide. According to Sabhlok this was an independent survey which sourced IT leaders from a wide range of industries and organisation size. In some ways this is good as it gave an independence to the results.  On the other hand there was little consistency across the results with IT and Telecoms making up 50% of the respondents. The only other segments that had a significant showing were Manufacturing and Professional services, both around 10%.
The issue with the chosen demographic is that more than 94% were IT leaders rather than business leaders. Whether the same number of CEO's and CFO would have said that IT is involved in the same amount of business decisions is debatable. Sabhlok concurred with this critiscism but fully believes that it does show a trend of IT increasing its role within the business. That they view such a high number of business leaders understand IT nowadays is more of a change.
Security continues to be an issue
Another focus of the survey was around security. 48% of organisations think they are more at risk than over the last 12 months. Interestingly 10% of IT and Telecoms respondents felt they were less at risk. This was an anomaly, and one that would have been interesting to gain a deeper understanding of. Perhaps they have increased spending on security over the last year to warrant that.
The survey also revealed that only 45% rarely, never or only occasionally update mobile with security devices and patches. However it isn't clear whether those companies actually had any extra security software installed on mobiles. That might have been a more interesting question to answer. CYOD (choose your own device)  is still clearly the preferred route though for companies with 78% providing employees with devices. Most also allow employees to install their own apps, the average was 63.7% though professional services allows nearly 95% of employees to install their own software.
One statistic ET was unable to prove that ManageEngine cited was that: "Seventy-two percent of respondents reported either cyber attacks, data theft by external parties, or unauthorised access and/or misuse of data by an employee." In fact the responses to these were much lower (26.9%,20.9%,24.4% and 26.9%). Without access to the raw data it is hard to validate whether it should have been as high as 72% though it is possible. If that is the case then this is a good thing. It shows that organisations are more aware and perhaps even more willing to acknowledge these breaches. Whether they were actually reported is another matter though!
Companies still not prepared for GDPR
With GDPR looming the survey also asked whether organisations were prepared. ManagineEngine preferred to take a positive approach to the data. It stated: "81 percent of respondents believe that they are prepared for the impending regulations". In fact this is the conflation of those respondents who said they were very prepared and quite prepared. One could easily interpret the data differently, saying that 66.2% are not "very prepared" for GDPR. I suspect that the latter is closer to the truth. Even the use of very prepared does not, in a sense mean that companies are fully prepared for GDPR.
Cloud is here to stay but…
Companies are adopting cloud. Without a previous years survey data to compare against though it is hard to determine the trend. However, 87% of those surveyed said that there had an enterprise cloud strategy. In terms of impact on the business, 70% indicated that it is having a positive impact. One interesting highlight is that 88.2% of Professional Services said that cloud had a positive impact on business.  Perhaps reflecting the success of cloud PSA solutions such as NetSuite, FinancialForce and Kimble. Manufacturing, often seen as a laggard polled 70.3%. Surprisingly 8.3% of respondents said cloud has a negative impact on the business. What wasn't clear is why?
Hybrid is also in use across organisations with 40% of companies with an enterprise strategy having a hybrid cloud approach. It would be interesting to see whether that trend decreases over the new few years.
What did they miss?
Interestingly, perhaps even more so considering that ManageEngine produces IT management software to support corporate networks, there were some other findings in the data that were not revealed by ManageEngine. The top three challenges faced by IT departments over the last 12 months were: Network outage (48.8%), application failure (44.8%) and data centre (38.8%). These figures seem staggeringly high. Whether the ManageEngine solutions can help resolve or mitigate those outages is up for debate.
However, it is an area of concern as companies move to the cloud more and more. 18.9% responded that they had no IT incidents or issue over the last year. Whether they would be the same figure given in a qualitative research interview would be interesting. It will also be interesting to see how this number changes over the next 12 months. The EU Network Information Systems (NIS) directive comes into force alongside GDPR next year. It's focus is on companies having proper disaster recovery processes. Companies will find that they now have to focus on recording and dealing with all critical incidents.
What does this mean
While the survey wasn't huge, at more than 200 respondents it was significant enough to highlight some findings. It does back the ManageEngine ascertain that business is getting a greater understanding of IT. In theory this should make life of IT leaders easier as their peers will understand their point of view better. My anecdotal experience in conversations is that while IT may not be involved in many more business decisions it is having a greater influence on them. It would have been interesting to see a more focused survey rather than one across industry sectors and company sizes.
Are companies ready for GPDR? Probably not yet, but many are on the way to achieving readiness. As a snapshot survey this indicates that IT teams still have many challenges to deal with from mobile devices to security and even networking challenges. The latter is fundamentally important for the success of cloud. It will be interesting to see whether those figures decrease over time.
The problem with snapshot surveys such as these is that they give only a taste of what might be happening. If an organization had back up links for its network, the business users may be unaware of the network outage issues that IT experience during the year for example.
One thing that Sabhlok did speak about during the interview was the integration of some ManageEngine products in Zoho's new ERP solution Zoho One. Bringing user management and application management tools onto their ERP platform is an interesting move. It differentiates them from many others that often leave the onus of IT management to third party tools.