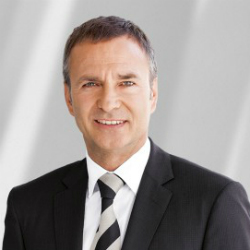 Daimler AG and Landesbank Baden-Württemberg (LBBW) have used blockchain technology to execute a financial transaction. Daimler and LBBW successfully tested blockchain for capital markets in parallel with the process required by regulatory authorities. Through LBBW, Daimler has launched a €100 million 1 year corporate Schuldschein. Various savings banks Esslingen-Nürtingen, Ludwigsburg, Ostalb as well as LBBW acted as lenders.
The entire transaction — from the origination, distribution, allocation and execution of the Schuldschein loan agreement to the confirmation of repayment and of interest payments — executed digitally, via blockchain technology. Daimler and LBBW subsidiaries participated (TSS for Daimler and Targens for LBBW).
According to Bodo Uebber, member of the Board of Management of Daimler AG responsible for Finance & Controlling and Daimler Financial Services: "This pilot project is our first step in testing the wide variety of possibilities for using blockchain technology and assessing this technology's potential for future transactions and financial processes. Simultaneously with launching the Schuldschein, we conduct other projects to determine where blockchains could also be used to increase efficiency and support our business models. LBBW has been our partner for many years. It has extensive experience in this field, and its innovative projects are helping to shape the future of the financial markets."
€100M Schuldschein pilot
Schuldscheine are bilateral loans, normally privately placed, unlisted and unregistered. By means of this Schuldschein pilot project, Daimler and LBBW sought to test the potential of blockchain usage early and in a practical context. They wished to gather know-how for the creation of new business models. It is not clear from the release as to whether smart contracts were part of this trial. It would be a surprise if they were not as the mechanics of Schuldschein are ideally suited to this approach.
Daimler implements an open-source culture. Its objectives were, and are, to:
shape the future of what it calls the "Internet of Values"
gain access to talented individuals
innovate as an active partner in the global technology and startup environment.
According to Joachim Erdle, Head of Corporate Finance at LBBW: "Blockchain technology will change the role of banks as intermediaries in the economic process. We don't want to merely observe this development; we want to proactively shape this field. The Schuldschein is especially well-suited for our entry into the use of blockchain technology. As the market leader for corporate Schuldscheine for more than a decade, we have extensive expertise. In addition, within this business segment, we are able to generate substantial added value for our corporate customers and for investors because the process becomes more efficient and the processing time is significantly shorter."
Similarly, LBBW wishes pro-actively to drive blockchain development as a means to explore new application areas. It sees blockchain technology transforming proven bank functions as trustworthy intermediaries in a digital world. Blockchain can optimises the process flows between the parties involved. For LBBW, Schuldscheine are an ideal subject; they represent a starting point for the development of tomorrow's banking services in corporate and capital markets.
What did Daimler and LBBW learn?
The joint pilot project of Daimler and LBBW demonstrated that:
financing parties interact more intensively these days
the roles of various players in the market are changing.
Blockchain can increase the automation of financial transactions so they can conclude much faster and more cost-efficiently than the typical 10 days of the past. As a result, digital processes will replace the past's labor-intensive manual steps for processing Schuldscheindarlehen. Daimler and LBBW expect blockchain to have similar efficiency-enhancing potential with regard to syndicated loan transactions and export financing.
What does it mean?
Blockchain technology makes it possible to conduct direct and secure financial transactions worldwide within seconds. Blocks of digital data are saved on several servers (decentralised). Transactions receive a cryptographic signature which makes it much harder or impossible to alter.
Unlike so many blockchain pilots, which are more conceptual than real, Daimler and LBBW achieved something constructive. Daimler raised a loan, processed on a private blockchain and, in parallel, through traditional means. The result: a new €100M Schuldschein.