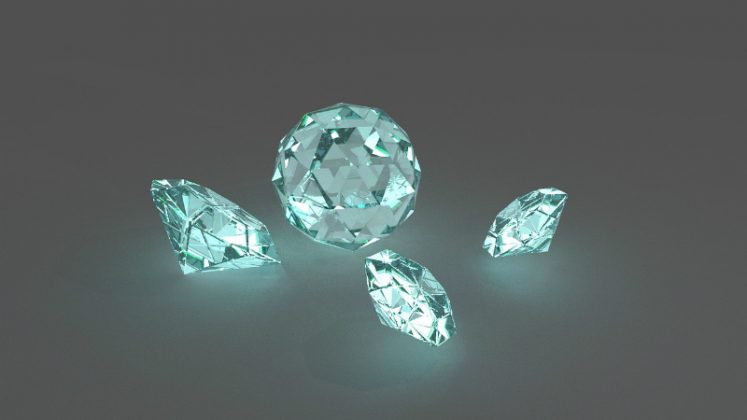 Singapore Diamond Investment Exchange (SDiX) has announced the completion of the first part of a proof-of-concept of a blockchain diamond trading authentication and secure record-keeping service. They partnered with Kynetix and Everledger for this phase.
Linus Koh, CEO of the Singapore Diamond Investment Exchange, said: "This exciting collaboration builds on SDiX's record of delivering advanced technologies to enable a trusted, fair and transparent marketplace for trading diamonds as an investable asset class. This new concept draws on blockchain's distributed ledger capability to demonstrate how we can further instill confidence and convenience for the benefit of diamond investors and financiers."
Blockchain diamond trading and technology
The use of blockchain technology enables holders of diamonds with certificates from a major third-party verification laboratory to authenticate the ownership and authenticity of the diamonds. They do this via Everledger's distributed ledger technology. Kynetix's Sentinel market infrastructure platform handles the secure queries. Changes of diamond ownership resulting from trading on SDiX can automatically update to create a permanent digital record. This ensures optimal functionality for market participants.
The solution authenticated the key details of a consigned diamond basket on SDiX consisting of GIA-certified stones. With the unique data points hosted securely online, a key part of the output is a "view receipt" of the digital certificate for each stone in the basket. This is housed on the blockchain.
This approach opens up a range of future applications for diamond market participants, including:
enhanced provenance data
increased supply chain security and efficiencies
new risk management tools.
SDiX
Singapore Diamond Investment Exchange (SDiX) enables trading in diamonds as a commodity. In turn, this establishes a new asset class for investors while unlocking the diamond economy. SDiX offers standardised structures and norms for the diamond-trading sector. The result is diamonds can be traded with the same ease as other asset classes.
SDiX is headquartered in Singapore and operates as a fully regulation-ready exchange entirely independent of the diamond industry. Vertex Venture Holdings, a wholly-owned subsidiary of Temasek Holdings, the investment company owned by the Government of Singapore, is a supporter.
Kynetix
Kynetix solutions provide platforms which enable commodity market participants to connect with financial markets. These include producers, consumers, banks, trading houses and logistics and provides enabling digital title creation as well as collateralisation and settlement of commodities. All takes place in a secure, trusted and fully audited environment.
Headquartered in London, with regional hubs in Romania and India, Kynetix connects participants across global metals, agricultural and energy markets.
Everledger
Everledger is a digital ledger which tracks and protects diamonds and other valuable items. Using the emerging technologies, including blockchain, Everledger provides an immutable history of an item's authenticity, existence and ownership. This is relevant to insurance companies, banks and other stakeholders across supply chains.
Founded in April 2015 Everledger has digitally secured over 1,500,000 diamonds on the blockchain. It is expanding to encompass fine wine and art.
This is yet another win for the Everledger team and one that will not go unnoticed by the diamond industry. The industry has been under pressure for years to resolve the problem of blood diamonds and the use of diamonds as a currency in illegal deals. Everledger won't resolve all of this but it is starting to provide a pool of traceable and therefore trustworthy diamonds. It has also done a deal with insurance companies which allows them to revalue assets and have that revaluation stored in the blockchain. For high value items such as diamonds this is a critical step as owners forced to make claims often find they are underinsured.
What's it mean?
Being able to track and control high-value assets has benefits for owners, insurance companies and the diamond industry. It is helping the industry clean up its act and to crackdown on illegal trading. By stopping illegal diamonds moving through the main exchanges it makes it harder for criminals to profit from them. However, until the majority of the major diamond exchanges and the large jewellers all adopt compatible systems success will be limited. Blockchain should remove the risk of people entering forged certificates into the diamond ownership chain.