Intel held its first Technology and Manufacturing Day for over 3 years this week and set about its competitors in the chip manufacturing market. In a series of presentations it made it clear that Moore's Law was far from dead. It also showed off some of its own numbers around technology and chip performance. Those numbers tell an interesting story especially when combined with industry adoption of key technology.
Moore's Law lives!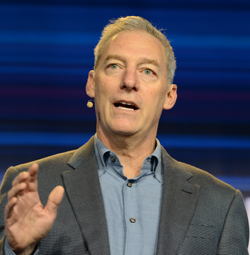 If it were fiction, the death and resurrection of Moore's Law would be an entire series of novels. Over the last five years the claims that Moore's Law is dead have been persistent. Many of them claim to be based on the fact that the laws of physics will put an end to Moore's Law. Intel isn't claiming to have rewritten the current laws of physics. Instead Stacey J Smith, Executive Vice President, Manufacturing, Operations and Sales, Intel said: "Moore's Law isn't about physics, it's about economics."
To put this into perspective, Smith applied the advances of Moore's Law to three other domains. If car engines had increased in efficiency at the same rate as Moore's Law a gallon of fuel could get us to the sun and back. When applied to agricultural productivity the world's population could be fed using just 1km2 of land. Apply it to space travel and we could travel at 300x light-speed. These might seem like fanciful examples but they show just how far technology has come in the last few decades.
What does this mean in terms of Intel chip technology?
This is where the day got very interesting. First, Smith admitted that the time between nodes (new chip die sizes – 90nm, 65nm, etc) had gotten longer than the two years Moore's Law states. This might be seen as proof that technology was falling behind Moore's Law.
However, Smith countered that assertion by saying Intel was using hyper scaling on its latest 14nm and 10nm technology. What this means is that Intel is getting greater density on chips than was to be expected. When you apply the greater density to the Moore's Law trend line, Smith says that Intel is now ahead of Moore's Law.
Intel's 14nm technology years ahead of the competition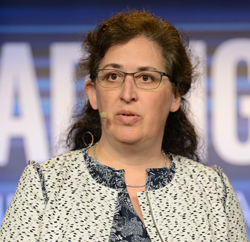 Dr Ruth Brain, Intel Fellow, Technology and Manufacturing Group Director, Interconnect Technology and Integration talked about the enhancements with Intel 14nm technology. These are enabling Intel to increase its lead over other chip manufacturers. A significant part of this is the Interconnect Patterning Options. All chip manufacturers are able to use immersion single pass technology. There is no differentiation between manufacturers at this level.
Where Intel is moving ahead is in the next step. It is using Self-Aligned Double Pattern technology in its 14nm technology. For its 10nm technology it is using SA Quad Pattern. What does this mean? It increases the accuracy of placement control and leads to higher yields. The higher and more reliable the yield the lower the cost of production. It is more than just a quality control but it's a good place to start.
SA Double Pattern technology allows Intel to do a single Litho and Etch process on a chip. By comparison its competitors are having to do multiple Litho and Etch processes. This introduces errors as the die size reduces. More importantly, it cannot get to the same density of chips on a wafer. Brain says that Intel's 14nm technology is 1.3x denser than competitors 20nm and 16/14nm products. All of this means lower cost and higher reliability for Intel, something its competitors cannot match.
Customers expect a new chip every year
One of the challenges of allowing the time between nodes or chip technologies to increase is meeting customer and market expectations. To get around this Intel has been introducing + and ++ versions of its technologies. According to Brain, for each technology node, Intel now has two revisions, these are the + and ++ versions. Each version is expected to outperform the previous version. With Intel's 14nm technology the + and ++ versions delivered 12% and 23% higher drive current over the first generation 14nm chips respectively. This allows Intel to deliver new chips to the market, show technology improvements and stay on track to meet Moore's Law.
More importantly, this is something that Brain said Intel's competitors are unable to do. It allows Intel to increase the gap between it and the competition every release. As Intel gets to 14nm++ it is >20% ahead of the best the competition can offer.
Intel holds a three year lead over rival chip manufacturers
Mark Bohr, Intel Senior Fellow, Technology and Manufacturing Group Director, Process Architecture and integration talked about technology leads that Intel has over the competition. Going back over 15 years, he pointed out that Intel had led all the major changes to chip manufacturing. Importantly that lead has been over or around 3 years ahead of the competition.
This was true of Strained Silicon which Intel introduced in 2003 at 90nm and which was adopted by the rest of the industry at 65nm in 2006. High-k Metal Gate technology was next. Intel introduced in 2007 with 45nm and the industry responded in 2011 at 28nm. Other technologies have followed such as FinFET and now Hyper Scaling. Intel introduced Hyper Scaling in 2014 with its 14nm technology. Its competitors are now introducing it with their 10nm technology.
However, for 10nm technology, which Intel will introduce later this year, it is already talking about new hyper scaling attributes. If these are introduced by its competitors. Bohr does not expect it before 2020.
Bohr also addressed issues over Moore's Law and the need to double the number of transistors every two years. He showed how for several generations Intel has been able to increase density to keep ahead of Moore's Law even if the gaps between nodes increases. The jump from 14nm to 10nm technology will see an increase of 2.7x in logic transistor density. It is the inability of other vendors to match Intel's increased density of logic transistors that he believes lies behind claims Moore's Law is dead.
Conclusion
To most customers the technology inside chip technology is irrelevant. All they want to know is can it run faster and cost less. From an economic perspective, this is exactly what Moore's Law promises. Intel has gone to great pains to prove that it is still able to deliver the improvements that Moore's Law calls for. While its competitors try and announce some technologies ahead of Intel, the question is whether this is fact or smoke and mirrors.
The message here in San Francisco is that no matter what competitors announce, Intel has a three year technology lead. It sees no signs of that lead evaporating or of any new technology coming along that will reduce its lead in the near to medium term.