Sage recently announced strong half year results which included a 6.2% increase in revenue, including a 17.2% revenue growth for Sage X3 its large enterprise ERP solution. This week they announced an extended partnership with Fairsail, the cloud HRM solution that is built upon Salesforce.com. Enterprise Times spoke to Alan Laing, Sage's EVP of partnerships & alliances, and Adam Hale, Fairsail CEO.
There is already considerable history between the two companies. Fairsail first formed an alliance with Sage when they integrated Fairsail with Sage Live, the Sage finance solution for SME's built on Salesforce. According to Laing Fairsail were the first partner for the Sage live product and the relationship has now grown since that date. The recent announcement seems to have several drivers behind it for both companies.
Sage were looking for the next generation HRM product to go to market with. They could have developed one themselves but there is still a significant amount of development work to be done to modernise their existing solutions. Like Sage, Fairsail is also headquartered in the UK and in looking for a partner Sage also wanted to find a solution that would fit the HRM requirements for its own business. It needed to be capable of supporting the 13,000 employees that Sage has within its various subsidiaries scattered around the globe.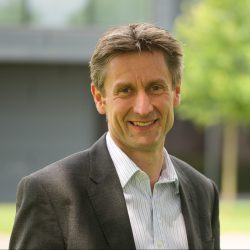 For Fairsail, who according to a recent Deloitte report, are the 15th fastest growing tech company in the UK, achieving a growth of 1150% in the last four years this was perfect timing. Their cloud based HRM solution has been gaining followers rapidly, but expansion costs money and in the words of Adam Hail, CEO of Fairsail they try to be:
"as capital efficient as we can" they needed funds for further expansion".
They were about to go out to raise funds and part of the new alliance is Sage investing £10 million into the Reading based company for a 20.7% share. This comes with a seat on the board and although no announcement has been made, clearly according to Laing it is a very senior figure from Sage, and he is incredibly excited.
Sage cloud strategy
So where does this leave the Sage ERP strategy.  While they have a loyal customer base, it is being attacked on all sides by companies like FinancialForce, NetSuite and Infor in the large enterprise market.  Each of those solutions has an inbuilt HRM element and it was clearly a key differentiator for Sage.  Laing inferred that customers had been demanding HRM as part of the solution.
It was clear from Laing that the integration with Fairsail will go beyond import and export and is likely to include some data exchange as well as workflow integration between the two solutions. Though exactly how and what will be integrated is not clear.
We asked Laing the question whether Sage would be developing X3 on the Salesforce.com platform. His response was definitive, "There is no plan to do that", but it did leave one wondering what else they would be doing.  He did go on to explain that there are likely to be further announcements around the integration with Salesforce at the SAGE Summit being held in Chicago this year at the end of July.
So what about Payroll.
Hale made it clear that they are not a payroll solution in saying "We're a software company, not Payroll". There was talk though of further integrations to Sage Payroll functionality. The integration with Sage X3 therefore, is not the only integration being worked on between the two companies. There will also be an announcement at some point regarding Fairsail integrating with Sage pay. Fairsail already has integration points with other Payroll applications and it will be interesting to see how different and how tighter the integration with Sage is.
Rapid expansion opportunity for Fairsail
For Fairsail this is a great deal and one that might worry Workday a little and possibly FinancialForce even more.  Last year Betfair rejected Workday, SAP and Oracle in favour Fairsail. This deal is likely to see Fairsail appear on more ITT's (Invitation to tender) as their reach increases. If the marketing plans are exercised, Fairsail could begin an explosion of growth.  This is because the Sage X3 sales engine will also be selling Fairsail, as Laing explained "We want to provide a combined solution with X3 , when we roll it out through all channels. We will sell via partners, and our sales people. It  will be available through all of sages go to market entities."
This is not just a diktat to say "sell this software" either. Every Sage employee will have direct experience of Fairsail as their own HRM solution and the hope is that this will make them evangelists for the product. Interestingly this will also enable the Sage sales teams to gain a better experience of Salesforce, which should help sales of Sage Live and might see Sage delivering a mid market solution onto Force.com at some point in the future depite Laing's protestations. It will be interesting to see how many new customer win announcements occur over the coming months for both Fairsale and Sage LIve.
Laing confirmed that the Sage invested is into not as a wedge to drive through an acquisition in the future but for Sage to have some input into the future development of the product.  An acquisition was not ruled out but he confirmed that there was nothing in writing to say that it would become a complete purchase.  This could be a risky strategy for Sage. Fairsail could grow significantly using the fund and the Sage marketing channel over the next few years and the purchase price will almost certainly increase.  Unless Sage have a plan B, then unless Fairsail remains private then someone else could look to snap them up.
There may be a gentlemens agreement in place already, a fact which neither Laing nor Hale denied when asked. This may not be the last investment by Sage. Steve Hare the Sage CFO, commenting in the FT on 5th May said: "These kind of smaller, bolt-on acquisitions, where we spend tens of millions on kind of small, growing companies, is something you could well see us doing more of.".
Conclusion
This is a canny move by Sage as they look to reinvigorate their presence in the cloud ERP market.  With better integration between Sage and Salesforce they will have an ERP solution on the appexchange when Fairsail integration is completed, that will rival others.  This could concern several other companies, but until Sage actually sits within Salesforce.com they are still likely to be behind the innovations that others, such as FinancialForce can take advantage of on the Salesforce platform.
For Fairsail it delivers the investment they were looking for, with a partner that has a direct sales force and channel that could see them expand rapidly across the globe without having to go through the expense of launching country by country. The trick for Fairsale will be to get the Sage sales  teams and channel to engage.
The solution is already internationalised though. Fairsail already has customers headquartered in 19 different countries and users in 133. The solution has been translated into most European languages as well as Korean and Chinese Mandarin, mainly through the efforts one customer, SDL. SDL is the leader in language translation and global content management. It seems as though Fairsail has made some smart decisions in the past and this one looks no different.
Sage appears to be following a similar strategy to Oracle. Oracle recently bought Opower and Textura and with this investment Sage has increased the strength of its offering significantly. It will be interesting to see where they turn their attention next.