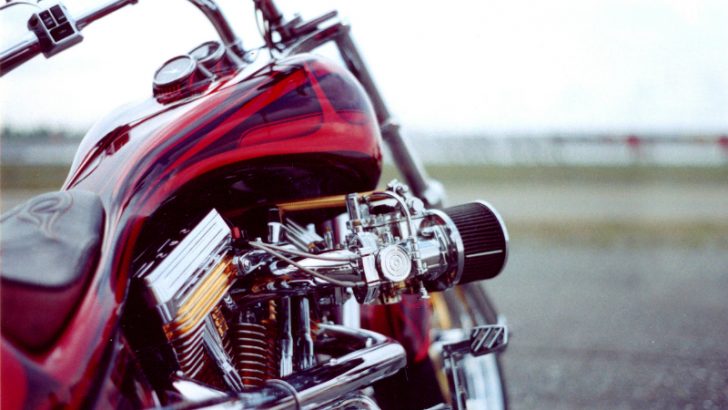 Do you get bored and frustrated by typing in the same items in a list you use all the time? Time is short and you don't always type them in the same order because you can't remember or your distracted. Then you probably don't know that these exist or how to create them. Custom Lists in Excel. A list that is particular to yourself that you can keep in Excel and use any time you need. Follow the easy steps to freedom.
N.B. This Tip is written in Office 2016 so images of tools or ribbons may differ from your version. The features still work the same.
First of all, you need to type out the list you require in its entirety in a new sheet. I'm going to take the example of departmental names which are usually long and cumbersome to type.
This list is typed in the order that you ALWAYS want it. Now select these cells.
Select the File tab.
Select Options.
Select Advanced from the list on the left of the dialog box.
Scroll down the bottom of the right hand side of this window.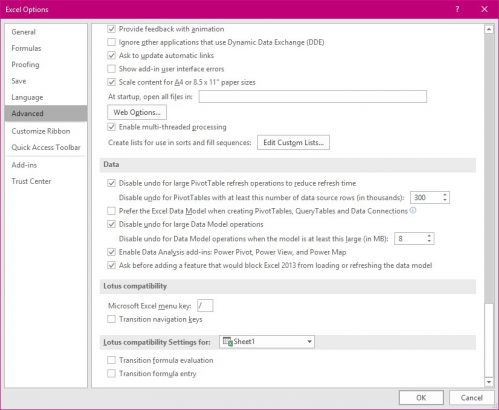 Four sections up from the bottom is the General Section and the last entry has the button 'Edit Custom Lists…'
Select this button.

This opens up into the Custom Lists dialog box and reveals the lists that are already there. Months and Days.
On the right just above the cancel button you will find the Import button.

Just to the left of this has been placed the reference of the cells you selected with your particular names in. check this is correct and select the Import Button.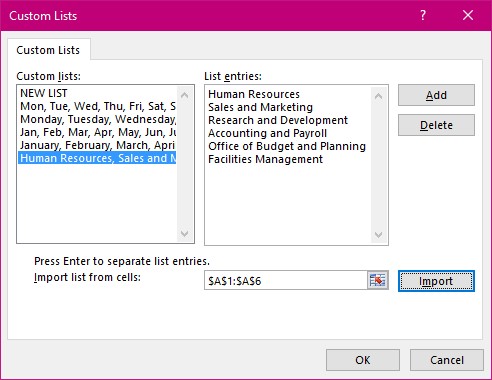 Select OK twice.
Your list is now in the system to be used at will on any file you choose. New and old.
Go back to your new sheet and in a new cell type in one of the entries.
Locate the Autofill at the bottom right corner of the cell you have just typed in and drag down, left, right or up to fill in the rest of the list in that direction.
Go on have fun dragging it in different directions to see the results.
Down
Left

Right

Up