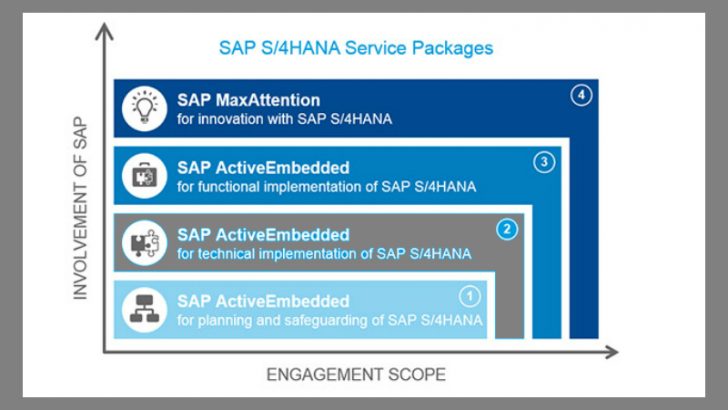 SAP has announced support for its channel partners and customers with a matrix of S/4HANA service packages for customers. The packages are aimed at supporting channel partners in both migrating customer ERP solutions onto S/4HANA. There are also able, if required, to re-engineering the business to take advantage of SAP's next generation ERP solution.
Three way Digital transformation
SAP appears to have chosen to support their partners rather than offer a direct service themselves. The engagement levels vary depending upon the service package taken with SAP stating there are "four distinct" offerings. This seems unlikely as each of the four levels of service build upon the previous one. The highest level of service, Max Attention, also contains each of the three previous service packages, all of which are named as being actively embedded. In our view there are only two types of engagement. The first three levels allow SAP to help its partner implement S/4HANA in its customers while MAX Attention involves SAP in a complete business re-engineering process for the customer.
What is clear is that these are engagements where SAP, the partner and the customer all need to be involved heavily and committed to the transformation. The initial process involves a scoping meeting between the client, partner and SAP account manager. This merely identifies the challenge that the business faces along with which Channel partner, SAP team members and client employees need to be at the subsequent two day scoping workshop. These early stages are described in a video.
While one assumes that the initial scoping meeting is a sales engagement it is not clear whether the two day workshop is a chargeable service. It seems likely as the output of that value workshop is two fold. Firstly  the customer should gain an understanding of the scope and benefits of SAP S/4HANA. Secondly there will be a plan based on business priorities including a high level picture of their proposed SAP S/4HANA adoption. This plan will be based on the clients needs identified in the workshop.
This plan should include the defined pricing that SAP talks about in their press release as well as optional extras that can be added on. It seems likely that each customer will receive bespoke pricing though and SAP avoided answering the question about whether it would be a completely fixed price. Criticism has been previously levelled at SAP for its pricing. They may deliver pricing that is fixed, but the number of days taken to complete the task, are variable. It will be interesting to see what reality looks like and how satisfied customers are by the service.
What do you get in S/4HANA Service Packages ?
SAP describes the four "distinct" packages as follows:
SAP ActiveEmbedded package for planning and safeguarding of SAP S/4HANA: Navigate the potential, impacts, and obstacles related to the adoption of SAP S/4HANA. Get the planning and safeguarding support and on-demand expertise from a dedicated technical quality manager from SAP.
According to SAP this is not a quick overview up front but appears to be more of a governance aspect to the project. For the more mature partners able to deliver implementation of S/4HANA clients might opt to select this solution to confirm some kind of oversight and benefit from the wider knowledge that SAP has. It will be important for clients to consider who the technical quality manager is, and their experience in delivering similar projects.
SAP ActiveEmbedded package for technical implementation of SAP S/4HANA: Transition your digital core to SAP S/4HANA without disruption. In addition to the planning and safeguarding package, SAP offers best practices for a smooth-running migration strategy. Your organization benefits from detailed implementation planning, an innovation road map tailored to your needs, and personalized documentation on your technical architecture and infrastructure.
SAP has more experience in delivery SAP S/4HANA implementations and uses SAP Activate innovation adoption. This is a framework that has been built up over time and uses the best practices that SAP has developed for implementation and configuration for different industries. It does not help to transform the business but merely delivers streamlined SAP S/4HANA implementation.
SAP ActiveEmbedded package for functional implementation of SAP S/4HANA: Increase your business' freedom to innovate and focus on value-added business practices by optimizing your digital transformation with SAP S/4HANA. Combined with the technical implementation package, this service delivers the latest innovations and business scenarios, including expertise on custom code modification based on specific system needs.
For some companies looking to follow their market into digital transformation this potentially delivers blue prints to do just that. This may mean solutions are delivered in a patchwork of changes. In utilizing SAP S/4HANA to deliver best practices in the digital economy it may not create the best transformation that a company can accomplish.  One of the issues with implementing transformational functionality that has been proven elsewhere is that it may not consider factors specific to the actual client. This is a risk that some companies may take, but it may also mean a lost opportunity.
SAP MaxAttention™ for innovation with SAP S/4HANA: Anticipate new business process scenarios required in the digital world. Along with the functional implementation package, advanced expertise covering the entire business potential of SAP S/4HANA provides the foresight you need. This package is being completely tailored to the situation and customer needs.
For those companies brave enough to consider their whole business process environment this engagement is designed to help clients make full use of SAP business consultants to transform their business and potentially their industry. This is not a guaranteed recipe for success. If the client has the internal expertise, the business partner the industry knowledge and with the SAP transformational know how then the client could see significant benefits.
Is this the SAP way now?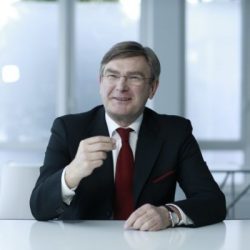 No, SAP are realistic to realise that some companies want little SAP engagement and are satisfied with their channel partners. Equally some customers prefer to deal direct with SAP to use the knowledge that SAP already has in their business. Each of these services is flexible but it is not the only way according to SAP.
In an interview Michael Kleinemeier, Member of the Executive Board of SAP SE and Digital Business Services commented: "Customers want SAP to show them clear routes they can take to digitize their businesses. It is not if, but when and how. We provide clear methods and access routes for customers to take towards cloud, digital and SAP S/4HANA. In terms of the technology, we now provide outcome-based services in a packaged approach that help customers reduce total cost of investment and ownership. One example is the SAP S/4HANA services packages. These help ensure fast and effective support for SAP S4/HANA implementations, and provide a base for customers to adopt future innovations."
This is a service offering by the Digital Business Services organization of SAP. This is not a new organisation, but was renamed from the Global Service & Support moniker that it held before to reflect its evolved approach to enabling client digital transformation.
Has it Worked
Kleinemeier went on to detail three separate engagements where the service had been deployed. The  Hamburg Port Authority (HPA)  has seen a significant business benefit, more than doubling throughput of containers from 9 million to 25 million each year. Trenitalia decreased their maintenance bill by 10% equal to €100 million by utilizing the big data capabilities of SAPHANA with SAP's Predictive Maintenance solution. Harley Davidson has improved its manufacturing time from 21 days to 6 hours by introducing S/4HANA component solutions to streamline its whole workflow through manufacturing. This allows a customer to design a motorcycle in the morning and have it ready by the afternoon, theoretically.
Unfortunately SAP does not make clear in each of these examples how much partners were involved or which levels of service package were invoked. It will be interesting to see how many case studies are published with named partners after successful engagements. It should also be noted that the service packages can be deployed for implementing both on-premises as well as cloud based solutions.
Conclusion
This is a smart step by SAP, who have gone one step further than Infor's Lift and Shift solution. While Lift and Shift mainly migrates companies onto cloud technology the new service packages offers the potential to re-engineer the business. For some this will be a step too far and many CEO's will not be ready to go through that process. However by adding a tiered offering to support its partner, SAP  is offering companies something beyond what they might accomplish themselves.
For clients working with larger partners such as system integrators who may have the capability to consult on digital transformation, the lower levels of the service package might deliver a governance and fill a knowledge gap in S/4HANA that they might have. This is not just about delivering S/4HANA to clients it can also be seen as an education tool for partners to take advantage of.
Kleinemeier commented in the press release, "The offering is built on our business priorities to move our customers to the cloud, make the digital enterprise real and establish SAP S/4HANA as the digital core. By taking a collaborative approach with SAP partners, these packages deliver the best from Digital Business Services and instil confidence in our customers."