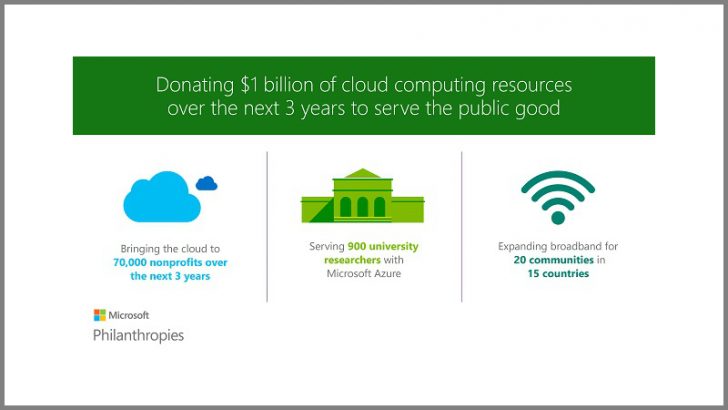 Microsoft Philanthropies has announced that it will donate up to $1 billion in cloud computing resources in the next 3 years to 70,000 non-profits and NGOs worldwide.  The announcement was made both by Satya Nadella, Chief Executive Office, Microsoft and Brad Smith, President and Chief Legal Officer, Microsoft in separate blogs.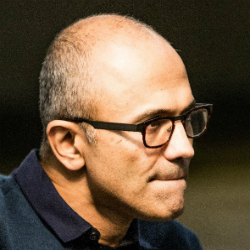 In his blog Nadella references his interview in the Financial Times (subscription required) where he talked about the potential use of cloud for public good. It's an interesting approach. For over a decade we've had programmes that have allowed individuals and companies to donate computing resource to projects by installing a small application that would then take advantage of spare computing power to deal with complex problems.
In an increasingly complex security environment this has become less popular with companies although there are still many individuals who do participate. What Nadella is proposing and Microsoft Philanthropies is now delivering is a grown-up approach to sharing capacity. What will be interesting is the fine print especially in terms of data ownership, security and what happens with any commercial discovery that takes place.
On the face of it, Microsoft is allowing them free use of the resources and anything that comes out of the resources is not required to be shared back to the wider community but can be commercialised by the research team. There will be some unease about this, especially if it leads to drugs companies taking advantage of this by leveraging the research for new lucrative patents. This is where Brad Smith's blog puts some much needed detail into Nadella's statement.
Microsoft Philanthropies focused on Corporate Social Responsibility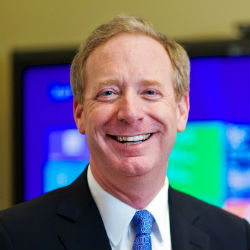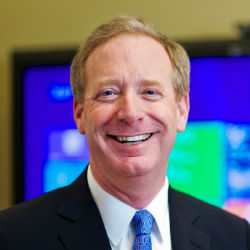 In his blog Brad Smith delivers more focus on what Microsoft is offering and to whom. What is interesting is that this is not being promoted as just "look what we can do" but as Smith says: "We need to reinvent our corporate philanthropy for the next decade, ensuring that we help empower people and organizations the cloud is not yet serving. This will require extensive efforts on a global basis that reflect varied needs around the world, oftentimes in ways that bring companies, NGOs and governments together in new public-private partnerships."
Over the last two decades the IT industry has reshaped the view of many on what Corporate Social Responsibility (CSR) really means. Many of the Rather than be used to talk about donations to charities, many of the new IT vendors have become involved in community projects and setting aside portions of their income to help causes in which the founders believe. Some have gone further and are open to employees nominating their own paid time to help NGOs and community groups.
This is where Smith seems to be repositioning Microsoft from a corporate standpoint. Of course, Microsoft has a long history of doing this through the Bill & Melinda Gates Foundation but this latest move makes it a core Microsoft CSR initiative. It will be interesting to see what impact this has on other cloud providers and whether we see a coherent approach to the delivery of cloud resources for good or if this becomes another area where companies will compete rather than cooperate.
In fact Microsoft are following some of the cloud native companies such as Tableau, Workday and Salesforce. All these companies have comprehensive CSR policies that are engrained into the culture of the company rather than an afterthought. Not only do they support charities, offer discounted software but their employees are heavily engaged in donating time to good causes, especially Tableau.
Three key areas of focus
There are three separate projects in this announcement and Smith explained more in his blog.
Nonprofit community
This takes the previous Microsoft programmes such as the donation of software on refurbished computers and extends it substantially. What nonprofit organisations will now have access to is:
Microsoft Azure data centres around the world to run applications, store data and use compute resources for research
Enterprise Mobility Suite to make it possible to manage and secure devices. This is becoming critical in many areas of the world where NGOs operate as hostile governments and organisations seek to access devices to gain information on communities
CRM online to make managing donations and their organisation easier
Office 365 Nonprofit is now boosted with the addition of Power BI. This will enable groups to take advantage of business intelligence and data analytics
According to Smith all of these will be in play by Spring 2016 at the latest and he expects Microsoft to have donated a fair market value of $350 million in resources by the end of 2016. What is missing from this is the human intelligence to make the best use of these resources.
It would have been interesting to see Microsoft go further than these announcements and perhaps announce it was also putting in 1m man days across its staff to help non-profits and NGOs get to grips with the technologies and deploy them effectively. There is also scope here for Microsoft to work with its very large partner network and create a new requirement for the top level partners of investing time in helping organisations under their CSR programmes.
Expanding university access for faculty research
Like all big IT vendors, Microsoft has a long standing investment in education. It's Imagine Cup is the best known competition across the education sector for teams to compete with technology ideas. Winners get money and assistance from Microsoft in turning their ideas into programmes. What is now being offered is a significant extension of the Microsoft Azure for Research programme. There are currently 600 research programmes across six continents and Smith says that the plan is to extend that by 50%.
Last-mile connectivity and cloud services
This is an area that has become contentious in recent months after Facebook announced it was to give away access to the Internet. What Microsoft is proposing is to help poor communities get onto the net but it may not be as simple as that. As we've seen in India with Facebook there are issues around Net Neutrality that can suddenly throw an entire programme sideways.
Smith talks about using TV White Space as a way to extend connectivity but the challenge will be how to do this in conjunction with regulators. If it is seen as giving something away then there will be cries of foul from commercial providers who will attack Microsoft for not playing fair and undercutting them.
Conclusion
For centuries individuals have set up charitable foundations to leave a lasting legacy around their name. Some companies have followed suite but few tie it back to their CSR. What Microsoft Philanthropies is offering here is a nice mix of CSR and headline grabbing news.
It would be nice to think that this can act as a catalyst to bring together other approaches to support NGOs and education from other providers. Perhaps what we really need is a cross industry oversight board for philanthropic activity to reduce overlap and ensure that what is on offer reaches as wide an audience as possible.
Until then, hats off to Microsoft and it will be interesting to see what it sets out as a measure of success for this move.