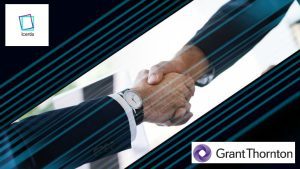 Grant Thornton LLP has strengthened its relationship with Icertis. The audit, tax and advisory firms have expanded the existing integration partnership with Icertis by deploying the Icertis Contract Intelligence platform internally. The deployment will cover the US operation of Grant Thornton LLP and will see it leverage both the ICI platform and Icertis NegotiateAI. NegotiateAI delivers AI-powered insights to optimise contractual negotiations. Integrated with Microsoft Word, it provides suggestions around clauses and rapidly reduces the time required to create the right contract.
Grant Thornton has almost 50 offices within the US with over 9,000 staff. It has partnered with Icertis for the last four years. Building a practice that offers full contract management advisory services, including process transformation, clause rationalization, technology selection, implementation and managed services with Icertis-certified consultants.
The Grant Thornton team will deploy the ICI platform itself across the organisation. It will use the experience of deploying the solution from several clients across different industries within the US. It was not revealed how long the team expects the project to take, nor how many contracts Grant Thornton plans to ingest on the platform. Hopefully, they will be willing to share their implementation experience as a best practice case study of implementing the solution in time.
Enzo Santilli, Grant Thornton's Chief Transformation Officer, commented, "After seeing the outcomes the Icertis platform has delivered for our clients, we knew tapping into contract intelligence internally was the logical next step. Contract intelligence provides a pivotal opportunity for our procurement, legal and finance teams to maximize the value of every contract."
First, the US; next, the world?
Grant Thornton will deploy the solution to its procurement, legal and finance teams. The Grant Thornton International Ltd global network operates in 147 markets and has more than 68,000 people. Enterprise Times asked Icertis whether it partnered with, or if ICI was in use at other member firms.
Deanna Lanier, Chief Strategy Officer, Icertis, replied, "Icertis has rapidly emerged as the contract intelligence partner of choice as technology and consulting leaders look to develop practices dedicated to digitally transforming contracts, which act as the single source of truth for all business relationships. We are always seeking to expand partnerships with organizations like Grant Thornton to support their internal transformation efforts while also collaborating to equip more enterprises globally with AI-powered insights and automation."
Grant Thornton works with global firms and will mean that the solution may touch other parts of its global network. Once seen, will other firms in the network want to leverage the solution for their own use or, perhaps, partner with Icertis for consultancy services?
Once implemented, Grant Thornton will leverage the same benefits it delivers to its clients. It will look to improve the management and lifecycle of its contracting processes. Helping to drive revenues and reduce costs, while also improving compliance and minimizing risks.
Deanna Lanier, commented, "Contracts are central to processes across sales, procurement, legal and finance — processes that can be incredibly complex and time consuming for businesses like Grant Thornton. The decision to tap into Icertis Contract Intelligence is a testament to the enterprise-wide impact that Grant Thornton has witnessed first-hand through our mutual clients. As all businesses face a volatile market, now is the time to double down on technology that reduces complexities while supporting growth through strategic outcomes." 
Enterprise Times: What does this mean
This is a significant deal for Icertis. Meaning that it will have one of the largest tax advisory firms in the US using its solution. It will also strengthen the sales motion for Grant Thornton when reselling Icertis to its clients. It is far easier to persuade prospects when you have advocates in similar roles to the client, legal and procurement.