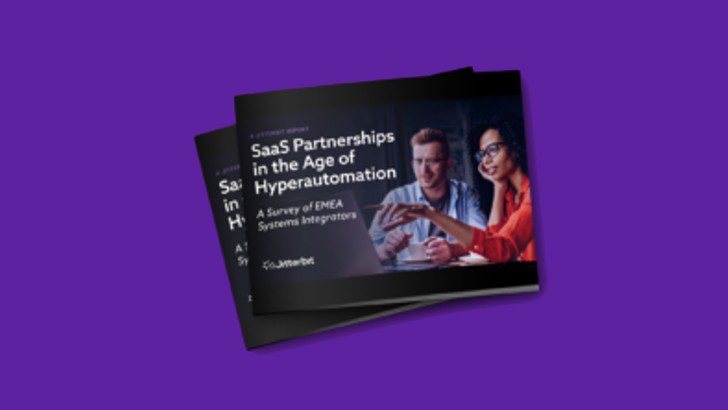 Jitterbit has discovered that organisations in EMEA now see Hyperautomation as a priority for their business. A new Jitterbit report, "SaaS Partnerships in the Age of Hyperautomation," is based on responses from only 100 senior systems integrators from the UK, Benelux and the DACH region by Nortstat. It found that 64% of respondents either agreed or strongly agreed, and only 10% disagreed.
The report is fifteen pages long and has some interesting findings despite the small sample size. The shift of thinking from integration to automation is clear; 76% of senior EMEA systems integrators believe their customers value automation over integration, and only 10% don't.
However, the two are not distinct, with Joost De Bot, Jitterbit's VP & General Manager, EMEA, noting: "There can be no automation without integration – and there can be no hyperautomation without integration as a service. Our survey into system integrators reveals that to thrive in the midst of so much disruption, it's necessary for them to re-position as enablers of greater process automation while delivering integration at scale to their customers by working with trusted integration platform partners."
The report itself is divided into four sections:
Welcome to the Age of Hyperautomation
What Does Hyperautomation Mean for Systems Integrators?
Embracing the Age of Hyperautomation
Moving Forward in the Age of Hyperautomation
The report is well-paced with a mix of quantitative data and analysis. It highlights the alignment between the Jitterbit platform and Hyperautomation. There are also a few comments from Jitterbit customers to bring colour to the piece though it falls short of a piece of qualitative research.
Key findings
The first section lays out what hyperautomation is (Gartner coined the term). The second section highlights the advantages of automation (not hyper-automation) and then identifies five ways hyperautomation disrupts the world of system integrators.
The most disruptive influences, as perceived by system integrators, are:
Online solution marketplaces, i.e. The Hut Group – 54%
Increased customer adoption of cloud solutions – 52%
Other system integrators – 47%
What is missing is the answer to why these are seen as disruptive?
The third section looks at the current state of hyperautomation across the business. It is clear that there are drivers, the top three identified are:
Reduce operating costs – 54%
Reduce workload – 52%
Improve data accuracy and speed – 48%
Again, the report fails to delve much deeper into quantifying these benefits or subsequent business benefits of improving data accuracy and speed. It does provide four opportunities that hyperautomation delivers to system integrators:
Hyperautomation relies on integration; systems integrators can offer both
It's a chance to diversify (integrators can build automation and map business processes delivering more than just integration)
The marketplace ecosystem is open to everyone, not just vendors but SIs and customers.
The App building trend requires systems integrator expertise
53% of respondents see partnerships with iPaaS companies as key to their future success. A spokesperson from KTSL commented: "Partnerships are vital to our hyperautomation strategy.
"We pick specific partners so we can offer the right solutions to our customers. Jitterbit is one of those partners, whose platform allows us to drive, configure and build hyperautomation candidates for our clients—identified by a combination of AI and analysis. It adds another technology solution to our stack, which we can then use to empower our customers to implement more automation across their business."
Enterprise Times: What does this mean
The final section provides the impetus for Sis to work with iPaaS vendors. Such relationships will create revenue opportunities. Importantly system integrators are also vital to delivering hyperautomation to customers. Those customers understand the need but rarely have the expertise to implement hyperautomation themselves. An IPaaS solution and a system integrator can help deliver customer success.
This paper has some useful insights, but the lack of industry segmentation or geographic differences is frustrating. Is hyperautomation more mature in DACH or the UK? Also, with no responses from the Nordics, France, other European countries or even the Middle East and Africa, there is a lot of data missing. Does this cover the whole of EMEA? No, nevertheless it is well written and has some useful information?