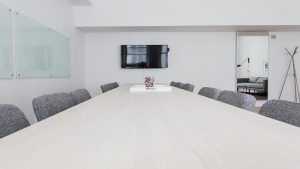 Nowy Styl, European provider of furniture solutions for office and public spaces has appointed IFS to upgrade its existing ERP. The company plans to migrate to the latest IFS Cloud solution to drive ongoing international growth. Nowy Styl chose to upgrade to IFS Cloud's flexibility and ability to support its dynamic growth and deliver operational efficiencies.
IFS Cloud enables the company to add new capabilities incrementally as and when needed. This includes tools for advanced automation and the latest AI-driven technologies. The solution will help facilitate a wide range of Nowy Styl's business processes including finance; distribution; manufacturing and supply chain. In addition to customer service processes and reporting and operational activities.
Following the implementation of IFS Cloud, Nowy Styl's initial focus will be on driving efficiencies across its manufacturing scheduling work. The solution will also help with supporting the automation of its manufacturing execution system (MES). This will help transfer information quickly to the shop floor. The company is additionally assessing IFS Cloud's CRM capability with a view to taking on this functionality in the future.
Looking ahead – future plans
Looking ahead, Nowy Styl also plans to use IFS Cloud to optimise and automate its shipping processes. In addition to further enhancing production scheduling.
Mariusz Sobocinski, IT & Business Analyst Director at Nowy Styl says, "Soon football fans from all over the world will discover the high quality of Nowy Styl products. We have become experts in arranging auditorium spaces and have reached the championship level! We will be installing Nowy Styl chairs at the six stadiums being built for the FIFA World Cup Qatar 2022.
"This achievement shows Nowy Styl's rapid growth path. Our requirement to implement additional IFS Cloud modules to meet our supply chain and production requirements. The solution's flexible component architecture helps to facilitate this. Nowy Styl also sees IFS Cloud as a future-proofed solution. This helps to prepare it for the coming world of advanced automation and artificial intelligence (AI)."
While Nowy Styl is self-sufficient in its use of IFS solutions, it does turn to IFS for assistance on a time and materials basis, when required. The signing of a service agreement between the companies means they will work together in partnership more closely moving forward.
Sustainable development
Nowy Styl and IFS also share the values of sustainable development. Both companies encourage their Partners and Suppliers to take responsibility for their actions in this area. In 2022 Nowy Styl was awarded the prestigious EcoVadis platinum medal.
Marek Glazowski, managing director, Poland and CEE IFS says, "Nowy Styl is an ambitious company. We are focused on fast-growth with a willingness to innovate and adopt modern technologies to achieve their strategic goals. It is excellent news that they have chosen IFS Cloud to help them move forward on their journey to success. We are looking forward to collaborating with them to help ensure their strategic goals are realised."
IFS is well placed to continue to support Nowy Styl's dynamic growth. Whenever Nowy Styl brings a new entity into the organisation, the company integrates the entity's digital systems. And, to achieve synergy, it introduces proven IFS solutions that have already been developed and deployed elsewhere in the organisation.
Enterprise Times: What this means for business.
It's another good win for IFS as the company extends into Europe with this contract win with Nowy Styl. It's IFS solution is expected to drive efficiencies across resource planning, asset management, finance, distribution, manufacturing, and supply chain.
Last April, the company announced an investment into IFS and sister company Workwave and revealed strong Q1 results. The company now has a $10 billion valuation that the group received when Hg invested the previous month. Contract wins like Nowy Styl can only justify such a valuation.