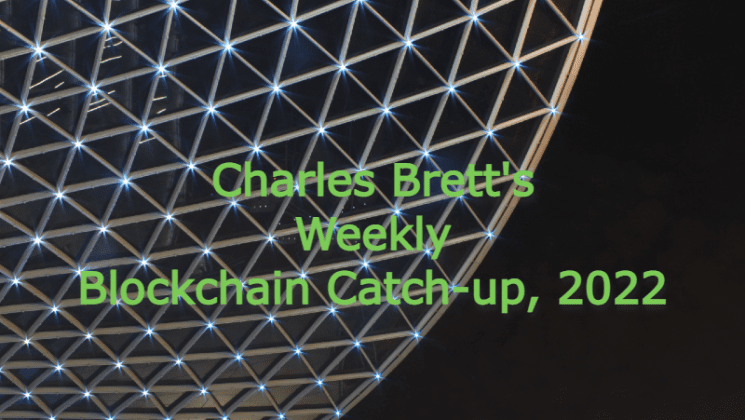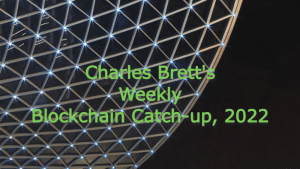 This is a Charles Brett's start-of-the-week Enterprise Times 'blockchain catch-up' 2022-Week 21. Necessarily it is idiosyncratic and selective.
It is not intended to be comprehensive but does seek to highlight 'Quick Takes' on specific developments as well interesting pieces to read, a listing of some (not all) announcements/press releases and pointers to upcoming events.
Quick Takes – Charles Brett's Blockchain Catch-up 2022-Week 21
Banks turn to blockchain in search of high-quality trading assets (behind FT paywall)
"JPMorgan's blockchain allows banks to lend out US government bonds for a few hours as collateral, without the bonds leaving their balance sheets.
"Post-crisis regulatory requirements demand that banks hold large amounts of liquid assets — which can be bought and sold easily even during times of market stress — such as Treasuries as a safety buffer. By tokenising these assets banks can temporarily turn them into collateral for a few hours, but without lowering their safety buffers, which are calculated at the end of each day.
"The token represents a digital version of a Treasury and borrowers can exchange it for cash. Details such as the length of the loan and settlement time are governed by a smart contract, which ensures that the cash is in the borrower's account and that collateral locked up against loans is released at the end of the deal."
Quick Take: to Enterprise Times, this is significant (see also below). Such an indirect, yet fundamental change to the financial plumbing approach would seem to have a functional practicality which extends far beyond the trading delights of 'traditional' crypto.
7 pieces to read – Charles Brett's Blockchain Catch-up 2022-Week 21
Selected announcements/press releases/opinions – Charles Brett's Blockchain Catch-up 2022-Week 21
Selected upcoming events
Crypto Valley Conference (2nd-4rd June, 2022)
Using blockchain to resolve supply chain challenges (SIMBA Chain, 8th June, 2022 at 1500EST/2000BST/2100CEST)
EEMA 35th Annual Conference to focus on securing identity and its business (8th-9th June, 2022)
Consensus 2022 (9th-12th June 2022)
Festival for the decentralised world (9th-12th June, 2022).