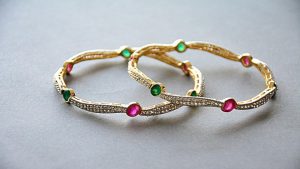 Retail and eCommerce highlights this week include: Astley Clarke contracts Brightpearl's retail operating system. Mirakl buys eCommerce personalisation vendor Target2Sell and announces a new payout solution, and multiple product extensions. Systemise Fulfilment have expanded their UK operations with the launch of a new warehouse facility in the North east. Eurora Solutions has closed its oversubscribed Series A round, raising $40 million/£31 million. Lacy Ford has been appointed to TrueCommerce executive team as Chief Marketing Officer.
Astley Clarke upgrades to Brightpearl
The UK's largest digital jeweller Astley Clarke has signed up to Brightpearl's dedicated Retail Operating System. The solution includes a Plug & Play integration to its Magento 2 website, an Automation Engine, accurate demand forecasting and advanced inventory management.
Astley Clarke is a British luxury jewellery brand creating design-led, refined pieces to be worn every day. The jewellery is available in leading stores such as Selfridges, Liberty and its flagship store in Seven Dials London. The award winning website invented the demi-fine category when it launched back in 2007.
The company replaced a custom back office system, adding speed, flexibility and POS functionality into its operation. This allows scale and flexibility of the operation across all its channels.
Upgrading to Brightpearl took just 150 days and has given the business all the functionality it had been missing. The new replacing manual tasks including the ability to automatically fulfill orders, wholesale billing and integrated finance reporting.
With Brightpearl, Astley Clarke has gained an easy-to-use, tailored retail operating system with the ability to support rapid B2C growth. In addition to game-changing functionality including a library of integrations to cutting-edge tools and apps, plus advanced forecasting and automation.
Mirakle buys Target2Sell and announces new payout solution
Mirakl has acquired eCommerce personalisation vendor Target2Sell. The company accelerates online marketplace growth by making it easier for customers to discover and purchase the products they want from automatically vetted and curated third-party sellers. Mirakl has also announced Payout, a new solution for enterprise marketplaces that dramatically simplifies the financial complexity of international expansion, to be released with early access in the second half of 2022. The new solutions will broaden Mirakl's unmatched ability to provide online marketplaces with the technology and expertise necessary to scale without limits.
Mirakl is also introducing new Marketplace Platform capabilities, including new AI-powered Product Data Mapping and Customer Care Intelligence, that take the quality of marketplace customer experience to the next level. Mirakl is also announcing FastTrack onboarding to accelerate the activation of sellers and the integration of their catalogues in Mirakl Connect. And with the introduction of One Creditor, a new platform business model, Mirakl customers will be able to meet the needs of large corporate buyers with a single transaction.
Target2Sell has developed an innovative, AI-driven suite of products, complemented with deep expertise, that enables eCommerce operators to immediately offer advanced personalisation capabilities. Target2Sell's products are trusted by more than 100 enterprise customers worldwide. With the acquisition of Target2Sell, Mirakl-powered Marketplaces will gain new solutions to expand their assortment easily and exponentially to meet the changing needs of a much wider customer base. Target2Sell's AI-driven products ensure that customers are presented with relevant, personalised experiences proven to drive as much as 15% higher conversion rates through a tailored shopping experience. The integration of Target2Sell into Mirakl's industry-leading enterprise marketplace platform will open new revenue streams for Mirakl and drive immediate and tangible performance increases for customers through the ability to instantly achieve curation at scale.
UK fulfilment company expands operations with North East warehouse
Order preparation and fulfilment company, Systemise Fulfilment have expanded their UK operations with the launch of a new warehouse facility in the North East. This follows a period of fast growth for the company, which has seen them open six warehouse facilities in the UK, US and Europe over the last two years.
The latest facility which opened on 1st April 2022 is managed by Marc Dady founder and director of successful North East based company, 365 Fulfilment Ltd. Marc and his team have joined Systemise Fulfilment as a Licensee Partner to support other eCommerce and Amazon Marketplace businesses with all their prep and order fulfilment needs.
The new warehouse facility has created a number of new jobs in the region and is set to continue to offer more opportunities as the business grows.
Eurora Solutions raises $40M in Series A to tackle eCommerce shipping delays
Eurora Solutions, an Artificial Intelligence/Machine Learning-backed (AI/ML) cross-border eCommerce compliance platform, has closed its oversubscribed Series A round, raising $40 million/£31 million. Amsterdam based Connected Capital led the round, with existing investors, including Change Ventures, Equity United and Eurora's founder Marko Lastik also participating.
Eurora already has over 200 paying clients worldwide, including some of the biggest eCommerce players in Asia, such as JD.com, Yanwen and Topyou. These three companies alone process around billion parcels per year and deliver to more than 120 countries. The new funding will be used for geographical expansion in the UK, the US, and the Middle East. Rapid and high growth in the sector is expected, and product development and potential add-on acquisitions. In the past decade, global parcel shipping volume has almost tripled, and by 2026, this market is expected to reach over 260 billion parcels delivered.
In July last year, the EU ended the €22 import VAT exemption, and new trading regulations between the EU and the rest of the world gradually came into effect. This was intended to create a level playing field with local European manufacturers and retailers. Complying with this new regulation in the high volume, the low value-per-package eCommerce market has been a challenge for merchants and logistics operators from the UK, the US, China and the rest of the world. These players are looking for software-based solutions that can help handle the billions of cross-border packages affected by this new EU regulation. Solutions with a high degree of accuracy, speed and at a low cost per package are required.
TrueCommerce appoints new global chief marketing officer Lacey Ford
TrueCommerce have appointed Lacey Ford to its executive team as Chief Marketing Officer. In this new global role, she will focus on transforming the company's go-to-market strategy and operations to propel accelerated growth plans.
Lacey comes to TrueCommerce with years of experience initiating and leading strategic programs that create sustained growth for SaaS organizations, from start-ups to Fortune 100 firms. She recently served as Chief Marketing Officer at Crownpeak, an enterprise digital experience solutions provider. Prior to that, she spearheaded marketing programs for such industry leaders as insightsoftware, LexisNexis, Lightpath, and AT&T.
As Global CMO, Lacey Ford will play a crucial role in shaping the future of the company by establishing new approaches to customer growth and retention. She brings a customer-obsessed mindset and will focus on galvanizing the entire business around better understanding customer needs and using those insights to deliver exceptional and relevant experiences.