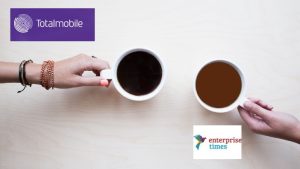 Enterprise Times recently spoke with Jim Darragh, CEO of Totalmobile. Darragh first explained what Totalmobile is, saying: "We're the company that enables organisations where fieldwork is an essential part of their work to be more efficient. We help them deliver that work, make it better, make it more cost-effective and more productive."
Can you give me a State of the Nation update?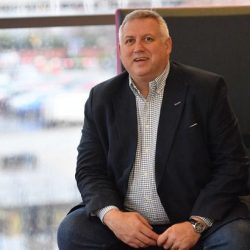 "We finished last year, in the mid-40s, in terms of revenue (millions of pounds), well over 10 million of EBITDA in the year. This year, we expect to go up to the mid-50s with a bit of M&A sprinkled in there as well, and mid-teens in terms of EBITDA. Good growth with about half organic, half through M&A.
"Our M&A is always very focused on that core activity of making field workers more efficient and making the lives of mobile workers better. We've seven offices, we will probably consolidate into some bigger hubs during the rest of this year. I suspect a lot of people will do that and enable workers to be more based from home going forward is a conscious decision that we're making."
Is that consolidation because you've grown offices through acquisitions?
"It is. We have looked at what people want, and we've just finished an employee survey and asked them what they want. We will move more down the track of work from home for a lot of our staff, and that's fine, we are prepared for that. Offices will become areas for collaboration.
"We are 375 people today. We've made seven acquisitions since the start of 2019. I'm very proud of what we've done. We've come up on the rails from a relatively small business six years ago. When I started we were in round numbers, a £10 million revenue business.
"Through some good and relevant M&A and good growth, we'll have added 10 million a year in round numbers. As we look forward, the next peak, is we want to be 100-million-pound business, probably within the range of 2024."
On funding?
According to CrunchBase, the last funding round was in 2015. How have you funded the acquisitions?
"In 2015, the company was bought by Lyceum, now Horizon capital. In 2020 we were acquired by Bowmark Capital, which was an excellent move for us. It showed our growth along the way and it showed our ambition.
"Our funding is a mixture of bank funding and some capital funding from Bowmark. As we get bigger, we have the ability to create more funding for ourselves, and we've used that as we've grown. We've got very good funding partners."
Who does Totalmobile sell to?
How would you define your target market?
"Anyone whose primary value creation happens out in the field. Last year, we sharpened up as we grew around our own strategy which is vertically differentiated product leadership. When we go to market, and we have four verticals we target, we want absolutely to be the best at that thing for that marketplace.
"So, more knowledgeable, more integrated with native technologies, more aware of the processes that they use and more aware of the work that those organisations do.
"We've got a public sector component here, and there are sub-sectors in there around health, emergency services and local gov. We have utilities and infrastructure as a second segment. We've got property and facilities management as a third. We've got transport and commercial, as a fourth.
"We have MDs of each of those and very definitely that vertically differentiated product leadership is something that we all live and breathe every day. We know those vertical markets better than our competition. We've lots of reference cases. We have lots of knowledge of how to create value for the organisations we deal with around the mobile workers in those spaces."
On growth
The focus of Totalmobile seems primarily on the UK and Eire. Are you looking to expand internationally as well in time?
"It's a good spot and absolutely the current situation. It's not the definitive situation. By the end of this year, the start of next, we expect to be spreading our wings a bit further into international marketplaces. We'll probably do it through M&A. We won't change our own strategy in terms of our level of focus around creating value for customers in the ways we do. We'll look for opportunities to expand into international marketplaces.
"We have a dominant position in this marketplace and we can take advantage of that by moving into new markets on an international scale. I'm excited that we're about to embark upon that journey as well."
Is that likely to be in Europe, or would you consider the US, which can be tricky?
"If the right opportunity came along, I'd do a James Bond, 'Never say never'. It will be easier for us to move into adjacent markets locally in the first instance, but it could also be Canada or Australia, similar governmental institutions and we translate quite well there. We have our eyes open on all of those marketplaces and when the right opportunity comes along, I'm sure we'll jump."
On vision
What is your vision for Totalmobile?
"We take it very personally that we want to make the lives and work of mobile workers better. We do believe that we have a mission as well that we can actually help organisations make that work better, both for the organisation themselves in terms of productivity, but also in terms of the people who are actually in the organisations.
"We've expanded the organisation, and expanded the team here as we've built capability in size. Purely that is around delivering on our own goals for growth and our own goals for expansion."
Routes to market and partners
In terms of routes to market, you appear to be mainly direct. Is that the case?
"In a quiet way, we do quite a proportion of our business through partners. I think about 25-30% of our business is through partners. Last week, our new head of partners, Lisa Kirby joined from IFS. We've made a conscious point of investing in our ability to go and engage partners to help our expansion process, both locally and internationally. Lisa is going to be the driving force behind doing that."
Who are those partners?
"We partner quite well with CGI, we do quite a lot of business with them. We've been working with Leidos recently, We've had a long-standing partnership with Capita and Vodafone but we're going to push those into a more prominent position."
On product
What does the product roadmap look like? Any major releases due?
"We are on an agile release cycle. Every couple of weeks there are product releases or incremental product version increments coming out. That's one of the benefits of having moved to a full SaaS and full cloud model for us over the past two or three years.
"We've acquired complementary technologies through acquisitions. So from our core in mobile and scheduling, we've added rostering and some works order management capability in different marketplaces, we've added lone worker, and so on.
"Making sure that we have a very integrated set of technologies is a big opportunity for us. For customers who buy multiple integrated products, one plus one equals three is something we're very focused on. As well as ensuring that we have a complete and rounded set of technologies for that mobile workforce."
What is next?
"Things like employee engagement is quite an interesting market for us at the moment, in terms of potentially a door opener. What we mean by that is the ability to engage field workforces, remote workforces, train them remotely, and so on.
"It's an opportunity for us coming down the track, and something we're spending quite a bit of time on at the moment. We have big versions of the technology coming downstream as well. There is a lot around creating a single unified set of technologies."
When you talk about employee engagement is that Acquisition, Technology Partnership or organic R&D?
"Potentially a bit of M&A and a bit of R&D. We see the opportunity to buy components that would form part of that employee engagement strategy. We already have some components, and we are developing some as well."
What about integration strategy?
"It's absolutely an integral bit of what we do. We are not usually the source of the data, we use the data, deploy the data and feed the data to the field workers. We have to integrate with SAP, Oracle, IBM Maximo and Unit4. There are literally hundreds of applications that we extract data from and play data back to dependent upon the fieldwork has taken place."
Looking back
What have you achieved this year beyond the acquisitions and finance elements you've already mentioned?
"We're three months in. We've strengthened the senior management team. We brought in Steve Turner as a new COO from ITRS. That's part of the journey to a hundred million now. We've just brought on our new Chief Revenue Officer, Rhys Thomas, who's come to us after a sparkling and stellar career at BMC Software, in a senior sales leadership role there.
"He came with Ray Rees our Head of Sales. I think they'll bring fantastic opportunities for us to further grow our organic sales and the level of enterprise opportunity that we have. I'm massively excited about those guys joining. We've spent quite a bit of time building the senior management team for the next tier of growth for us.
"We had a strong first-quarter sales, which I'm really happy with. We built more pipeline than we've ever built before, which was a focus of ours in that first quarter. We've signed some good new customers and we've expanded some existing ones. We expanded one of our big ambulance customers, one of our big local government customers.
"I'm pretty happy that we made this big decision about the staff. How we would engage and embrace the new kind of style of working, we had a big kickoff just recently with all of our staff in March.
"It's always amazing to me, in 2015-2016, when I started you'd have 80- 100 people. Now there are nearly 400 people in the room. It boggles my mind a bit quite how far we've come. Over the four or five years since we've been on this journey with private equity backing."
On challenges
What are your challenges?
"As you grow organisations, you need to find the ability to innovate. We've always had one eye on that we need to stay ahead of the marketplace. We need to understand what our competitors are doing.
"There are always 100 things going through my head about have we done this? Have we checked that? Do we understand where the next set of customers will come from? Do we understand that our customers are happy, that we're delivering the right level of value? Are we visible doing that?
"We've always been fairly fortunate. And we retain that fortune in the fact that we have very low rates of churn with our customers. What we do is pretty hard. It's hard for us, it's even harder for competitors to do. It means that when we successfully deploy customers, they tend to stay with us for a long period of time.
"I need to make sure that our customers always recognise the value we can deliver, and that we are always delivering the next tier of value. We've always got one eye on that future."
The book question
What's the latest book you read? And what was your takeout from it for business?
"I've just started the Wim Hof book about his techniques around personal health and dealing with cold and breathing and all that kind of stuff. I literally just picked that up the other day and I will crack on with it. The Wim Hof Method: Activate Your Potential, Transcend Your Limits by Wim Hof (Amazon Aus, UK, US)
"The last one we did with the book club at work was around selling, Meddic. The Qualified Sales Leader (Amazon Aus, UK, US) by John McMahon. We did a bit of a book club with a lot of the sales leaders having a chat about it.
"It was very much his stream of consciousness around, sitting in a room and listening to salespeople. Then working out why sales organisations were not being as successful as they could. That's very close to our heart with what Rhys and Ray will bring to us."