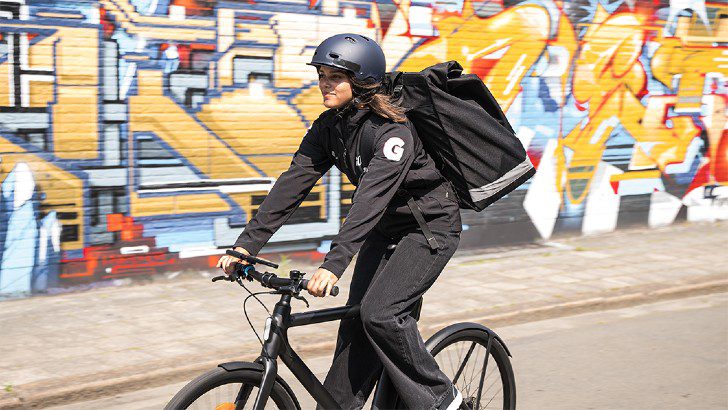 Internet-based grocery delivery start-up Gorillas is to invest in Workday Human Capital Management. It looks to match its systems with the rapid organisational growth it has experienced over the last two years.
Founded in Berlin in May 2020, its bike courier grocery delivery service has rapidly grown. It now has over 14,000 employees across nine European countries, and it recently launched in New York. It achieved unicorn status in only 9 months, a German start-up record. The most recent funding, led by Delivery Hero, raised $1 billion in October 2021 and saw it valued at $3.1 billion.
With growth comes challenges. There is a need to transform its HCM practices in the same way it constantly improves riders' equipment. Gorillas focuses on its people and wanted to find a solution that matches that. With a workforce that already operated across borders, both national and continental and ambitions to grow further, it needed a cloud-based and internationalised solution.
Gorillas sees Workday supporting growth
The growth at Gorillas has been exceptional, and Workday will help the organisation manage that growth. It is unclear which modules Gorillas will purchase in the first instance. There is no indication that it plans to roll out the finance solution. The announcement is the first step on a journey with Workday. No timescales for the implementation were announced, nor is it clear whether Gorillas has selected any implementation partners.
What is clear are the objectives of the project.
Optimise employee experience. The Workday platform will provide Gorillas with the mechanisms to listen and engage with their employees to understand their needs better. It will allow the company to improve employee engagement and enhance the sense of belonging in a company where most people work as alone most of the time.
Automation of processes. Using Workday HCM, Gorillas can automate HCM processes. It will enable HCM teams to focus on more strategic issues and employees to spend more time on revenue increasing tasks
Transparency at a global scale. The company is going global, and Workday offers The Power of One platform with transparency across boundaries. It will give the business leaders a single view of their whole organisation on a single screen, without spreadsheets.
Deena Fox, Global Chief People Officer, Gorillas, commented: "Workday will play a significant role in enabling the next several phases of growth for Gorillas. It will be a key element in our global people strategy, allowing us to enhance our talent experience, provide more transparency, process harmonisation, and access to data in real-time. With the new platform, we will be able to further strengthen our core HR infrastructure, better engage with our workforce digitally, and provide a stronger employee experience."
Enterprise Times: What does this mean
This will be a blow for Oracle. Gorillas has powered its growth with the Oracle NetSuite ERP solution. Oracle will have hoped it might have convinced the company to use either Oracle Fusion or SuitePeople. However, there does not appear to be SuitePeople localisation for Germany yet. What will be interesting to see is how Workday works alongside NetSuite and vice versa.
Laurent Homeyer, Retail and Hospitality Industry Advisor EMEA and APJ, Workday, commented: "The pandemic has clearly shown how important it is for companies to be guided by their values and to seek dialogue with their workforce. Employee engagement is now an important pillar for the long-term success of a company.
"By providing its employees with a technological platform through which they can collaborate and share, develop their skills and incorporate their needs into work processes, Gorillas will be able to engage them as a major force to help business growth and continue to write the success story. Choosing Workday HCM will help Gorillas continue its sustainable course for growth and greater value creation."
The announcement is unusual as Workday has been hesitant to announce customer wins. It prefers to announce go-lives. That Gorilla has published the release is a clever move.  It puts pressure on Workday to ensure a successful implementation. When that implementation is complete, Gorillas will likely be even bigger than they are now.