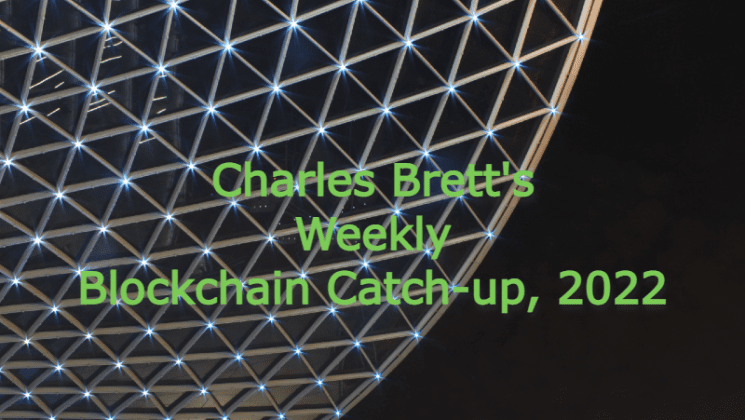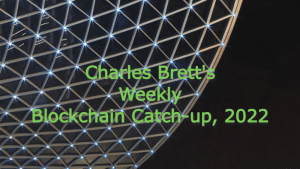 This is Charles Brett's start-of-the-week Enterprise Times 'blockchain catch-up' 2022-Week 12. Necessarily it is idiosyncratic and selective.
It is not intended to be comprehensive but does seek to highlight 'Quick Takes' on specific developments as well interesting pieces to read, a listing of some (not all) announcements/press releases and pointers to upcoming events.
Quick Takes – Charles Brett's Blockchain Catch-up 2022-Week 12
OECD opens proposal on tax transparency framework for crypto for public comment
"In recent years, financial markets have witnessed the development of new technologies and products that are changing investment and payment practices. One notable technology, cryptography, has enabled the creation of an entirely new asset type, Crypto-Assets, which can be transferred and held without interacting with traditional financial intermediaries and without any central administrator having full visibility on either the transactions carried out, or the location of Crypto-Asset holdings.
"In addition to Crypto-Assets, certain new payment products (i.e. digital money products, including both crypto-based and other electronic money products, as well as Central Bank Digital Currencies) also provide electronic storage and payment functions similar to money held in a traditional bank account and are frequently offered by actors that are not covered by the Common Reporting Standard (CRS).
"Against this background, the OECD is advancing work to modernise the tax transparency instruments available to tax administrations. Firstly, the OECD is developing a new global tax transparency framework which provides for the automatic exchange of tax information on transactions in Crypto-Assets in a standardised manner (hereinafter referred to as the "Crypto-Asset Reporting Framework" or "CARF")."
Quick Take: this is significant. OECD active involvement marks a change. For those wishing to comment, as the OECD is inviting, these should be emailed in Word format no later than 29 April 2022 to: [email protected]
7 pieces to read – Charles Brett's Blockchain Catch-up 2022-Week 12
Selected announcements/press releases/opinions – Charles Brett's Blockchain Catch-up 2022-Week 12
Understanding the technology behind decentralized exchanges (opinion)
The use of blockchain in ESG (opinion)
How to develop a blockchain and become a blockchain developer (opinion)
Blockchain banks on the future (opinion)
What is MimbleWimble blockchain? (opinion)
Geely Holding and Concordium establish blockchain JV HQ in Wuxi, China (announcement)
Euroclear joins bank-backed blockchain payment system (announcement)
SEBA Bank lists Digital Asset ETPs at Euronext in Amsterdam and Paris (announcement)
Nature's Vault launches blockchain platform to monetize in-ground mineral assets … (announcement)
Blockchain Technologies Global Market Report 2022 (announcement).
Selected upcoming events
Bitcoin 2022 (April 6th-9th, 2022)
Paris Blockchain Week Summit (12-14th April 2022)
Security Token Summit (15-16th May 2022)
FT LIVE" Crypto and Digital Assets Summit (26th April 2022).