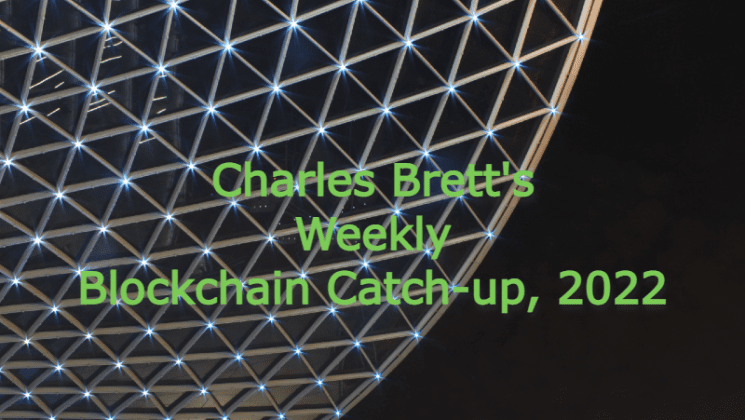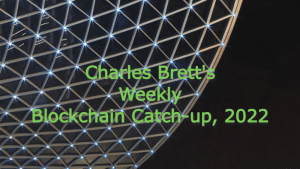 This is Charles Brett's start-of-the-week Enterprise Times 'blockchain catch-up' Week 2 of 2022. Necessarily it is idiosyncratic and selective.
It is not intended to be comprehensive but does seek to highlight 'Quick Takes' on specific developments as well interesting pieces to read, a listing of some (not all) announcements/press releases and pointers to upcoming events.
Quick Takes – Charles Brett's Blockchain Catch-up 2022-Week 2
House of Lords Economic Affairs Committee – central bank digital currencies: a solution in search of a problem?
"The Bank of England and HM Treasury are jointly exploring the potential of a central bank digital currency (CBDC). A CBDC is different to a cryptocurrency (or 'crypto asset') such as Bitcoin, which is privately issued and not backed by any central party.
"A CBDC would not be a new currency; it would be a form of central bank electronic money that could be used by households and businesses to make payments—in essence a 'digital banknote'.
"It would be the only form of electronic money available to the public that is issued by the Bank of England (see Box 1 for an explanation of central bank money and commercial bank money). In a March 2020 Discussion Paper on the possibility of introducing a UK CBDC, the Bank said it would be in addition to physical cash, not a replacement. …"
Quick Take: this House of Lords report comes to stark conclusions, at least for those who do favour CDBCs. We have yet to hear a convincing case for why the UK needs a retail CBDC.
While a CBDC may provide some advantages on speed of settlement and cheaper and faster cross-border payments, it would present significant challenges for financial stability and the protection of privacy. Furthermore, a lot of work remains to find workable solutions which do not entail difficult design trade-offs which may make a CBDC unattractive.
The report is worth the read, and makes a welcome contrast, and sense of balance, to the lightweight blockchain-related 'emissions' from the House of Commons.
7 pieces to read – Charles Brett's Blockchain Catch-up 2022-Week 2
Selected announcements/press releases/opinions – Charles Brett's Blockchain Catch-up 2022-Week 2
Selected upcoming events
Crypto Finance Conference (San Moritz, January 2022)
Digital Assets Week (21-25 March 2022)
Bitcoin 2022 (April 6th-9th, 2022)
Paris Blockchain Week Summit (12-14th April 2022).