Zoho has further expanded the benefits of its Zoho One solution with the addition of several applications, services and some platform enhancements. Zoho continues to add value to its platform but holds back on increasing the costs for doing so. However, several new additions either have limited users before costs increase or have advanced versions. Zoho One still costs only £30 per employee per month. In total, there are now 45 apps available within Zoho One.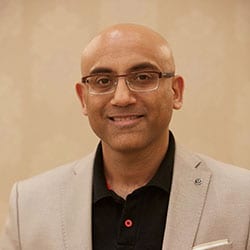 Sridhar Iyengar, Managing Director, Zoho Europe, commented, "The experience that employees, customers, partners, and suppliers get when dealing with businesses is typically a reflection of how that business and its systems are structured internally. Today, the majority of systems are disconnected as a result of siloed solutions offered by vendors.
"Unification of a business requires unification of the underlying systems, which can then provide a truly unified experience, internally and externally, along with unified insights. Zoho One was created with this vision and keeps expanding its unbeatable value with new additions and improvements year over year."
Enterprise spoke to Suvish Viswanathan, Head of European Marketing, about the announcement.
Three new services
Zoho has added three new services:
The Org Dictionary helps customers create a corporate-wide dictionary to enable consistent language and terminology across the organisation. As part of the Zoho platform, it is accessible from any Zoho application within Zoho One.
Zoho has also added Mobile Application Management (MAM). According to Viswanathan, this is part of the Zoho ManageEngine MDM product and is available free for the first 25 devices within Zoho One. For the 26th device and beyond, there is a nominal charge, according to Zoho.
Enterprise Times asked Viswanathan whether more ManageEngine capabilities would be seen within Zoho One. He replied, "We will take it out based on the need because ManageEngine covers the gamut of IT infrastructure management. There'll be some applications that make sense. For example, MDM now because most of the things are going remote. We are getting more and more of our Zoho customers buying ManageEngine in products.
"Wherever there are these synergies, we'll try to bring them together; this is one example. The other example is our directory services that are now part of Zoho One. It has some components from the ManageEngine online, the cloud directory services. The underlying platform is ManageEngine because you can reuse the code and reduce the time to the market. It entirely depends upon if there is a synergy, then yes, we'll bring them on."
The third service is Work Graph. This creates an organisational map between people, resources, systems and processes. It will be a useful tool to measure adoption.
New Zoho One applications
These are not new applications to Zoho, although, in India, its first Payroll application is now part of Zoho India with this announcement. Expect more to come in the coming months. It is already available as a trial in the US. The other applications are:
Zoho Data Prep
Data Preparation is a self-service data preparation and pipeline service. It will help users model, cleanse, transform, enrich, and catalogue data from Zoho and third-party sources for use in analytics. It was launched in July 2021 as part of the Zoho BI Platform announcement.
Commerce
Zoho Commerce was launched in 2019 and is a full eCommerce platform. It isn't clear which elements will be included, but it will likely be the Starter version. Organisations can upgrade to more advanced versions with additional features. However many will find the starter version sufficient.
Learn
Zoho Learn is a complete knowledge and learning management platform. It helps organisations with internal training. Zoho Learn is available but has not yet been launched. Viswanathan explained this new module saying,"
"It's an all-in-one knowledge and learning management platform for businesses. This is a new product from Zoho, we have been using this internally over the last year across our 25+ global offices. It has been a lot easier for us to share the knowledge repository across teams. Teams can create documents and training materials. They can use it for upskilling, onboarding new colleagues, or for other collaborative learning purposes. Each team can create materials and share them within their own space or share it with the whole organisation".
"Zoho Learn will help a business structure its internal documents and then give role-based access. It's not a content creation platform. For that, we have another brand called Trainer Central, where content providers or content generators can come and build their own content and then have an audience. Learn is predominantly for content that is used within an organisation."
Lens
Zoho Lens was launched in 2020. It's a remote assistance solution that supports augmented reality (AR) via real-time AR annotation, VoIP and text chat, and more.
TeamInbox
Launched in 2020, TeamInbox is an email solution that sits separately from Zoho Mail. It enables organisations to build teams of users with access to a single mailbox. The advantage is that the users use their own email addresses. These could include a Zoho address, a corporate domain or a Gmail (or other) account to join the team inbox.
It also allows teams to come from multiple companies, all working on the same project. One example is a PR agency that works with freelancers, its employees and internal PR. They can set up an account that acts as a single mail account for the team – for which everyone has access and can see what is going on.
Platform enhancements
With this announcement, Zoho has also included details of recent changes to the platform. Many of which are UI based. The Enterprise Search now supports natural language queries in context by using Zoho Zia.
Impressively, Viswanathan says that the search also supports role-based security. He explained, saying, "Because it's a B2B business environment, you need to also provide results based on the access permissions that our user has.
"For example, if you are searching for the sales of last month, so you would just say something like ' show me the results for sales from the UK.' If someone else asks who doesn't have access to the UK data, then the search results should not show the UK data."
Enterprise Times also asked Viswanathan about language support for the Enterprise Search. He answered, "We have English and Spanish already, Then we will expand it to French over time. We are targeting about 15 languages."
Zia is also embedded within the BI platform, enabling natural language conversations to help provide analytics output. The UI now has consistent navigation and dashboards with a platform-wide calendar.
Zoho has also added more integrations with more than 100 telephony providers and over a thousand applications on the  Zoho Marketplace. The platform update also includes a newly released no-code tool, Canvas, a low-code tool, Zoho Creator, and Catalyst, a pro-code platform.
Enterprise Times: What does this mean
Zoho One now has more than 40,000 customers and continues to go from strength to strength. Compared to many other solutions, Zoho has provided independent but connected applications all on the same platform. Viswanathan noted that before the pandemic, most customers were using only 5-6 applications. That has increased with people adopted Commerce, Analytics. The latter is often to replace other more expensive applications such as Tableau.
Zoho has a huge range of applications, more than 50. The Zoho approach of 'start small and build' is attractive to many small companies looking for the right niche application as they grow. They often start with CRM but then expanded to other marketing or project tools available in Zoho One.
This latest announcement sees further benefits for companies looking to adopt the platform. It will be interesting to see how quickly it can grow its customer base.