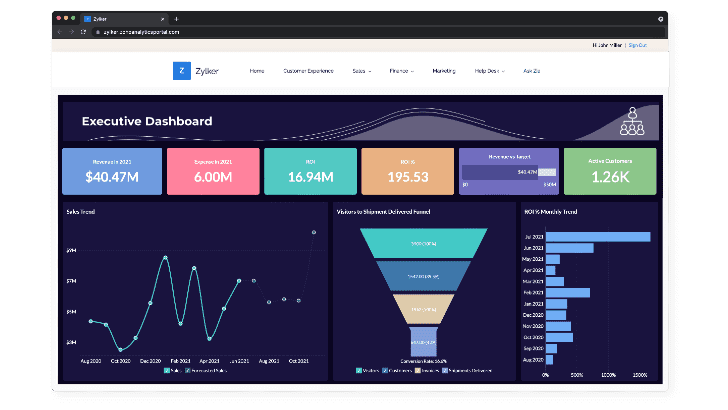 Zoho Corporation has unveiled a new Business Intelligence Platform. Underpinned by Zoho Analytics, the platform consists of several familiar and new components. The platform includes the newly launched Zoho Data Prep, which connects, explores, transforms and enriches data.
Customers can then take that data and use an updated version of Zoho Analytics to analyse that data. That update includes Data Stories. Data Stories enables organisations to surface insights using Zoho Sites and Zoho Show, providing a means for customers to tell a story around the data, whether internally or externally. Zoho is also introducing Zia Insights for analytics which leverages its AI bot, Zia, to provide insights from the data. It also sees the introduction of new analytics-based apps on the Zoho Marketplace.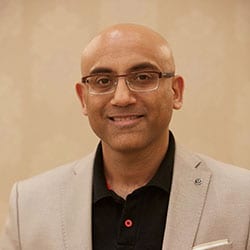 Sridhar Iyengar, Managing Director, Zoho Europe, commented: "For data to be a true catalyst of business growth, there can't be any gaps in the collection, management, or analysis process. Too few BI platforms in the market excel in both data preparation and analytics, which leaves businesses with weak — or worse, flawed — insights. Zoho's BI Platform is industry-leading because it ensures organisations are acting on legitimate data, which can be effectively leveraged to determine new revenue streams, refocus funds, drive productivity, and overall gain a competitive edge among peers in their market."
The new platform
With each new application, Zoho is not only providing new functionality; it is now bringing together different elements to provide complete solutions for organisations. It launched Zoho Workspace and Zoho Remotely last year. Zoho BI Platform now provides a complete end to end analytics solution from data collection to the delivery of insights. This places a powerful analytics capability at a reasonable price into the hands of its customers.
Zoho BI Platform is also available either in the cloud or on-premise. It offers a monthly or annual payment plan. The cloud version is available at £6.40 per user, per month, or £61 per user annually. The on-premise version is £24 per user per month and £288 per user per year.
Each component of the new platform provides a key foundation for the analytics platform. Zoho Analytics is also mobile-enabled and can therefore provide insights wherever users are.
Zoho Data Prep
Data Prep is an augmented self-service data preparation and pipeline service. It allows companies to ingest data from multiple data sources using tools including files, feeds, databases, data warehouses and REST APIs. Zoho can also ingest data direct from Snowflake, Dropbox, One Drive, Amazon Redshift and many databases, including SAP HANA, PostgreSQL and MS SQL Server.
Data Prep enables users to deduplicate and improve data by fixing anomalies. It includes over 250 transformations enabling customers to improve data quality, merge data sets, and enrich data with sentiment analysis, language detection, and keyword extraction. Users can set up these changes as rulesets that turn data imports into pipelines enabling data ingestion to become continuous. The system can also catalogue data as one of the final steps to prepare it for further analysis by Zoho Analytics.
Zoho DataPrep is also available as a standalone. There is a free plan which allows a single user to process 20,000 rows of data each month. The standard plan starts at £30 per month for 2 million rows, including three users. The enterprise plan supports ten users and a minimum of 100 million rows of data. Pricing is available on request.
Early adopters are enthusiastic. Andrew Archer, Manager, Global Underground Limited, commented: "Zoho DataPrep is an essential tool for our business. As a record label we deal with millions of micro-transactions across thousands of titles and hundreds of stores in dozens of territories. Zoho DataPrep gives us a deep dive into the data, enabling the creation of valuable analytics in seconds at a fraction of the cost of other platforms."
Data Stories
With Zoho Sites, users can build portals for customers, embedding live reports and dashboards onto webpages. Alternatively, they can use Zoho Show to create presentations that dynamically update with the latest business information and insights. Data Stories is how Zoho Analytics users can present their data insights in a consumable way to business users.
Augmented Analysis
Zoho has also embedded its conversational AI into the platform. This enables users to interact with their data with a conversational interface. Zia Insights can now provide insights in natural language for any report or dashboard within the system at the click of a button. Zia analyses the data displayed and provides insights that may not be immediately obvious. It is also possible to create what-if scenarios.
Marketplace
The Zoho Marketplace now has new analytical apps available that can strengthen the Analytics platform. They include connectors to other vendor solutions such as Shopify, Sage, Stripe and Facebook.
Making a difference
There is no doubt Zoho Analytics has made a substantial difference to many customers already. Bob Sullivan JD, Director, Vector Solutions, USA, commented: "We started using Zoho Analytics because of its ability to integrate multiple data sources—we wanted to blend sales and marketing data from internal and third-party systems and share sets of that data with clients to empower their businesses.
"We were able to find with Zoho Analytics that one of our businesses generated an additional $250,000 revenue in the year after utilizing Zoho and our sales process. And these dashboards show our clients real-time insights into what can help make their business more successful and even pinpoint the exact return on investment every month.
"Zoho DataPrep has reduced the time it takes to clean and import our data from multiple hours down to minutes. I am able to provide my clients better tracking of their key statistics because I now have an automated way to take in their third-party data."
Enterprise Times: What does this mean
Zoho Analytics is the solution of choice for existing Zoho customers and already has more than 50,000 customers. According to Zoho, it also sees traction in the wider market, winning 50% of the competitive deals it enters. While it does not appear on the 2021 Gartner Magic Quadrant for Analytics platforms, it is a contender in the latest G2 Grid for Analytics platforms. The introduction of Data Prep should help move it further right.
‌With the introduction of Data Prep, Zoho has massively increased the capabilities of its platform. Bringing together Data Stories and Zia Insights also matches some of the work that Analytics companies have struggled to deliver on user interfaces for some time. The difference is that Zoho sees these as completely independent product lines that themselves are continually enhanced. Zoho continues filling the gaps in its modular platform of applications. It can now provide a complete solution for even larger organisations.