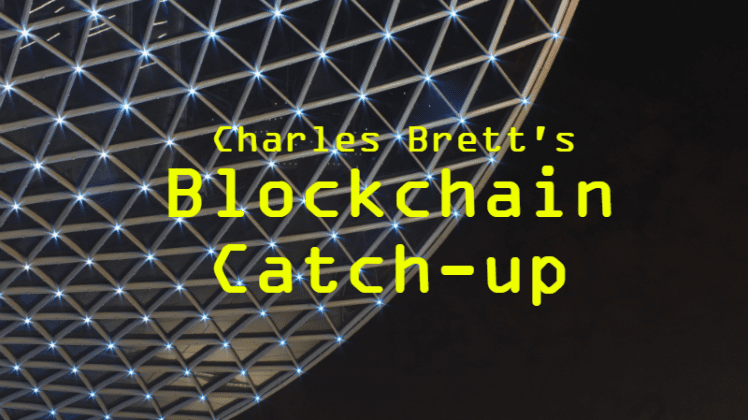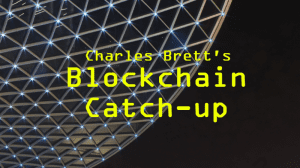 This is Charles Brett's start-of-the-week Enterprise Times 'blockchain catch-up' Week 40. Necessarily it is idiosyncratic and selective.
It is not intended to be comprehensive but does seek to highlight 'Quick Takes' on specific developments as well interesting pieces to read, a listing of some (not all) announcements/press releases and pointers to upcoming events.
Quick Takes – Charles Brett's Blockchain Catch-up Week 40
Deutsche Börse to launch 'next-generation digital post-trade platform'
Deutsche Börse says it plans to launch a regulatory compliant, fully digital post-trade platform called D7. It will anchor D7 within the recently introduced German digital securities law framework.
The cloud-backed and DLT-ready D7 platform will enable market participants to digitise financial products with continuing access to both existing central and distributed infrastructures and markets. The D7 platform should, therefore, pave way for same-day-issuance and paperless, automated straight-through processing for the entire value chain for digital securities of:
issuance
custody
settlement
payment
asset servicing.
Quick Take: according to Deutsche Börse, from mid-2022, >80% of German securities will be digitisable via D7. It believes this will foster digitisation of both German and European financial markets because D7 complements Deutsche Börse's established "7 Market Technology" infrastructure portfolio.
When blockchain makes it into critical infrastructure intermediaries – whether as here in finance or in trade or … – then progress is happening. Learn more about D7 here, or see below.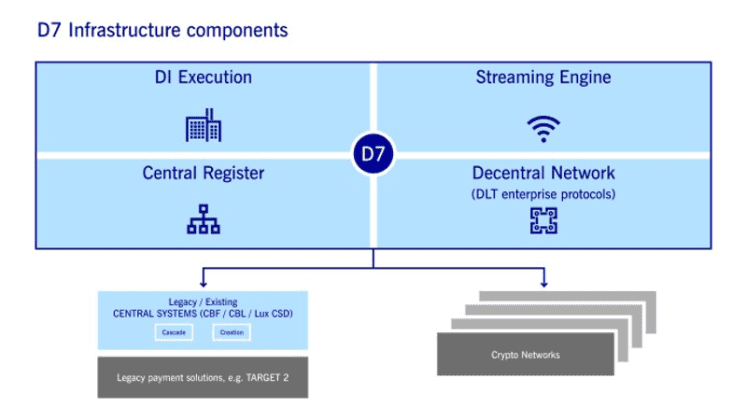 US DoJ announces national cryptocurrency enforcement team
Deputy Attorney General Lisa O. Monaco has announced the creation of a (US) National Cryptocurrency Enforcement Team (NCET), to tackle complex investigations and prosecutions of criminal misuses of cryptocurrency, particularly crimes committed by virtual currency exchanges, mixing and tumbling services, and money laundering infrastructure actors.
Under the supervision of Assistant Attorney General Kenneth A. Polite Jr., the NCET will combine the expertise of the Department of Justice Criminal Division's Money Laundering and Asset Recovery Section (MLARS), Computer Crime and Intellectual Property Section (CCIPS) and other sections in the division, with experts detailed from U.S. Attorneys' Offices. The team will also assist in tracing and recovery of assets lost to fraud and extortion, including cryptocurrency payments to ransomware groups.
Quick Take: about time. How long will it take other justice 'systems/countries' to follow suit?
7 pieces to read – Charles Brett's Blockchain Catch-up Week 40
Selected announcements/press releases/opinions – Charles Brett's Blockchain Catch-up Week 40
Selected upcoming events
Digital Assets Week (October 18th-22nd, 2021)
Crypto Valley Conference (October 28-29th, 2021; Rotkreuz, Switzerland)
LA Blockchain Summit (November 2nd-3rd, 2021)
Blockchain Conference/Blockchain Expo Europe 2021 (November 23rd-24th, 2021)
Blockchance Europe 2021 (December 8th-10th, 2021 – was July 7th-9th, 2021)
Crypto Finance Conference (San Moritz, January, 2022)
Bitcoin 2022 (6th-9th April, 2022).