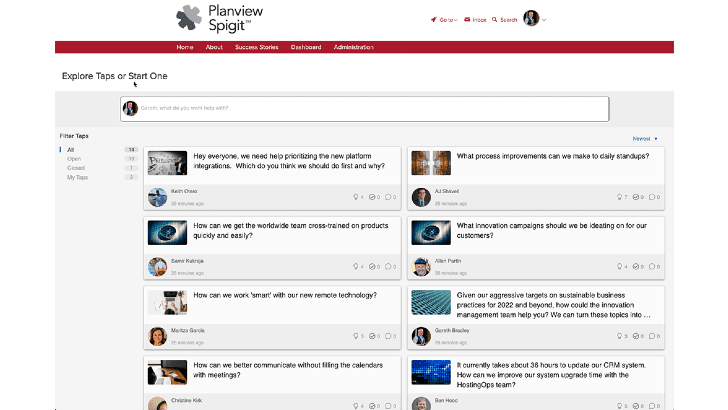 At Planview Accelerate, one of the first product feature updates announced was Spigit Teamtap. This new feature offers a way for any user to engage with micro innovations or taps created by fellow employees. TeamTap offers a team approach to ideation and innovation and is also aligned with Agile methodologies. Taps are independent of Corporate innovation initiatives that Spigit enables. They will help build a culture of innovation powered in a structured way.
TeamTAP delivers the personal innovation and ideation that organisations need to foster but often gets lost under the onus of corporate initiatives. Louise Allen, Chief Product Officer, Planview, commented, "More so than typical enterprise innovation models, TeamTap promotes collaboration and ideation within teams, using their crowd to lean in and problem solve.
"TeamTap enables team-focused innovation and empowers employees throughout an organization to voice opinions and play an active role in creative ideation, helping their companies uncover ideas, challenges and opportunities that exist within their team and operational innovation spaces."
Putting innovation at the heart of your organisation
Geoffery Moore once wrote, "Sustaining innovation is the lifeblood of any enterprise. It is the time when we capitalize upon and recover from, all the disruptive change prior. Most of the operating profits in the world come from sustaining innovation. Much of the market capitalization gains, on the other hand, come from disruptive innovations."
Where Spigit, acquired in 2018 by Planview, provides an ideation and innovation management tool to support organisational innovation, TeamTap has the potential to help make innovation stick. TeamTap enables users to create their Taps, seek engagement on their "tap", and provide input into other innovation Taps. Users can view their TeamTap and others that interest them. It allows them to leverage crowdsourcing within their organisation to help move their idea forward. TeamTap also gives a quick indication of popularity and engagement with three interactive icons and a number count with:
Light Bulb – Responses (ideas) within the Tap
Thumbs Up – The number of votes from users relating to responses in the Tap
Speech Bubble – The number of comments posted to the Tap
TeamTap is also a tool for individuals to solve problems they may have within the business. Create a TeamTap and open up the challenge to crowdsourcing within their organisation. It will provide a single point for organisations to solve some difficult problems within the organisations.
What is next?
Enterprise Times asked Planview how business leaders can manage/view Taps and can they move them to corporate initiatives? Planview answered, "These ideas are formed around team level challenges, opportunities and problems. Therefore, the initial management of them falls to the user creating the tap. The business leader can use the analytics solution to identify trends within the data and use that to promote the ideas into their portfolio where needed.
"In the coming months, we will be adding to the capabilities of TeamTap by connecting it with other well-known communication/collaboration apps as well as deeper into our Planview Platform. This will allow data to both flow into TeamTap as well as enabling ideas to be taken directly into portfolios that power corporate initiatives."
Reporting and Analytics to promote innovation
In terms of the reports that are available Planview gave up further information.
"Our analytics capabilities will leverage the unstructured content of Tap titles and responses in order to cluster them with ideas and their content. An example of that is shown below from our analytics feature: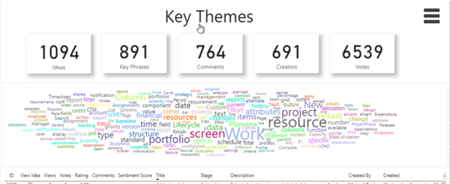 "The analytics allow drill throughs based upon the chosen key phrase, showcasing the idea, describing where it is located and its metrics. This is an example visualization and we will be adding additional capability over the coming quarter."
Only users with access to the report building or a viewing role will have access to these reports.
Spigit also offers reporting and analytics for these ideas. Will the analytics also enable business leaders to highlight innovative employees?
Razat Gaurav, Chief Executive Officer, Planview, commented, "This new capability extends an organization's ability to bring forth the ideas that can radically transform their business. Not only does TeamTap capture collaboration, but it also seamlessly manages the entire process of data-driven innovation and prioritization for the lifecycle of a new concept – from idea to impact."
To learn more about TeamTap, Planview is hosting a webinar to showcase the new solution. TeamTap is included in the current Planview Spigit licensing model.
Enterprise Times: What does this mean
Planview has taken aligned itself with this announcement to Gartner's view of innovation management techniques. According to Gartner, "Data-Driven Innovation (DDI) refers to the use of data and analytics (D&A) to develop or foster new products, processes, organizational methods and markets, which can drive the discovery and execution of innovation, achieving new business models, products and services with a confirmed business value.
"The speed and success rate of digital innovations are improved by DDI. This means more efficiency in innovating new digital products and services. Increasing migration of socio-economic activities to the internet, lower data collection, storage and processing costs, and the generation and use of vast amounts of data are all helping the adoption of DDI."
By enabling crowdsourced innovation within an organisation, Spigit Team Tap is leveraging its two most valuable resources, people and data. Using technology and imposing a process for innovation should help organisations evolve culture to become more innovative. It will be very interesting to see how this works in real organisations and what innovations and cultural changes emerge.