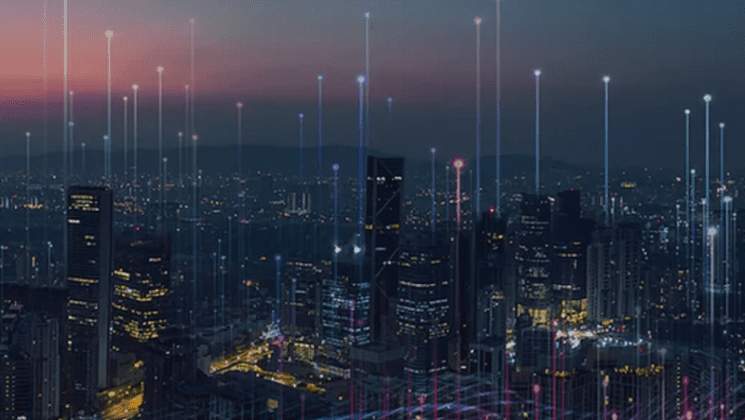 With the transitioning from a Phase I to a Direct to Phase II SBIR contract, Constellation Network (Constellation) has successfully secured a working relationship with USTRANSCOM, Air Mobility Command (AMC), AMC's 618 Air Operations Center (AOC), and a representative Civil Reserve Air Fleet (CRAF) partner.
The goal is to develop further the solution as a standard for use in securely exchanging mission data with commercial partners across the Defense Transportation System (DTS). As one of the largest data creators in the world, USTRANSCOM operates in over 80% of all countries. It manages large amounts of sensitive data in potentially highly contested environments.
"Being able to quickly and securely exchange information across the 618 AOC's digital infrastructure is critical to our operational security. Equipping our airmen with the tools they need to coordinate mission details, while protecting the integrity of our global operations, has long been a critical factor when providing 24/7 command and control to mobility forces," said Lt Col Tharon Sperry, Deputy Director of Strategy for the 618th AOC.
"We're thankful for the support we receive from our civilian partners and will continue to look to the future when it comes to improving our data security."
Constellation moves ahead
With this USAF decision, Constellation is advancing its mission to cryptographically secure data. It is applying its blockchain protocol Hypergraph Transfer Protocol (HGTP) to the US military's digital infrastructure.
In cooperation with Kinnami Software (Kinnami), Constellation has created an end-to-end data security solution using blockchain encryption and distributed data management. This, Constellation claims is 'a massive shift in the utility of blockchain technology' – applied to an asset as prolific and complicated as data.
Through HGTP, Constellation will provide a secure alternative to HTTP, to pass data. Kinnami will provide a hybrid resilient data fabric for delivering availability, protection, and security for complex distributed data management environments. This combined, distributed zero-trust approach should establish an end-to-end secure data management solution:
from data creation and collection
to transferability and storage.
To access the network, the Federal Government will rely on Constellation to use its native currency $DAG to secure bandwidth on the network. This multi-domain effort includes stakeholders from several DoD agencies and a representative CRAF partner.
The potential impact and follow-on
This technology development could be the key to solving an important identified mission security need. The potential impact lies in the potential to:
increase significantly cyber security
improve the operational effectiveness of the 618 AOC and Air Mobility Command's (AMC), notably, how these conduct mission operations coordination with commercial partners.
Constellation says it has agreed to provide a program that will meet systems and access requirements. This will demonstrate the ability to deploy data assurance and improved auditable security for operational mission datasets without changes to existing IT infrastructure. There is an emphasis on the solution being both cost-effective and scalable to an enterprise level.
In addition to hosting decentralisation, data assurance is not a common use case for blockchain. Traditional decentralised networks:
require high transaction fees for their use
are often unable cryptographically to secure much more than a cryptocurrency ledger balance.
As a blockchain company, Constellation's teaming with Kinnami should bring the promises of distributed ledger technology to this hardest of environments. If they manage this it will act as a use case that could change the face of data movement.
Sujeesh Krishnan, CEO at Kinnami, said: "Securing sensitive data has become an increasing challenge for most enterprises. In the defense sector, protecting data is critical to saving lives, successful mission outcomes, and ensuring national security.
"Ensuring trust and integrity in the data provides an important additional level of operational confidence. Kinnami is thrilled to be collaborating with Constellation to jointly bring to the 618 AOC a best-in-class distributed data management and security platform to enable secure and trustworthy collaboration with external mission partners."
Enterprise Times: what does this mean
Constellation offers a framework which it says enables "everyone to build and conduct a business on blockchain". Constellation has its own ecosystem, comprising:
Hypergraph – a feeless network with a reputation-based consensus mechanism
the peer-to-peer Stargazer Wallet
a decentralized finance platform (Lattice Exchange)
the L_0 state channel token standard (an evolution of smart contracts) which can define the rules of any business while tapping into Constellation's Hypergraph
the $DAG native cryptocurrency.
Complementing this Kinnami provides a resilient data fabric. For complex distributed networks this:
simplifies data availability, protection and security
enables a data environment for trust, transparency and collaboration (in effect, from edge devices through to a cloud)
delivers enterprise-class software
means customers can achieve the irrefutable data integrity essential to distributed environments.
Besides these, probably the key take away is that Constellation has been able to progress from Phase I to Phase II. Not all blockchain projects are so successful, especially in the complex arena of sensitive military data.