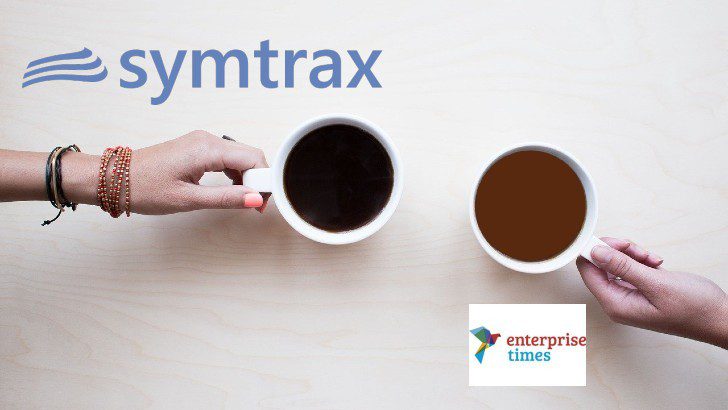 Pierre-Dominique Luciani is the European Sales and Marketing Manager at Symtrax. Enterprise Times spoke to him about the French headquartered company founded in 1989 in Nîmes, France.
Who is Symtrax?
Luciani replied, "Symtrax is an international software vendor specialising in digital document workflows. We have been assisting our customers across all types of industries on numerous challenges."
Luciani then listed the products that Symtrax solves these challenges with:
Invoicing, either direct or through B2G (Business to Government) or B2B platforms.
Order to cash and purchase to pay document information, both inbound and outbound.
Production to delivery document workflows that relate to production and logistics.
Validation and signature process automation.
Digital document enrichment and conversion into other formats and distribution.
Luciani continued, "We have seven offices worldwide in America, Europe and Asia, and we provide services to 3,000 customers in more than 100 countries. We are globally between 70 and 75 employees. Our gross income in 2020 was US$6.5 million. The total assets of the group were about US$3.7 million in 2020."
On product
How often do you release updates to your products, and what is on the roadmap?
"We produce releases on one or several of the modules every month. We intend to broaden our e-invoicing SaaS offering to new markets. This is includes B2B in France, which comes in 2023, and we already have the certification. We have started providing information and explaining what's going to happen to the market right now. We have factura electronica in Mexico and new e-invoicing in Saudi Arabia by ZATCA. In terms of e-invoicing, these are the new features that we will provide in the next few months."
Will you support the Greece e-invoicing platform?
"Yes. That's also one development we need to do in the next few months in Europe."
Luciani continued, "We are also developing what we call the web EDI concept. This new way to view EDI makes it much easier to use than the traditional way. We want to include connectors to private platforms such as SAP Ariba, Basware, Edicom, Tradeshift and the likes.
"Finally, we intend to make a breakthrough on the inbound document management market. Up to now, the inbound document management markets were focused on OCR (optical character recognition). Thanks to our new technology, we want to change the mindset of the sector."
In what way?
"Our web EDI offer allows us to provide a document plus metadata simply, or a structured format, like XML. That's made very easy because we can take any document and convert it into the right format. On the traditional web EDI market, you needed to conform to a specific norm or format. Now, we do the conversion and change the formatting automatically with Compleo Suite."
On Partnerships
What partnerships do you have?
"We have three major partnerships. One with IBM, that's a historical one. We developed solutions 30 years ago, which helped connect to the IBM world from a PC. We also have a Microsoft partnership. The third one is with SAP for the certification of our products in the SAP ecosystem."
What's the scope of the IBM relationship today?
"We are an IBM silver partner. We've been an IBM gold partner and silver partner for years. That's mainly for the connection with IBM i series, formerly AS400."
On integration
What is the Symtrax integration strategy? Many of the ERP integrations seem to be more file export/import rather than APIs.
"We've got two different strategies on how we grab documents from an ERP. We have a specific connector for IBM i and three different connectors for SAP. Then in terms of integration, we have a whole scope of API's, published by ourselves, and we use API's published by other software vendors. We also have on the roadmap the development of a module, which will be a universal API connector. So whatever API is published, we will use that module to connect to it."
Are you white labelling an iPaaS solution?
"No, it's internal development. Our policy has always been to develop our solutions by ourselves. In terms of partnerships, we don't use code from any other vendor."
Do you have any partnerships with ERP vendors?
"The only partnership we have is with SAP, and Infor for their IBM i applications."
On growth to date
What have you achieved in the first six months of this year?
"We currently have a growth rate of 14% in the first six months of 2021, and it was 18% last year (2020). We also gained 12 new customers, mainly in France, Germany and India. The intention is to develop Latin America when we have the factura electronica for Mexico. We also won three new major accounts in Greece.
"One of the major drivers of our growth is Germany, with the business to government e-invoicing, which has been compulsory for a couple of years. We are a major player there, and we've signed up some Mittelstand (medium size) companies. We've also signed with some mid-sized towns in Germany like Dortmund.
"In addition to that, a major success in 2020 was our first customers signing up for our validation and signature solution in France. I can name Suzuki France. I cannot name the others because they are in the luxury goods or wine sector and want their names hidden.
"We also extended our market share in the Indian e-invoicing market. We have offices in Mumbai and Pune. Our developers are based in India. That's one of our major markets in the Asian Pacific area.
"We have also developed our services revenue, which in the past was simply training. It has developed into real consulting. We discovered that our customers didn't only want to get a product and be autonomous on it. They also wanted state of the art consulting on how to use the products and what their competitors or other companies were doing in the document management workflows. The service part is now 50% of our total revenue."
On future growth
What do you hope to achieve by the end of 2021?
"We intend to develop our customer base in India, Germany, Greece, Saudi Arabia and in specific areas of Africa, like South Africa, Egypt and French-speaking Northern Africa. We hope to have a  global growth rate this year of around 18%, as last year, and we intend to hire more than 20 people. They will be in India, France, UK, Germany, and the US mainly for consulting, sales, development and marketing positions.
"We were also very proud of the accuracy of the solution we provided for companies having to invoice the French public sector. That's why we extended that to the invoice receivers and public entities. We are currently implementing that solution for three different public bodies."
What are your routes to market?
"It is mainly direct, but we also have channel sales. Our salespeople deals with resellers, as well as direct customers. We focus on resellers who are either consulting firms or software vendors in a specific area, like finance or HR, and who need a tool or haven't developed as many features as we have in document management workflows. In terms of revenue, channel sales are around 20-25% of our revenues, 75% direct sales."
On Challenges
What are your challenges?
"It's mainly the fact that we're still a niche player, and it's sometimes difficult to be known in a very competitive market. The main challenge is to try to explain our model, which is a hybrid model and explain why there are advantages to use our hybrid model."
What are your customers' challenges?
"Digitization! There are still plenty of paper-based processes in companies that require validation through a physical signature. For them, there are huge sources of savings and productivity that need to be shown to them. Most of the time, they don't think of the workflows horizontally, but rather in silos. We intend to break those silos and let them work with their vendors and customers, and we integrate their IT systems more closely thanks to our solution."
The book question
What was the latest book you read? And what was your business take out from it?
"I am currently reading Debt: The First 5,000 Years by David Graeber (Amazon Aus, UK, US). He is an anthropologist and was involved in the "We are the 99%" thing in the US. The book is an anthropological journey showing how money and debt have been structuring our societies for centuries. Graeber considers that money and debt are fictitious concepts. In terms of business, that's more of a helicopter view. It shows that everything is relative."