Enterprise Times recently spoke with Anwen Robinson, the general manager and Senior Vice President for the UK and Ireland at Infor. She has broad experience in the industry. She turned around the UK operation of TechnologyOne, the fast-growing Australian technology. She also spent 18 years at Agresso and then Unit4 after its acquisition.
Why did you join?
"I have followed the acquisitive growth of Infor for many years. So I was aware of the great products they had acquired and the customers they had accumulated. When I was asked to come on board, I did my due diligence. I was very interested in what Koch Industries brought to the table and what difference they have made.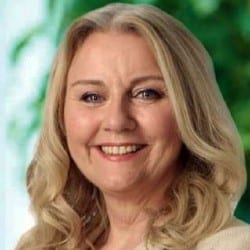 "Being the only privately owned global ERP player, it's quite exciting because having worked for private equity-owned organisations for many years, that brings its challenges and pressures. To be now part of an organisation whose owners have very deep pockets and a laser-like focus on developing the applications to meet the requirements for the verticals that they are in themselves and that our customers are in there. that becomes very exciting from my point of view."
Since coming on board, she has spent her first three months asking many questions and has refocused the organisation and provided greater clarity. She explained that Infor wants to be known for excellence in specific verticals. Ensuring that all the team focuses on these was important, especially for its SaaS solutions.
Are there any specific verticals in the UK that Infor is targeting?
"Yes, absolutely. For discrete manufacturing, it's industrial manufacturing. From a process manufacturing perspective, then food and beverage and fashion. We've also got several specialist areas with key customers that we're working with at the moment in aerospace and defence and automotive and equipment."
First impressions of Infor
What's your impression of Infor to date within the UK, and how are you looking to change it going forward?
"I'm very excited, we've got great products. We have a very clear strategy in terms of growth, a fantastic customer base, and employees who really want to make a difference. The other key thing that I've been impressed by is having joined during the pandemic. I was very pleased.
"I met my first Inforians face to face last week when I went into the London office for the first time. Seeing how the UK has continued to grow and has evolved in terms of how we not just sell and implement but continue to support and help our customers realise the benefits of the solutions. They've been hugely impressed by that.
"Making sure that we don't lose those benefits going forward is going to be key for me. We have to keep building upon this. In a SaaS world, having this agile approach to implementation and ensuring that our solutions continue to deliver these key business benefits is key." 
On partners
There was a big push to develop new channel partners in the UK, how has that progressed?
"There is progress, but it's slower than I would like at this stage. We've got long-established channel partners, but they're mainly focused on reselling our on-premise solutions. Our strategic focus is obviously on the cloud. We need to ensure that these existing partners have the support and the wherewithal to help transition their customers into the CloudSuites quickly. There is a lot of work underway in those particular areas.
"We're also very keen to recruit new partners that are wholly focused on the cloud. These may well be selling on-premise solutions for competitor products that realise that there's limited growth in that regard and are looking for a cloud-specific opportunity. We are actively looking for those partners as well. Then to help them to transition to selling the CloudSuite solutions quickly, we are very happy to invest in getting there."
What's your approach on SIs?
"It's a key part of our growth strategy. SIs will, in a lot of cases, own the relationships with some of the strategic and potential customers that we're looking to develop. It's key that they are aware of our aspirations and our capabilities.
"It can be challenging to develop strong relationships with SIs who already have established relations with other ERP vendors. We believe that we have a unique opportunity for them to differentiate because of our focus on specific verticals. The investments ensure that the depth of our products for those verticals sets us apart.
"The other key thing is we play very well with other ERP vendors. So we provide clear options. It's making sure that we get our message out there in terms of our aspirations. How we want to achieve it, and how we can help those SI's to differentiate from the crowd."
The brand challenge continues
What were you not less impressed by?
"I'd say my number one challenge at the moment is the lack of brand awareness of Infor for what we are, as opposed to what we were. We need to rapidly change that in the UK.
"Before I came on board, my perception of Infor was the fantastic acquisition of all of these products. What I didn't have before I came on board was the full knowledge of how Infor has built upon the products, knowledge and experience of the sectors we are selling into.
"We've been selling industry-specific cloud-based vertical solutions for over 12 years. Making sure that the markets that we are selling into are aware of that. Making sure that the advisory consultancies who make recommendations to potential customers are aware that this is who we are. Making sure that the Alliance partners are aware of our capabilities. That's the biggest challenge."
That's as much a global challenge as a local challenge. Do you have any influence in the UK to change that?
"I do. From the perspective of using social marketing in the best possible ways. I'm actively engaged with our marketing teams to do work on that. Making sure, again, that from a vertical market perspective, we understand the key drivers of those markets.
"Everything has changed over the last 18 months. What are the changes and pains that our customers are going through? Making sure that we understand that and also what's coming down the line in terms of technology.
"Also, to raise our brand from a thought leadership perspective. So the likes of Andrew Kinder is out there talking about these things. Make sure that we have a voice and raising it that way. Using the tools, the technology that enables us to do that targeting, is a great way of doing it. Not necessarily traditional advertising. Going about it more smartly. Using the benefits gained from the pandemic, all of these things have to be done remotely now."
On achievements
What has Infor achieved this year within UKI?
"First of all, we've continued to grow. That was great. I focused on ensuring the clarity of the strategy I've articulated to the company. Not just by sending an email out, but by meeting and articulating in many different formats and improving the communications across the organisation. Half the battle is it's all about communicating well and in multiple ways.
"Talking to our customers, making sure that they are aware that I'm here. Through the good and bad times, I will stand alongside them to ensure that they realise their particular aspirations. Make sure that we continue developing our ways of implementing and for customers to realise these benefits, not to go backwards and to keep building upon the successes that we have had.
"One of the other things I've introduced is, and am very proud to have been given the responsibility globally by Infor, I'm the executive sponsor for people and wellbeing. This recognises the importance of our employees and what they've had to go through to continue delivering the success that we've seen.
"Infor is also a key partner of the Prince's Trust. We've signed up for four years. I've done that, again, to help not just raise our brand profile, that's key, but also, it's a fantastic charitable organisation. We are now actively involved in a number of activities. It's all about building the culture of Infor in the UK. Those are just a few of the things that have happened over the last couple of months."
On the future
What do you hope to achieve in the rest of the year?
"Basically more of the same. It's working with the customers to make sure that they overcome the business challenges that they've been facing during this time so that they absolutely realise their business goals. Make sure we continue to grow, meet our growth targets and show that we are in control of our business.
"I've mentioned the number one challenge. We need to continue to raise our brand profile. We need to continue to build our ecosystem. We need the strategic alliance and channel partners fully on board with regard to our CloudSuite strategy.
"I'm looking at the longer-term strategy as well. One of the things that I'm doing is evaluating the fit for purpose for some new CloudSuites that have been launched in the States and their applicability to the UK. I'm doing the due diligence to understand and ensure that if the opportunity is there, we're investing in it right across the business to ensure its success.
"I'm currently looking at healthcare. It will be done in conjunction with Deloitte. We've had huge success with Deloitte in the US around our CloudSuite Healthcare solutions. This is now being looked at on an EMEA wide basis, and I'm engaged with Deloitte from a UK perspective on that.
"The other one that I'm particularly interested in is our CloudSuite construction and engineering. I'm a mechanical engineer by background. I've worked for many, many years within the construction industry. This has got particular resonance for me. We are just going through the evaluation process on that."
On the vision
What is your vision for Infor in UKI?
"My vision aligns with Infor's strategic vision. It starts from fully understanding Infor's ambitions over the next five years and then ensuring that the UKI is aligned to that vision. That is to accelerate our SaaS growth plans.
"If we as a company are going to realise our growth ambitions of a $5 billion SaaS business over the next five years, then the UK has to play a leading role in achieving that. We need to ensure our routes to market are all firing, not just from a direct point of view, but making sure that our partner ecosystem is also firing as well."
The book question
What's the latest book you read? That you took a business-related take out from?
"The Speed of Trust by Stephen Covey, (Amazon Aus, UK, US). It was recommended to me by one of our customers. He looks at the thirteen behaviours that have been identified in how you build it (trust). From looking at it from a personal trust perspective, then moving on to relationships. The different ways you can progress on this journey to build trust so that it becomes second nature of how you're dealing with customers and relationships in your life. It's a very interesting book."