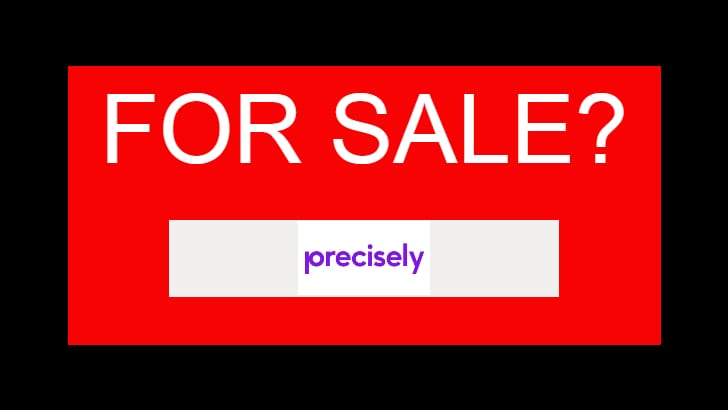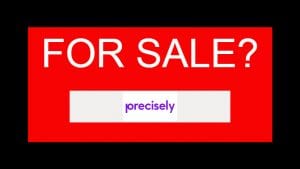 Precisely, the company that was forged from the combination of SyncSort and a division of Pitney Bowes in May 2020 maybe up for sale. PEHUB (registration required) reported the deal based on sources. The article says that the majority investor, Centerbridge, and the long-term investor in SyncSort, Clearlake, appointed UBS to advise the company. The intent apparently is to formally put the company up for sale by April. Enterprise Times contacted Precisely and received a very polite "no comment".
Precisely accelerates change
Things have not happened slowly for the newly formed company in recent months. Centerbridge became the majority shareholder in August 2017. In December 2019 SyncSort completed the acquisition of the Pitney Bowes Software and Data business. A few months later, the company rebranded to Precisely. In October completed the creation of its leading data integrity platform globally. This combined the products from both companies into a coherent whole. The company has 12,000 Enterprise customers across more than 100 countries with 90 of the Fortune 100 in its customer base. It launched the first end-to-end data integrity suite in October.
It has continued to develop the platform, recently partnering with TomTom, integrating the TomTom mapping information into the Precisely platform. Its platform is recognised as a leader in several industry sectors by analysts such as Gartner, Forrester and IDC. It had revenues of $600 million and around $290 million in EBITDA as of the rebranding. PEHub estimated that the company could fetch between $3.5 and $4 billion. That would net a decent return for its investors in what is a fairly short space of time.
The restructuring is now completed, and the product is ready for global growth. Precisely is poised to extend its market penetration both with existing and new customers. It is at the perfect point in the market, every company needs to rely on data to help discover, create and enable new business models and power revenue. Precisely aims to improve the quality of that data, through cleansing, validation, and augmentation, thus increasing the value of insights created.
Precisely also recently powered up its leadership team with three senior appointments including Anjan Kundavaram joining as Chief Product Officer following David Hodgson's departure.
Who might buy it?
The obvious candidate is another private equity investor that will support the global growth that the company is looking for in the next few years, possibly leading to an IPO. One possibility could be the Blackstone Group. Blackstone is currently selling Alight to a special purpose acquisition company (SPAC), Foley Trasimene Acquisition Corp. The deal will value Alight at $7.3 billion and see it listed on the New York Stock Exchange. Will Blackstone free up cash to buy Precisely?
Alternatively, a SPAC might be tempted by a deal. This would see the company listed, which brings its challenges and advantages. According to StockmarketMBA, there quite a few SPAC's looking for a deal. But in its current listing, two are potentially too large, and the rest would not account for 50% of the value to take a majority share. This does not rule out the option, just makes it less likely.
The third and possibly smallest chance is another vendor will look to take on board the company. Two possible candidates are already partners of Precisely. Snowflake, with a market cap of $84 billion and Databricks, which was valued at $28 billion following its $1 billion funding it raised recently. Both of those deals seem unlikely as they do not have a large enough war chest without raising substantial amounts.
Other candidates could include Salesforce, which has the pockets to make such as large acquisition and it could compliment Tableau. A left-field candidate might be Infor, though this might not be welcomed by Precisely. With Koch's backing, Infor could afford the investment; the question is whether both companies would win from the deal. There are few vendors with the reach into the enterprise market that would attract Precisely. Another possibility is the major cloud providers such as Google, AWS, and Microsoft. However, even those might narrow Precisely's potential.
Enterprise Times: What does this mean
This is a sale that is worth watching. Whichever vehicle Centerbridge and Clearlake choose for their exit they should do well. The hard work has been done. Now it is the riskier work of growing the company and making sure that the hard work pays off. It is a bet worth making, but who will be interested?