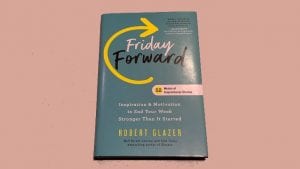 Friday Forward by Robert Glazer is the follow up booked to Elevate, (see this review). It provides a curation of fifty-two entries from more than 260 posts published as the Friday Forward inspirational blog that Glazer started several years ago. At only 154 pages this book is easy to read and can be dipped into without losing track. The book is divided into four sections which reflect the four categories of capacity that Elevate highlights: Spiritual, Intellectual, Physical and Emotional.
Overview
Each section contains thirteen stories of inspiration, highlighting how individuals have elevated their capacity in one of the four categories. Within each section, there is almost certainly one that will resonate strongly. Below are four that I found particularly interesting:
Spiritual: A Dad's influence. As a parent, it is just as important to listen, as it is to inspire and inform.
Intellectual: Stop Doing lists. A salutary lesson in prioritisation
Physical: Peloton Principle. Leaders lead; they do not always have to take the lead.
Emotional: Random Act of Kindness. While this may be harder to achieve during the lockdown, doing a good deed, a kind deed every day, can make a real difference in someone's life.
What was it like
Some stories resonated and were thought-provoking, others seemed more obvious. That is the challenge with curating a collection such as this. Glazer has picked well though and the mix of stories should find fertile ground in different people. Clearly, if one is not a parent "A Dad's influence" might not resonate as much.
All the stories are of blog length and easily consumable in a few minutes. This is a book that one can quickly turn to with a few spare minutes to read. In some households, it is ideal guest room material. I have already returned to the book, and if one wants more inspirational stories, just sign up to Friday Forward itself.
Enterprise Times was sent a review copy of this book. It is Available from Amazon Australia, UK, US.