Linea Light is in the midst of a major project to replace its ERP solutions across the group. It had an ageing AS/400 ERP solution and a disjointed application architecture within its operating units across the world. It needed to find a solution that could roll out to give it a single view of the business.
The challenge was large. Since Linea Light was founded in Treviso in 1976 it has grown to become one of the leading, innovative lighting manufacturers globally. It was one of the first to specialise in LED lighting and now has more than 550 employees worldwide. The company has major operations in Italy, China, US and Poland with offices in 15 countries. It has delivered lighting for projects such as hotels, retail, private residences, historic buildings, museums and corporate headquarters.
The Linea Light IT Systems have not always mirrored its growth or innovative approach. It has relied on an AS/400 ERP solution for years with disconnected solutions at its branch locations. While it invested in a centralised Business Intelligence platform, Qlik View, its data is still kept in silos. It realised it needed to update its ERP solution to provide a single view of its operations.
After reviewing the market, Linea Light selected Infor LN as its chosen solution. The company worked with 2WS (2WinSolutions), an Infor partner. 2WS has worked with several well-known brands such as Cozzani, the Sagfi Group, and Eaton to deliver advice and implement systems in the discrete manufacturing sector.
The project
The project, which is still ongoing, was broken down into several phases. The intent was not only to implement a new solution across the group. It also wanted to leverage 2WS knowledge to improve business and information processes within its subsidiaries.
2WS worked with Linea Light to create harmonised business processes that it could roll out across the different business units. Infor LN enabled this while also having the localisations to deal with any countries' differences, such as language. 2WS created three different sets of processes to address the different challenges with the organisation. The three models were:
Commercial branch (reseller)
Management of an agency management
Branch management including warehousing
The roll-out
The first phase of the project saw 2WS roll out the solution to the UK. Linea Light followed this with the implementation of an agency model to address smaller locations. Singapore followed with the branch model completed in 2019. This enabled Linea Light to take advantage of the support for multiple warehouse management within Infor LN. WMS was then rolled out to the Polish and French locations which started using Infor LN in 2020. The implementation in Germany followed with finance rolling out in Singapore and the UK.
While Linea Light has yet to replace the AS/400 solution it has taken advantage of Infor Ion to integrate the AS/400 ERP to Infor. Additionally, Infor Ion also facilitated the integration with the Linea Light business intelligence solution. The leadership now has a single view of the company data. It has enabled Linea Light to analyse sales to distributors and sales from its retail operations to consumers across those branches in the organisation that user Infor.
Infor Ion has also automated the handling of business documents with business partners for both import and export. This includes documents such as price lists, articles, sales offers, purchase orders and payable invoices.
Unfinished yet steaming ahead
2WS continues to roll out Infor across the group. Next up is Linea Light operations in Dubai, Russia and Spain. It will also bring its Italian commercial agencies onto the solution leveraging the existing, tried and tested business models and processes already in use elsewhere.
Manuel Minute, Linea Light Group's CIO commented: "Infor LN represents an important opportunity for the group. It will allow the company to embrace the digital transformation necessary to better manage its worldwide operations by providing visibility and reinforcing control and support from the headquarters. The 'wave' project planning approach allows us to obtain benefits incrementally, adding further features each time and implementing the system at a sustainable pace."
Enterprise Times: What does this mean
That Linea Light was willing to publicise the project work to date is testament to the job that 2WS has done for the Italian group. It is also a great win for Infor as it looks to extend its presence in the manufacturing market. Historically such deals might have gone to Oracle or SAP.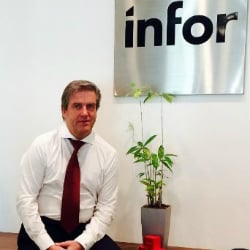 Bruno Pagani, Infor sales director for Italy, commented:  "We are pleased to support a 'made in Italy' brand such as Linea Light Group. Our innovative technology, together with the great experience and professionalism of 2WS, have provided the agility and flexibility Linea Light Group needed to centralize control of the business and better integrate its branches with the parent company."
Once the project completes, 2WS and Infor will hope that Linea Light becomes an advocate that it can leverage both in Italy and beyond.