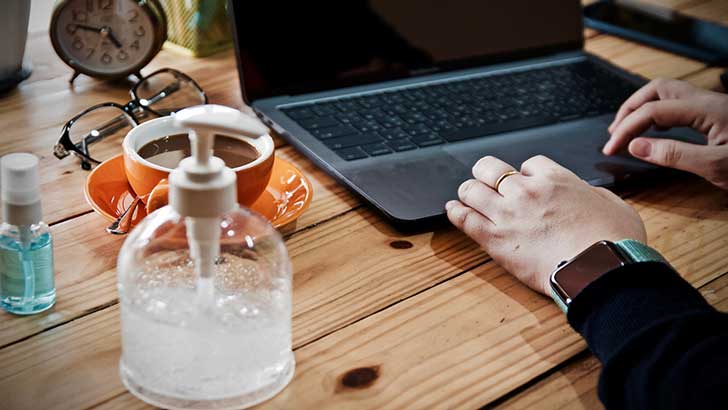 80% of remote workers in the US admit to slacking off now they are at home, at least that's what they told SellCell in a recent survey. It seems that the majority (61.6%) are constantly distracted by social media platforms. Binge-watching TV (42.1%) and gaming (30.4%) are also good reasons for people to avoid work. A more worrying revelation for employers will be that 43.2% are using their work laptops to visit adult sites during working hours.
The numbers come from a survey of 2,000 workers aged 23+ in the US. If this is representative of the broader working population, employers will worry about the impact on their business. A second wave of COVID-19 is sweeping across the US, reversing the opening up of many states. It means that those businesses who had previously begun to bring workers back to the office will have to rethink their plans.
Remote working has gained some big supporters from the tech industry. Facebook, Twitter, Microsoft, Google, Salesforce and Amazon are just some of the big tech players extending remote working options. Banking and finance is also an industry that is embracing this change of working. JPMorgan, Capital One and Morgan Stanley have also extended their WFH programmes.
What else are remote workers getting up to?
In addition to the activities above, what other distractions are there for remote workers?
Playing with Smartphones (53.7%)
Online shopping (16%)
Homeschooling, childcare and playing with kids (38.2%)
Friends/family chitchats (20.2%)
Exercising (35%)
What are the downsides of remote working?
As with all the studies that Enterprise Times has covered, there are as many challenges to remote working as there are distractions. The top six are:
Lack of social interactions (55.8%)
No distinction between home and work life (43.5%)
Loss of self-discipline (25.6%)
Absence of the IT department (23.5%)
Longer work hours (17.9%)
Frequent video calls (15.1%)
Many of these distractions raise questions as to how organisations will adapt their health and safety policies. One area that has received a lot of media attention is mental health due to isolation. However, where people work is just as important, and some employers are beginning to provide office chairs that are better than having people sit at their kitchen table.
What health issues are remote workers reporting?
Alcohol consumption has risen with 39.3%, with respondents saying they drink more after work than they did before lockdown.
Disruption to sleep patterns is affecting over 67% of employees. More than 50% say they go to bed late, while 36.6% admit to waking up later. More worrying for many is that 44.5% are getting less sleep than usual, and almost three in 10 (28.9%) are suffering from interrupted sleep.
Eating habits seems to be a mixed bag. Healthy eating is a priority for 43%, but not all are doing well. Overeating is an issue for roughly three in 10 (28.2%) while maintaining a regular mealtime is difficult for over a third (35%).
More than half (51.4%) say their stress levels have gone up since working from home.
Not everything is bad
There are some bright spots in the survey. The thought of remote workers slacking off is enough to have managers blowing a gasket. However, the survey shows that people believe their productivity has gone up. Nearly 45% say they are more productive than ever, which outweighs the 34.5% who feel less productive.
The idea of permanent remote working is not on the agenda for the majority of employees. Only 23% would like this to be a permanent move. Meanwhile, almost a third of workers (32%) want a return to normal, and that means going to the office. The remainder want a mix of options that include work from home and visits to the office.
That latter group will interest employers. Many organisations are revisiting the amount of money they spend on office space. After all, why pay $30 per sq ft for an office when an employee at home costs nothing.
Enterprise Times: What does this mean?
Before COVID-19 forced remote working on companies, remote working was growing slowly. It created a gap between those who were seen as trusted or who held a position where remote working was a privilege and those who were not. Surveys like this one will not help some employers take the positives out of remote working.
One of the downsides of surveys showing staff are distracted is the rise in spyware. Business Insider reported in March, just as remote working was taking off, that employers were photographing staff every five minutes. Such services have rapidly expanded during the pandemic.
Despite this, remote working is likely to be here to stay, at least for a much larger part of the workforce. For it to be effective, employees and employers need to establish clear and fair guidelines. Employers also need to do more to support those remote workers who are struggling.