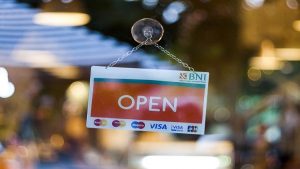 Retail and eCommerce highlights this week includes commercetools global expansion with the opening of a new regional data centre in Australia. Limelight Health strategic partnership with Reliance Standard Life Insurance. UK business service provider, M247, has selected Nutanix to meet escalating customer demand for scalable end-to-end hybrid cloud solutions. App retargeting is an effective marketing strategy that can increase click-through rates (CTR) by 48% says a report from AppLift. Finally, the World Health Organisation has launched an Android and iPhone app.
commercetools expands into Australia
commercetools has announced its arrival in Australia as part of the company's global expansion across the US, Europe and Asia Pacific. This follows a USD$145 million investment boost from Insight Partners in October 2019.
Commercetools' Australian presence is headed by newly appointed territory sales manager, Joshua Emblin. Emblin is also charged with building a dedicated team out of the company's Melbourne hub. The company is also launching a new regional data centre in Sydney in April. Using the GDP/Google Cloud Platform the data centre will support customer growth in Australia and New Zealand. The centre is expected to deliver digital experiences for customers while complying with the requirements of data privacy laws.
Joshua joins commercetools from digital commerce specialist Tryzens. He is responsible for building on early success with clients including major brands in the retail and aviation sectors.
Joshua said, "The market is already showing a lot of interest in commercetools' cloud-native, headless and API-first commerce platform. Local businesses are looking to move away from existing tech stacks in favour of platforms that are more agile."
Since its launch seven years ago, global brands such as Audi, PADI, REWE have adopted the commercetools platform. These companies have added commerce to channels and devices beyond traditional webshops. With commercetools, customers can integrate commerce into mobile apps, online games, AR/VR and social media channels. In addition to internet-connected devices such as kiosks, wristbands, or automobiles.
Limelight Health strategic partnership
Limelight Health has announced a strategic partnership with Reliance Standard Life Insurance (RSL). The partnership will streamline the quoting and renewal processes for employee benefits insurance plans, beginning with the company's supplemental health lines.
By generating a quicker turnaround time for brokers and customers of RSL, the partnership will ultimately enable a significantly better user experience. Limelight Health's quoting platform allows for the dexterity to build, visualize, document, test, and release any plan types in real-time. Limelight Health's API-enabled technology allows carriers to implement and configure products to best fit business' needs.
Limelight Health is a provider of cloud-based enterprise software solutions delivering quoting and underwriting platforms for the employee benefits. RSL is an insurance carrier specialising in innovative and flexible employee benefits solutions. The partnership will begin in the spring of 2020 driving toward company-wide transformation in 2020 and 2021. From there, additional product offerings are expected to be built out over the following months.
UK ISP and cloud services provider chooses Nutanix
Nutanix, an enterprise cloud computing announced that its software has been selected by M247. The contract will meet escalating customer demand for scalable end-to-end hybrid cloud solutions. M247 is a UK business service provider, hosted across a diverse mix of infrastructure and services.
Already a player in global network connectivity, hosting, telephony and security markets, M247 is adding the Nutanix software to a portfolio of best-of-breed products to offer hybrid cloud-based solutions. Nutanix's platform can span public cloud services, hosted data centre and on-premise customer platforms. By opting for the Nutanix software, the service provider will be able to deliver vendor and hypervisor neutral solutions. This includes all the on-demand scalability and clear cost advantages of public cloud services. Together with full end-to-end management visibility across the complete hybrid infrastructure.
M247 will also act as a Nutanix reseller for both on-premise and co-located customer products. The initial deal will see the Nutanix solution offered by M247 across international markets.
App retargeting can boost CTR rates by 48% says report
App retargeting is an effective marketing strategy that can increase click-through rates (CTR) by 48%. This is according to a new guide book by app marketing company AppLift. The latest publication also revealed that 173% of retargeted users would be more likely to spend again.
Retargeting has become an important strategy for eCommerce and mCommerce retailers who face up to 69% of shopping cart abandonment. By following up with users, marketers can minimise costs of acquiring new users.
On mobile, retargeting app-to-app is now predominantly funnelled through RTB exchanges and SSPs. Bidding occurs programmatically and in real-time and advertisers are able to track SDK integrations. Retargeting activities tend to be defined by the advertiser based on a specific user action.
Creative performance can be vital in driving a successful retargeting strategy. AppLift recommends integrating more dynamic adverts. In testing with a Korean mCommerce brand, it found that dynamic creatives increased CTR from 0.85% to 0.95% and overall costs dropped. Also, playable ads have proven to boost engagement time and again.
WHO launches Android and iPhone app
The World Health Organisation (WHO) is launching its own Android and iPhone app to help users learn more about Coronavirus. The app will provide users with options and the measures they must take to stay safe. WHO is one of the primary sources for information on the coronavirus.
The WHO MyHealth app went live on March 30th. It provides information on how to wash your hands alongside real-time alerts based on location.
For the future, WHO hopes to track cases of confirmed patients to learn how the virus spreads in individual communities. The app does not automatically track its users though. Explicit permissions must be sought.
It was built using Flutter. Google's SDK which lets developers code a single app and release it onto the iPhone or other apps. WHO previously launched a WhatsApp Health Alert service app that answers questions from the public. The app aims to reply within 24 hours.