Investments in cloud solutions are skyrocketing. Nobody seems to be sure of what business benefits to get out of it. Here are the harsh facts about failing cloud investments and how to turn them into something useful.
Cloud IT Services is the new normal for IT management. Today, about 90% of all companies use one or more cloud services. The average amount a company spends on cloud services is approximately 2,2 million USD – and equals one third of the annual IT budget. For many companies, implementing cloud services is a top priority and carry a wide range of benefits (for example cost reduction, information security, and flexibility). Cloud Services is the key path for a digital future.
The Dilemma of Cloud Services
However, investments in cloud services can be viewed from another perspective. According to Forbes, approximately 30% of all cloud investments are considered a waste of money and time. Additionally, Gartner states that over 50% of CEOs do not have the metrics to measure the effects of digital transformation and investments. They fail to see the business effects of cloud investments and hence how the business ambition is supported with digital technology. This scenario challenges the trust of IT professionals and will jeopardize the future of the digital transformation.
The trend is quite clear. With increasing investments in cloud services (and other digital technology) comes decreasing measurable business benefits. This is the dilemma of cloud services that need to be addressed by IT and Business leaders today.
The Search for Business Value
The primarily purpose of digital investments (for example: cloud services) is to directly or indirectly support business ambition. When planning a new digital investment, we need to ask ourselves how it generates value for business – and is relevant for business leaders. According to ComputerWorld, integration of multi-cloud environment (on-site, private or public) is a key priority of IT buyers today. How does the Cloud Integration Platform generate measurable business value? That is the true challenges of IT professionals today.
We need to understand that measuring business value in a digital context is a complex matter. Some would even say it is impossible. When studying digital transformation in-depth, it is possible to say that digital transformation aims to improve the business competitiveness. However, the business landscape is rapidly changing with a high degree of unpredictable customer behavior, obsolete business models and technical evolution. New innovative way of working, ecosystem and governance systems are needed to be successful in the digital era. This is the business reality that many business leaders are facing, and that digital technology and investment need to address.
Principles for Business Value
Business competitiveness is summarized in four principles that all companies and organizations, who want to stay relevant and competitive in a digital landscape, must focus on:
Agile Governance: Enable the organization to react fast to environmental (internal/external) change. For example: faster decision-making and collaboration across organizational boarders.
Customer: Enable the organization to convert capabilities and assets into customer value and experience.
Culture: Enable the organization to motivate and inspire employees to drive creativity and change.
Productivity: Enable the organization to improve efficiency and effectiveness of way of working.
At least one of the principles need to be supported for an investment to create business value. For example, if it is possible to show that Cloud Integration Platforms speed up decision-making by providing right information at right time – then it creates business value! Cloud integration is no longer an IT initiative but rather a business initiative – turning data into business competitiveness and profits.
The challenge is to understand how digital investments contributes to these four principles. It is an exercise where IT and business need to work together. A good approach is to map, analyze and prioritize key challenges and solutions of obtaining digital competitiveness – based on the four principles. Is slow decision-making a key obstacle for agile governance and digital competitiveness? If so, how can we measure the lead-time for decision-making?
Recommended Next Steps
So, what can we do concretely to avoid the dilemma of Cloud Service? Mainly it is about justifying the digital investments from a business perspective and gain trust from the C Suite. Here are recommended next step:
Seek collaboration with business in analyzing how digital investments support digital competitiveness. What are the key challenges and solutions to boost competitiveness? The four principles are a good starting point!
Open dialogue with C suite level to explain how digital investments are relevant for them and contributes to their strategic performance measurements.
Discuss with your cloud service suppliers how their products and service contribute to business value and success.
It is easy to just view cloud integration from a technical perspective and focus on the technical challenges of overcoming a fragmented cloud landscape, so called cloud silos. The most critical challenge of cloud is not technical but a lack of alignment with the business. Digital Transformation is a C Suite initiative and needs appropriate lever sponsorship. This begins to ensure that the investment in cloud supports a successful digital transformation. Make sure that the cloud investment budget is used wisely to ensure successful digital transformation.
---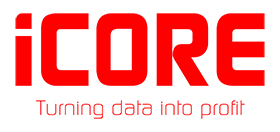 iCore Solutions offers software integration solutions for collecting, structuring and analyzing data to companies of all sizes and in more than 30 countries. Based in Sweden and with 50 employees, iCore Solutions was founded in 2000 and has offices in Stockholm, Göteborg (HQ) and London. www.icoresolutions.com