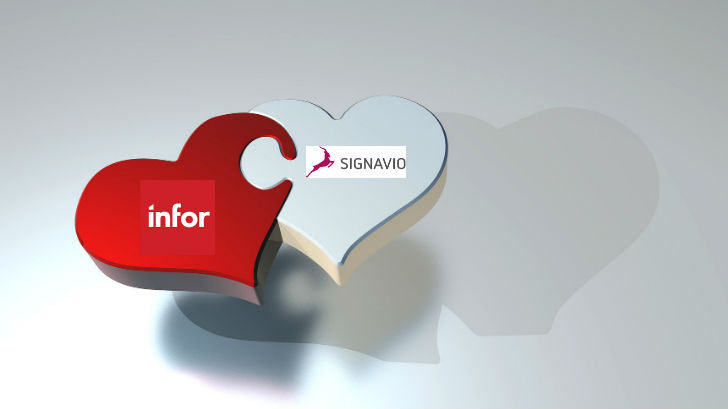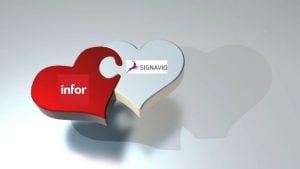 Infor has cemented a major partnership deal with the BPM provider Signavio. The partnership was announced on the first day of Inforum and will see Infor leverage the Signavio platform to produce the next generation of its implementation accelerators. Infor plans to embed the Signavio process intelligence into each of their twenty-two Cloudsuite Implmentation Accelerators. It will complete the majority of these by the end of calendar year 2020.
The new generation of Cloudsuite accelerators will embed two elements of the Signavio Business Transformation suite: The Process manager and process intelligence. Together they will enable Infor customers to analyse their current business processes and to identify improvements where value can be gained.
Dr. Gero Decker, CEO at Signavio commented: "Process management is a critical, yet often elusive, component for businesses navigating digital transformation. The partnership between Signavio and Infor is structured to enable customers to unleash the power of process by moving at the speed of insights.
"Ultimately, we believe customers can benefit from Signavio's powerful process mining and process management capabilities, combined with Infor's Implementation Accelerators, which can help enable smarter and more informed decisions across a variety of business functions."
Infor seeks to deliver vision
Rama Vadakattu, VP Solutions & Innovation, Infor explained that while the current implementation accelerators delivered customers with best practices, what Infor could not tell was whether they were actually used. The addition of Signavio gives the visibility to do that.
Signavio can tell a customer how their existing system is used through analysis of the data. It also provides details on how they might be able to drive improvement, by highlighting the bottlenecks and potential alternate processes.
Vadakattu identified three distinct customer benefits the combination will deliver:
Faster value & insights
Value identification to value realisation
Operational excellence
He went on to highlight five areas in which the solution will achieve these benefits
Value visibility: The process manager enables existing on-premises and legacy customers to identify where they can achieve value in their organisations.
True Cost: The tool highlights the actual cost of processes. In healthcare, this can give visibility across both ERP and Clinical solutions.
Continuous improvement: This is not just a tool for implementation. Customers can also benefit and can identify further efficiency improvements.
Operational excellence: Infor is to develop skills to deliver greater operational excellence. Initially, Infor is working on Period End closing and Infor RPA, the procure to pay cash cycle. It will then enhance the order to cash program.
Benchmarking: This is to be delivered across certain processes and industries according to Vadakattu. Not all customers will want to share their data. He indicated that manufacturers often preferred to keep things private as they saw processes as a competitive edge. Hospitals, however, were more open to the idea. Many organisations wanted to benchmarks across their own sites though.
Realising the vision
Vadakattu sees the embedding of Signavio in the next generation of CloudSuite accelerators will move the Infor vision two stages further. It will enable customers to extend and add to the content of accelerators. Customers will be able to refine and add further processes. The addition of process intelligence means that there will be process mining capability that can feed into continuous improvement.
Soma Somasundaram, Infor President of Products and CTO commented: "As organizations face continued pressure to operate faster and more efficiently, we believe upgrading to modern, industry-specific ERP technology that provides the benefits of cloud computing, big data and artificial intelligence, is paramount to success.
"Signavio's process mining and intelligence technology can provide Infor customers the platform to support the alignment of suggested practices and business processes delivered by our Industry Implementation Accelerators against real-time transactional data generated by Infor suite of applications, which can be used to help companies identify and resolve deviations from such practices and can assist and support organizations in improving business performance, based on real data."
Why is this interesting
Historically, Signavio has always had a close relationship with SAP. When asked what the impact this new announcement would have on the SAP relationship, Decker declined to answer. What he did say about the partnership with Infor was: "It is the deepest that we have with anyone in the market. Infor has big history of industry focus". Furthermore Decker believes that they can "drive best practice far further than other vendors"
It will be interesting to whether Signavio continues to work with both companies. If so, they are not the only company to do so. The only surpise about his partnership is that Infor chose not to buy a company but work with a leading vendor in the space. Kevin Samuelson indicated that their would continue to look to continue acquiring companies.
Enterprise Times: What does this mean
More announcements are due out today. One of the major focus points at this Inforum is the Infor's AI, Coleman. This partnership is also significant. It ties Infor into Signavio's BPM solution. That is not a bad thing but there is a risk that Signavio could be bought by SAP, though that seems unlikely.
Both Signavio and Infor could gain significant benefits from this deal. Decker believes that the BPM industry will grow from 200 million to 1 billion in the next few years. In partnering with Infor it will now have access to a much wider customer base. Interestingly, Decker admits that he hopes to grow his customer base significantly.
For Infor, this provides a solution that helps it realise its ambition of providing software that delivers business value and continues to do so. The iterative improvements that Signavio can deliver to the existing Infor client base is significant.