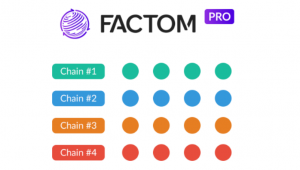 Factom Protocol (Factom) has announced that one of its 26 Authority Node Operators (ANOs), De Facto, has launched a new product: Factom PRO. Factom PRO is  a cloud blockchain portal for securing business data. It enables users to store data on the Factom Protocol, and is anchored to the Bitcoin and Ethereum blockchains at a low fixed price of $0.01 per write.
Anton Ilzheev, Founder of Factom PRO, said: "Factom PRO is a unique and innovative gateway for businesses to access blockchain-based storage without the need to handle cryptocurrency or deal with cumbersome deep tech.
"By anchoring data to the Bitcoin and Ethereum blockchains, we offer customers the most secure data storage option available in the industry, all at an incredibly low cost. Our aim is to empower businesses and organizations of every size to harness distributed ledger technology to improve their service offerings, operations, and more."
The Factom PRO platform and potential uses
Factom PRO serves as a B2B/B2G platform for:
evidence capture
decentralised identities
tokenisation
smart contracts
verifiable credentials.
Use cases for Factom PRO's decentralised data storage system include:
intellectual property protection
supply chain tracking
secure voting systems
fraud detection
trade and credit finance
verification of insurance claims.
Factom PRO does not require users to handle cryptocurrency, or setup, maintain and monitor their own blockchain nodes. Instead, the FACTOM PRO platform acts as an accessible gateway for businesses to leverage blockchain-based data storage. This enables users to read and write data on the blockchain using a traditional REST API.
Factom PRO and blockchain
Traditional blockchains often allow submission of arbitrary data into a block. One example: bitcoin transactions contain the OP_RETURN field – where users can insert any data they wish into a transaction. The block hash includes this data, and so is fixed permanently on the Bitcoin blockchain.
However, while the Bitcoin blockchain naturally chains each of its blocks together, it is much harder for users to chain their own arbitrary data transactions together. They  can write immutable data into the bitcoin blockchain but cannot associate that data directly with other data they have  written in the past.
Factom seeks to address this problem. It enables users to create their own unique chains where they can group data specific to their own application over a sustained period of time. This creates a transparent history of ordered state changes, potentially a powerful feature usable for a variety of various purposes:
tracking the state of arbitrary data, such as a file or database
writing tamperproof logs
creating supply chain records
following the state of an application
opening up opportunities for smart contract development and recording.
By design, data stored on the Factom blockchain records in an immutable and independently verifiable manner. The Factom protocol enables secure storage of data without requiring costly intermediaries. By providing high throughput, low fixed costs and secure data entry, the Factom protocol aims to offer data integrity which can integrate with existing systems.
"The Factom protocol is the highest standard of decentralized data storage, boasting maximum accessibility, so that blockchain technology can truly reach the masses. We believe Factom PRO is the future of blockchain for businesses, with the potential to bring mainstream business adoption to the forefront of our industry. We are excited to expand the Factom protocol's impact across industries with this new, cutting-edge product offering," added Ilzheev.
Factom Protocol and De Facto
Factom Protocol is an open source, enterprise grade platform designed to aid the efficient building of blockchain solutions. The technology provides the frameworks to create complete solutions, and is especially applicable (according to Factom Protocol) to:
digital identities
smart contracts
stablecoins
The Protocol has fixed costs to facilitate accurate budget projections. It supports public and private implementations, without the need to handle cryptocurrencies.
De Facto is a Factom Authority Node Operator. It also provides blockchain infrastructure, BaaS solutions and online services. As a blockchain development company, it develops:
blockchains based on proof-of-concept
blockchain integrations for existing software
applications which exploiting distributed ledger technology.
Enterprise Times: what does this mean
Prima facie, Factom Pro opens up opportunities that were, in practice, denied to uses of Bitcoin-like blockchains. For enterprise IT this might be interesting. Tracking the state of files or databases, writing tamperproof logs as well as following the state of an application, all could be of interest.
For Enterprise Times the larger questions are less about the technology and more about the pricing and the longevity. Notionally 100,000 writes per month will costs $0.01/write though includes a REST API and SDKs. Careful costing of the Factom Pro offering will be necessary. It could be like all too many cloud instances where minimal activity is inexpensive but real life usage becomes extortionate.
Then there is the issue of how long will the Factom PRO blockchain last. No responsible enterprise is likely to commit large amounts of data without some understanding… that longevity is for more than a few start-up months.