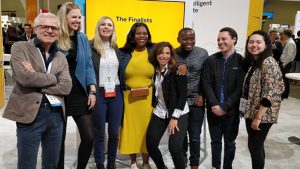 Topolytics has won first prize in the Google Cloud and SAP Circular Economy 2030 Contest for its WasteMap data analytics platform. The company beat 250 companies from 50 countries to win the $100,000 first prize. The win was announced at SAP's global SAPPHIRE conference in Orlando.
The Google Cloud and SAP Circular Economy 2030 Contest was launched at the World Economic Forum (WEF) back in February. The goal was to find the best revenue generating ideas to unlock $4.5 trillion of new economic output by reducing waste and pollution. With the overuse of plastics so high on the public agenda, this is a hot topic for organisations.
In awarding the prize, the Challenge organisers commented: "The business idea for Topolytics not only met our judging criteria in terms of originality, but also demonstrated a well-researched proposal with a high potential for advanced application of both Google Cloud and SAP technology. Moreover, we were impressed by Groves' engagement and willingness to roll up his sleeves during the interactive workshop, where he demonstrated a strong level of commitment to learning and growth. We congratulate Michael and can't wait to see more from Topolytics."
What is the WasteMap data platform?
WasteMap tracks the journey of waste from where it is generated to where it is sent for disposal, recycling and reprocessing. This gives businesses, councils and the recycling industry a better understanding of cost and where efficiencies can be made. It also provide greater transparency to the public over what is happening with waste. This includes proving that recyclables really are being recycled and not being dumped in landfill.
Businesses, for example, are able to see where most of their waste is generated and where it ends up. It allows them to look at the type of waste they create and what can be done to reduce the environmental impact of that waste be it through waste reduction or better recycling.
Councils are also able to see what happens to waste they collect. Is it being recycled and reused? Is it being dumped in landfill or sent to third-world countries? How is hazardous waste being disposed of? Are the waste companies meeting their contractual obligations? The latter will help councils deal with scandals over recycling ending up in landfill due top waste management companies cutting corners.
Perhaps the biggest gain of the platform is the ability to change how waste is handled. If businesses use it to change behaviour or councils use it to reduce the miles waste it is driven, that is a net gain in terms of carbon usage. In addition, it will show recycling companies where certain types of waste is generated. This allows them to consider changing where they recycle or to open new facilities to improve handling. This will also help councils make better decisions when it comes to planning permission for different waste handling facilities.
Enterprise Times: What does this mean
From the United Nations to governments, businesses to councils, local activists to member of the public, there is an increased awareness of the problems of the waste we generate. There has been many attempts to get people and businesses to reduce the waste they create. These generate short-term gain and some behaviour change but the gains continue to fall short of an overall reduction.
Much of the waste generated can be recycled into other products. Some plastics can be reused or even eliminated from use. Food can be reused as compost. Paper and cardboard can be broken down and used for new packaging. Despite all of this, too much waste still goes to landfill. Part of the reason for this is that organisations in particular, lack visibility into the waste they produce and how it is handled. With increasing public demands for greater transparency in how waste is disposed of, there is an increasing awareness that change is required.
Topolytics is hoping that its WasteMap data platform can be the catalyst to help drive that change. It will be interesting to see how many councils and businesses sign up to its solution as a result of this awareness winning this award creates.
Commenting on the win, Michael Groves, Topolytics Founder said: "This is a big moment for Topolytics.  We are extremely grateful to the organising team and are humbled to have won, particularly given the quality of the other finalists – all great companies.  The range and quality of technologies developed by Google Cloud and SAP will undoubtedly underpin the rapid commercialisation and scaling of WasteMap."