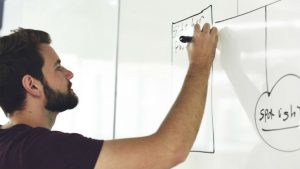 Today's IT work is never done.
For every one project you complete, there are another five waiting in the wings. And applications you completed only a year ago already seem outdated and in need of an upgrade. With new technologies emerging all the time, enterprises greedily think the latest trends are the secret to success (looking at you, blockchain and AI).
All of this means that IT developers sit in a cavern all day churning out code upon code to try to keep up with the demand. TV shows celebrate the all-night coding binge, but real IT workers know they could stay up for months without sleep without getting ahead. One successful application just makes other departments want something equally amazing.
But what if the secret to doing more was actually doing less? Coding, that is.
Low-Code Development Platforms
Low code development platforms have taken a big seat in today's market. From general purpose platforms, to mobile app development, to process and request handling applications, there seems to be a low-code platform for everyone out there.
If you've tried a low-code platform in the past, you already know what it's capable of. With a lot of funding, acquisitions, and major new players, there's probably a lot more capability now than you remember.
So, how can IT teams at various enterprises leverage low-code to increase their output?
Level 1: Up Your Speed
The most celebrated advantage of a low-code platform is that developers can multiply their productivity. Rather than hand-coding every piece of software, programmers can use drag-and-drop modules to pre-write the more tedious parts of code that often contain the most bugs. By using these blocks, programmers can focus their efforts on making custom connections and building unique functionality into the app.
Many low-code platforms give you access to the source code to make customizations, but the effect on speed is obvious once you get used to the platform. You can save a lot of time by focusing on the unique parts of the app rather than mindlessly pushing out the same code all the time.
Level 2: Push Development to Rapid
Decades ago, James Martin came up with the philosophy of rapid development with the core emphasis around adaptive software development. This put end users at the center of the SDLC process rather than planning and development, which focuses more on the software developer. However, the RAD concept fell into the same trap of being ahead of its time much like many technologies like Google Glass where the technology was not ready for mainstream adoption.
The last few decades have seen more maturity coming into the technology space, more specifically around cloud and SaaS environments that completely removed many of the infrastructure and backend integration challenges. This was made possible through point and click REST web services and webhooks that were packaged using easy to understand front-end interfaces for the developers and users alike.
Low-code platforms are modern technology options that attempt to bring to life the original promise of development methodologies such as rapid application development (RAD). With RAD, the developer creates fast iterations and prototypes of the application and gets much more feedback from the end user.
With low-code, a programmer can sit down and piece together a prototype in a few minutes to see how well it meets the expectations of the business user. This helps in dealing with the expectations of the user and more closely aligns development and the business user.
By using RAD, developers can keep business customers happy with quick changes and quick edits. With low-code, many of the changes that a business user requests can be almost instantly made and deployed, which greatly shortens the development lifecycle.
Level 3: Go Viral with No-Code
The final level of IT productivity actually involves no coding at all, either from the user or the developer, but this approach can only be used for certain types of applications.
A new kind of platform is quickly emerging called a no-code platform. As you can guess, these platforms are based completely on drag-and-drop modules and require no knowledge of coding or programming to build and roll out reasonably complex applications like a full fledged procurement management system covering vendor application, vendor qualification, vendor onboarding, purchase request, purchase order, vendor invoice processing, payment processing, goods receipt, and finally vendor rating and evaluation. Traditionally, these kind of applications require a tremendous amount of back-end coding and infrastructure.
No-code platforms allow users who have deep domain knowledge to be able to model this in a drag-and-drop interface without realizing they are building a data model, front-end UI, sophisticated back-end workflow logic, and access control permissions that gets deployed as a web service object in a cloud-based SaaS platform like KiSSFLOW. The technology has evolved to this level of abstraction that users no longer need to know all things that a developer needed to know to build a reasonably powerful end-to-end business application like a procurement management system.
Another important factor that makes things easier for no-code platform providers and provides them with a great tailwind is the fact that we have a new set of natively savvy millennials in the workforce who are used to the cloud and understand how to build things. The technology and demographic changes makes the no-code dream a reality.
But not all types of applications can be dealt in the no-code paradigm. Applications that require heavy system logic, are algorithmic in nature, or are heavy batch processing types such as payroll processing are not a good fit for no-code platforms.
The big advantage of no-code platforms is that IT is adding nothing to its workload, while at the same time, the entire organization is getting more digital and using more technology. In fact, one large enterprise was able to produce over 200 process applications like this with absolutely no coding done by the IT team.
Do More. Code Less.
Low-code and no-code platforms are a great way for IT teams to increase their productivity. It allows them to meet the needs of the business faster or turn over the responsibility to others. Low-code can open the door to faster development and is more in line with methodologies like RAD to produce the perfect app faster.
When no-code is utilized, IT can hand off the development duties to business heads to create specific kinds of apps for themselves.
The work of IT may never be done, but it might be able to be done a whole lot faster with these exciting new platforms.
---
OrangeScape is a leading cloud-based B2B software company offering KiSSFLOW, a disruptive SaaS platform for work automation. KiSSFLOW is a unique no-code platform that can handle workflow management, business process management, task management and case management with the same beautiful interface. KiSSFLOW has been featured in both the Gartner Magic Quadrant and Forrester Wave reports and is considered a disrupter in the field of business process management. KiSSFLOW is used by over 10,000 customers across 160 countries, including more than fifty Fortune 500 companies such as Airbus, Motorola, and Reckitt Benckiser.
OrangeScape's KiSSFLOW was conceived with the belief that simple things should stay simple and complex things should be possible, and is on a mission to reduce chaos in every office. With this cloud-based workflow automation platform, any business user can create a highly customised automated process instantly. It meets the workflow automation needs of every team, department or organization, and deploys the most intelligent business process management tools to bring in more efficiency, control, and accountability.
OrangeScape has offices in Mountain View, California and Chennai, India. OrangeScape was named a Top IT Innovator in India by NASSCOM.